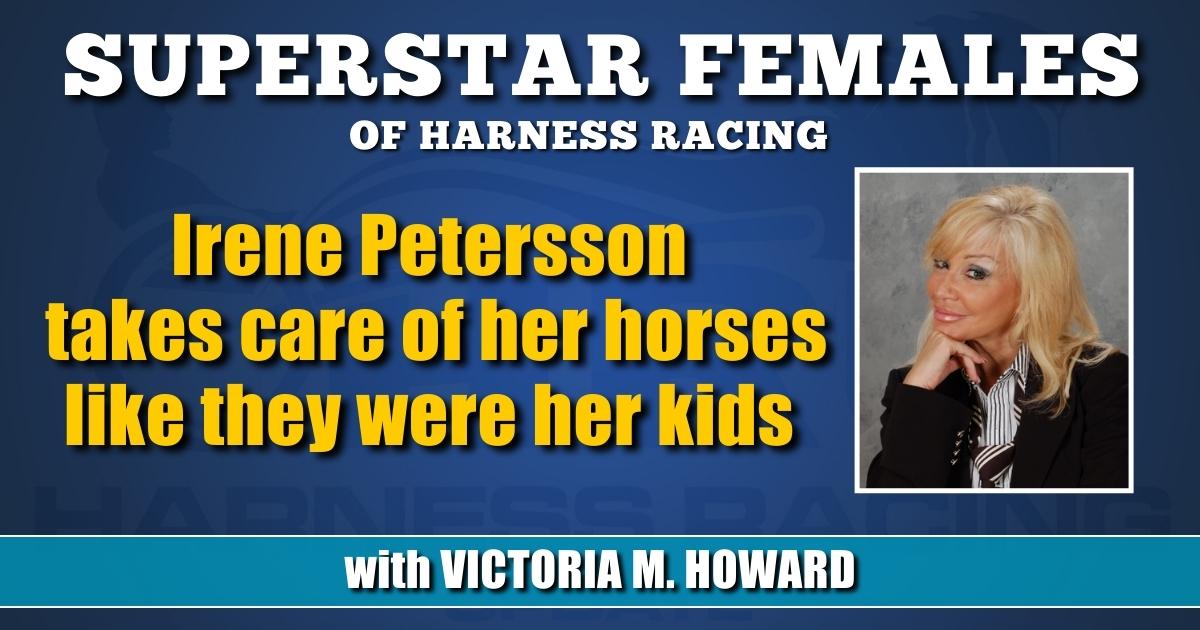 Irene Petersson takes care of her horses like they were her kids
by Victoria Howard
Called "the backbone of the sport," grooms spend most of their waking (and sleeping) hours with their designated four-legged children. They usually don't get the option to choose who they want to care for, but instead, are assigned the animal. The horse may be a nasty character that loves to bite and kick, or is like a spoiled, stubborn child who has a mind of their own.
Regardless, it is the caretakers' job to get the horse to trust them for they are the ones who feed, brush, clean, comfort and race the horse.
Born in Sweden, Irene Petersson is known to be one of "the best of the best."
"Although my family was not involved in harness racing, I always loved the horse and wanted to spend as much time as I could working and learning about them," Petersson said. "I leased a pony at a farm where people boarded standardbreds. Most of the people had another job and the horse was a hobby. After school I would hurry over to the barn and began helping out. This was my introduction to the sport. Little did I know that this passion would be my lifelong career."
When Petersson arrived in the States, she got a job at Hanover Shoe Farm working with the yearlings and getting them ready for the sale.
"I then got a job working with trainer Per Eriksson in sunny Florida," Petersson said. "What a wonderful way to start out. Being from Sweden where the weather can get quite cold, it was such a blessing to wake up in hot, sunny Florida amongst the palm trees and beaches. It is much easier working when it's in the 80s than a frigid 20.
"I think the horse appreciates the warmer weather also, and you hardly miss a day breaking, training and racing when the weather is good."
After Eriksson, Petersson got a job with Hall of Fame trainer Chuck Sylvester.
"Chuck was the best boss I ever worked for," she said. "I only wish I would have paid more attention while I was there, for, in my opinion, Chuck is one of the best trainers; past and present.
"After working for Chuck, I took a few years hiatus and just enjoyed being in Florida, but it wasn't long before I slipped right back into it and got a job with trainer Randy Beekman. I worked for Don Swick, and Pilgrim Farms, too. Today I work for top trainer Tony Alagna and have been there for almost eight years."
Petersson has taken care of a lot of top horses over the years.
"I have cared for many, many horses," she said. "Each and every one became "my surrogate child," whether it was a male, female, trotter or pacer.
"There was Chip Chip Hooray, Day For Night, Valentina Blu, Heart On Fire, Ari Ferrari J, Piper Hanover, and Pilot Discretion, among many others."
Petersson refused to choose a favorite.
"I can't answer that because I have had many," she said. "They are my children. They may not have two legs but have four, but to me they are as close to children as I'll ever have.
"I've gotten a lot of trotters, perhaps because I'm Swedish and that is what I grew up around. I normally am assigned fillies, perhaps because they are at times 'goofy,' but I get along with them."
Petersson's days start pretty early, but she doesn't mind because she's doing what she loves.
"I get to the barn around 4:30 or 5 [a.m.] to feed all the horses," she said. "I clean and freshen their water and when they are done eating, some will get turned out in the paddock while I clean the stalls. I like to drink my cup of coffee before bringing them in but usually it doesn't happen and I have to slurp it down while bringing them back in.
"At the Alagna Stable in New Jersey, where I am now, we are given a schedule of what time our horse will jog or train. After they are done exercising, I put them away. Each one has a different personality so they are treated individually. Some horses need 'more' attention and some need 'special' attention but when a horse is in my care, I give them 110 per cent. They all need the same care for they have feelings, too."
Petersson loves her job and wouldn't trade it for anything.
"My horses are my life and I've loved each one," she said. "I cry every time one leaves, whether they leave due to being sold, claimed, or go off to start a new career as a mother, sire, riding horse, or pet.
Although it's out of my control, it's still hard.
"I think I speak for all the other grooms in the business when I say really wish owners would be a little more appreciative and thankful to the people who treat their horses as their own. Sadly, people look down on the caretakers because we shovel horse dung. We devote our time into doing the best we can to get their horses to race and hopefully make a champion. A little thanks, pat on the back, or recognition saying, 'Hi, how are you doing?' or 'Thank you for taking such good care of my horse' goes a long way."