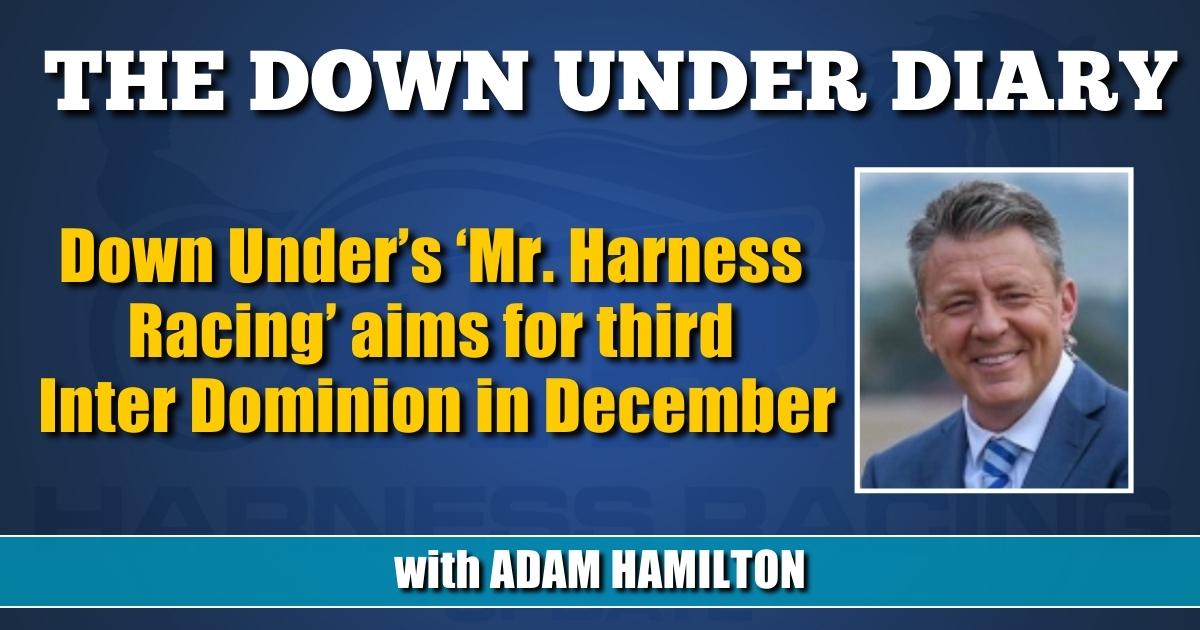 Down Under's 'Mr. Harness Racing' aims for third Inter Dominion in December
by Adam Hamilton
He is "Mr. Harness Racing" Down Under, but Mick Boots is largely unknown to most who follow the sport.
And that's just how the former garbage man, truck driver and pub worker likes it.
"I'm just a knockabout bloke who will have a beer and chat with anybody. There's nothing special about me," Boots said.
Except the fact he's become an absolute juggernaut in ownership ranks, first in Australia and now Boots is spreading his wings into neighboring New Zealand.
It has all happened relatively quickly and gained so much more momentum when Swayzee, the lone Aussie raider in last Tuesday's iconic $750,000 New Zealand Cup, romped home.
Swayzee became just the second Aussie-trained winner of the NZ Cup since My Lightning Blue's 1987 win. Arden Rooney in 2015 was the other.
It was just 16 years ago when Boots bought his first share in a pacer.
Now, the self-made businessman, who in his own words, "left school aged 14 years and 10 months," is a giant in the game.
When we chatted recently, Boots said he owned 212 horses in Australia and nine in NZ.
"Don't quote me on those exact figures," he said with a laugh. "I've got them spread across that many trainers, I might have missed a few."
Boots isn't kidding, either.
"I've got horses with 39 trainers; actually, no, make that 41 because I've just added a couple in South Australia recently," he said. "I've got horses racing in all the Australian states (NSW, Victoria, Queensland, Western Australia, South Australia and Tasmania) and now the nine horses in New Zealand with two trainers over there, Cran Dalgety and Nathan Williamson."
He buys tried stock and has been increasingly spending up at yearling sales. He also breeds "about 10 a year" as well.
Boots was born and still lives in the New South Wales Riverina town of Leeton, about six hours by car from Sydney. It's an area with a strong harness racing history.
And that's where he watched Swayzee win the NZ Cup.
"With my wife and my dogs out in the cool room in the stables," he said with a laugh.
Boots grew up around horses, although his father, David, was into thoroughbreds.
So, it surprised a few when Boots' first foray into horse ownership came when he and a friend bought a pacer called Jaydens Castle in late 2007.
There was no shortage of beginner's luck. Jaydens Castle won 22 races and was placed (top three) another 24 times, including seconds in Group 1 Vicbred finals as a 3- and 4-year-old.
The genie, so to speak, was out of the bottle.
"It was a great start," Boots said. "He was a fantastic horse for us. My mate moved more into thoroughbreds and that kick-started my involvement in harness racing."
You need plenty of coin and some luck to build an empire like Boots.
The coin came from a landscaping supplies business his father started, but one Boots took over and stunningly transformed.
"Dad had a good little business going until he got breast cancer when he was 50," Boots said. "He went in and had surgery to remove it, but had a massive heart attack in the hospital and said we had to sell the business. I put my hand up to take over, which probably surprised a few because I'd left school as soon as I could in year eight; I was 14 years and 10 months.
"But I saw an opportunity to grow the business and just backed myself. Within 12 months of taking over, I'd employed another 11 people. We just kept growing and growing. Just before I sold the business on July 27, last year, there were 105 employees and another 15 subbies [sub-contractors]. I'd turned 60 and I'd had enough. It was getting harder to get the right sort of staff, so I sold the business and retired."
Then Boots really started to open his shoulders and build his harness racing stock.
Back then, his best horse had been dual Inter Dominion finalist Bundoran, who also ran fifth in the Miracle Mile early last year.
Around the time he retired, Boots added another NSW Riverina product, Jason Grimson, to his growing group of trainers.
Grimson has been a revelation in the Down Under training ranks, especially over the past two years, winning the past two Inter Dominions and a string of other major races.
Through horses like Betterzippit and now Swayzee, Boots has become a key part of the growing Grimson success story.
They teamed up with Betterzippit to win the inaugural $1 million Nullarbor slot race in Perth in April and then Grimson unleashed Swayzee for the first time in his stable at Bathurst a couple of weeks later.
But Swayzee's win trumped that.
"I know the New Zealand Cup was a bigger win, but Betterzippit is still my most special because it was my first really big win," Boots said. "There's been a lot of jealousy about Jason's success and things said about him, but I'm telling you, he's just a great horseman. I've spent a lot of time around him and you can see it.
"I've seen a few old-school great horsemen and that's what Jason is. He works hard, he only ever has a small team and he's very hands-on. He's a man of few words, but a great judge. I'll send him a video of a horse I'm looking at buying and he'll give me a simple yes or no. That's all I need."
Boots recently turned to Grimson to try and resurrect one of his favorite and best pacers, Himanameisjeff.
"I think he's right up with Swayzee as the best horse I've had, but he's had injury after injury," Boots said. "He's rising 7, but he's only raced 27 times [and won 14]. He's done two tendons in one leg and another tendon in another leg, but Jason's been able to get him back to show the talent we know he's got and win five of his six starts for him.
"You won't see him at the Inter Dominion though because he doesn't handle the smaller tracks. We tried him in the Victoria Cup [Oct. 14] at Melton and he couldn't go away from the marker pegs around the bends. He won't handle Albion Park because it's similar to Melton, so we'll keep him to the big [1400m] track at Menangle where, hopefully, he can stay sound and win a lot more races."
So, it will be Swayzee carrying Boots' hopes into the Brisbane Inter Dominion, which starts on Friday (Dec. 1).
And Swayzee will also be aiming to give Grimson an almost unthinkable three-peat in Down Under's most historic race.