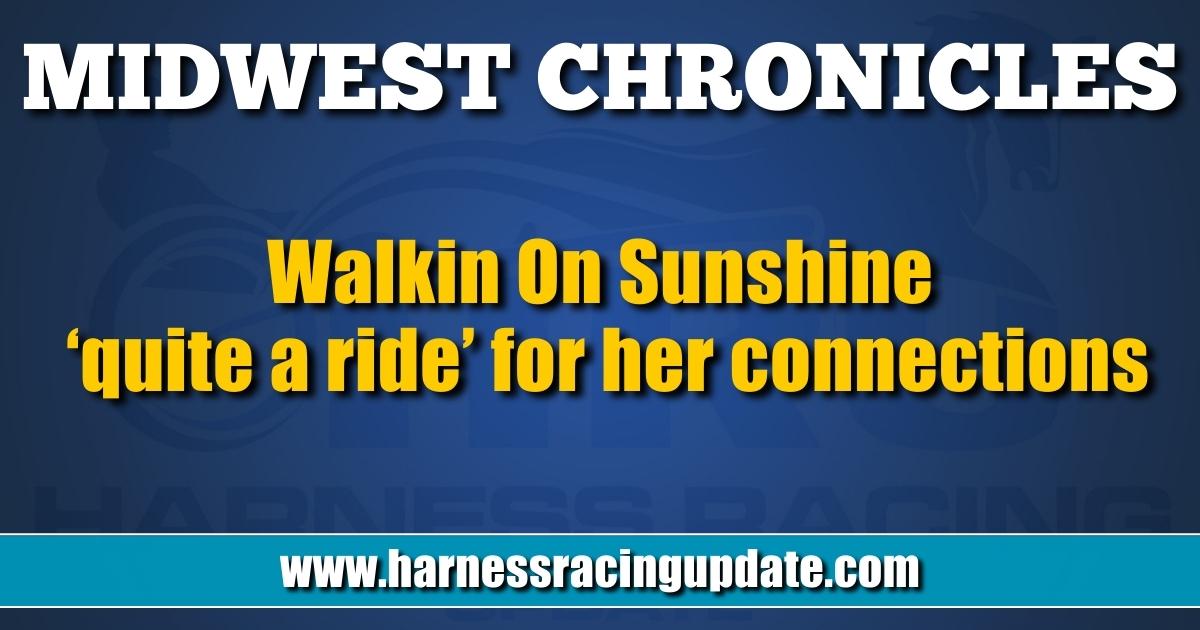 Walkin On Sunshine 'quite a ride' for her connections
by James Platz
Walkin On Sunshine will square off against a talented field of fillies in a $30,500 Star Destroyer division tonight (Nov. 17) at Harrah's Hoosier Park Racing & Casino. The sophomore, thought to be a second-tier horse in the Indiana Sires Stakes program, has become an unexpected surprise for her connections. Trained by Jay Cross, the pacer looks to finish out the season strong over the next two weekends with back-to-back stakes starts.
"She's more than I expected," said Maynard Miller, who owns the filly in partnership. "We talked about it and we thought she would be a step below the good fillies. The also eligibles, maybe she could go with them. But we never expected this."
It was Miller who first inquired about Walkin On Sunshine last fall. He was visiting Cross, and while helping in the barn, he had the opportunity to jog the filly. Bred by Victory Hill Farm, the daughter of Always A Virgin—Hatsoff Hanover was campaigned by the breeder in 2022. Miller asked about the young pacer afterward.
"He said they are actually talking about selling her," Miller said of the conversation with Cross. "That's how that all started. She's very well bred. That was the other thing that intrigued me. Once she's done, she's definitely broodmare material."
Walkin On Sunshine made her eighth and final freshman start on Oct. 13. Shortly after, she was purchased by Miller, who brought on Michael Yoder and Daniel Lehman as partners. The filly remained with Cross and headed to Bell, FL for the winter.
As a 2-year-old, Walkin On Sunshine managed two wins at Hoosier Park and a trio of third-place efforts. Miller happened to be in Bell around the time she made her initial sophomore qualifying attempts. He steered her through a pair of qualifiers in April and was left unimpressed. In her first, she paced a 2:01 mile. The second, a 1:59.1 clocking.
"I told him the second time qualifying that I'm not really hyped on her at all," Miller said. "She didn't impress me at all. She went out and did her thing, but just not very impressive. Later on, he called me and said she's got a gear that she's been cheating on you."
Cross sat in the bike for her third qualifying attempt. This time, employing the gear that Miller did not experience, she wired the field, winning by 19 lengths and stopping the clock in 1:56.2 with a :27.4 last quarter. Nearly a month later, she made her debut at Hoosier Park, finishing third.
"Gradually throughout the year he just brought her along so well, which he usually does," Miller said of Cross's management of the sophomore. "She just got better and better."
The plan was to avoid early sires stakes action with Walkin On Sunshine. Instead, Cross used ISS eligible contests and overnights. The objective was to prepare her for at least one sires stakes start in order to make her eligible for the consolation in October. But then a funny thing happened in her third sires stakes eligible start. With Cross out of town, Ricky Macomber, Jr. picked up the drive in the July 14 event.
"I raced her that night because Jay and Pam couldn't be there," Miller said. "At that time, we still felt like she was in the second tier of fillies. Jay told me, 'Just tell Ricky you've got to wake her up behind the gate and make sure she's alive behind the gate.' Ricky did. He was aggressive with her. He went right to the top and went down the pike with her."
Walkin On Sunshine took her sophomore mark that night in gate-to-wire fashion, winning by nearly 2 lengths in 1:49.4. The question that remained was whether the performance was a fluke or the sign of things to come. The filly lined up for her first sires stakes start in her next attempt, the fourth round in the series.
"She just excelled from there," Miller said. "I think the more aggressive you are with her, the better she races."
In five Indiana Sires Stakes starts, Walkin On Sunshine picked up one victory and finished second three times. Competing in the $250,000 Super Final, the filly finished third to the Tyler George-trained tandem of Tell's On A Roll and Rollin Rosie.
"I wasn't disappointed in the final at all," Miller said. "We were just too far back. Tyler's horses were sharp that night. I was just happy to be third. To say that we had one of the top three fillies in the state, I feel pretty good."
Sires stakes wrapped up a month ago and Walkin On Sunshine is still going strong. She raced second in a $30,000 Circle City division, and most recently she pushed a neck in front late to win her start on Nov. 10. The filly has drawn post 2 in Friday night's fifth race, a contest that includes favored Hungry For Love (4-5 on the morning line) and Mellop Hanover, who she edged out in her most recent win. Walkin On Sunshine is 9-2 on the morning line.
"I just think he's done an absolutely amazing job with her and managed her well all season," Miller said of Cross. "He brought her along well. A lot of them go into the sires stakes early. For her, I just think that this was the best thing for her."
After Friday's start, Walkin On Sunshine will compete in the Thanksgiving Classic Series before shipping to Bell for the winter. To date, she has earned $143,990 for the partnership. Miller has had numerous inquiries on the filly. In the past he has parted with horses when the price was right. Walkin On Sunshine is different.
"There have been people that have tried to buy her along the way," he said. "When she took that mark of [1:]49, my phone was blowing up the next day. I told Jay that I'm at a point that I've always sold. This time I'm going to have fun. The other guys also wanted to race. Boy, I'm glad that we did. She's been quite a ride."