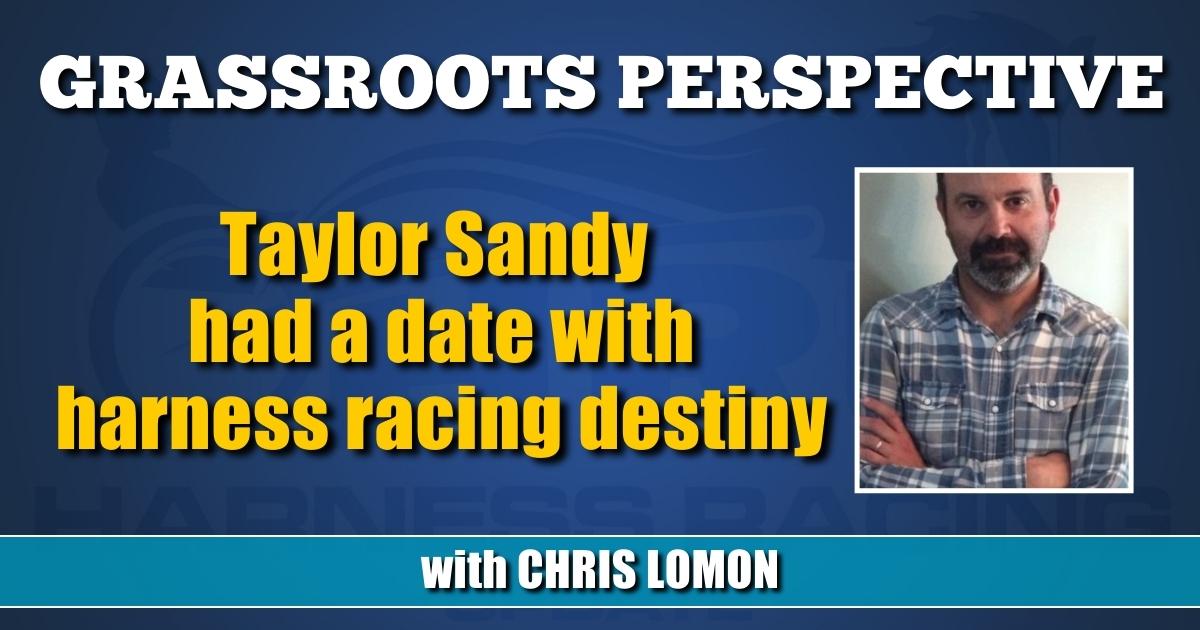 Taylor Sandy had a date with harness racing destiny
by Chris Lomon
Taylor Sandy had always adored horses but knew very little about the standardbred world when she met Bryce Jenson, a horseman whose family has a long association with the sport under its Jenson Stables banner.
"I actually started dating Bryce, so that's how I got roped into it," said Sandy with a laugh. "I found out that he had horses and I thought that was pretty cool. I had no idea what harness racing was, no clue at all. So, I started helping out and I liked it a lot right away. I groomed for Brandon Jenson, Bryce's brother, and helped him around the barn."
One afternoon, the Nebraska-born Sandy recalled dwelling on a particular thought.
"It just kind of came to me where I said, 'I want to sit behind one of these beautiful animals.'"
And that's precisely what she did.
Her first on-track partner came in the form of pacer Walking With Elias, a bay son of Pet Rock bred in Kentucky by Jane Glass.
"I had just undergone knee surgery and I jogged him," Sandy said. "I thought it was so cool. The bug kind of bit me then. I wanted to keep on doing this, but I wanted to go faster. I groomed that year, and I had my first race as a groom with a horse called Marktentwentyseven. He's kind of our stable mascot. I think he's the oldest racehorse we have, and he is just a great horse. He's kind of a grumpy old man, but we adore him."
With her affinity for the sport and its stars growing stronger by the day, Sandy felt motivated to take the next step in her budding horse racing life.
"I spoke to Brady and Brandon, and they helped me study for my driving license," she said. "They taught me how to train them down, rate a mile, and it was so cool. Brady was up in Minnesota racing and Brandon was here in Iowa, doing the fair racing, so I really got a taste of what it was like to be on the track warming up the horses and getting them ready. It was amazing to watch a horse that you worked so hard to get across the finish line first. That's when I really got addicted to the horses."
This April, Sandy began her career in the sulky. She finished third in her first four starts, including a trio of bronze-medal performances with Trump Train, a 7-year-old bay son of Wind Me Up.
A race, on July 9, at What Cheer (IA), provided Sandy with a seemingly endless amount of horse racing education, all in under two minutes.
"It was an aged pacing class," she said. "The competition was super tough. There was a horse in there called Minnie Vinnie and he's a killer. I wanted to try and beat him. I drew the 1-hole and Larry Jenson, the boys' dad, told me that the first turn at What Cheer is a doozy. I remember thinking, 'I'm going to leave with him.' He's a big horse and it's a tight turn, but I felt I could leave with him. I left with him and I'm coming off the first turn and I look to my right and there's Minnie Vinnie. I was thinking, 'Do I let him take?' and I did. He was the favorite and I figured I could sit second and have a great trip."
As the action moved to the backstretch, Sandy was faced with a key decision.
"We were going along and it was incredible," she said. "It was the first time I was racing in a strategic fashion. The guy behind me was looking to pull and I realized I might have to do the same. We get on the backside and Royal Roland, who was driving Hangman McGee, he pulled and I didn't. What Cheer doesn't have a passing lane, so I got boxed in. As soon as I shook free, I sure did make up some ground, and we ended up finishing third."
Slightly disappointed at the result, Sandy made another important choice after that race.
Instead of dwelling on what might have been, she focused her energies on using what she could take from that performance and build upon it the next time she was in the race bike.
On Sept. 3, at What Cheer, she was in rein to Trump Train. Once again, the formidable Minnie Vinnie headlined the four-horse field.
"My most memorable race so far was that one," Sandy said. "I took all the previous races and gathered all this knowledge. It felt like I knew what I was doing, that I had that confidence from what I had learned so far. You can't go out there with a plan because nothing really ever goes to plan. I finished second and I felt like I did everything that I wanted to do. It was a great feeling."
A feeling that Sandy intends on carrying forward.
Whatever her horse racing future has in store, she certainly won't be unprepared.
Being a student of the game is a major focal point.
"A short-term goal is to work on getting more knowledgeable about the horses," she said. "I'm very interested in the training aspect because there is so much equipment you can use to aid a horse. I want to focus more on that. We have some yearlings that we are starting to train, and it is cool to watch them grow and develop. I definitely want to learn more about that. It's not just all about racing – you have to prep them and get them ready."
When she's not busy with the demands of her full-time role as an automation engineer for an animal health company that makes animal vaccines, Sandy is tending to her herd of cattle on the farm she calls home with Bryce.
"Just before Brady went to Pennsylvania, we had 30-35 horses here at the farm," she said. "We keep up with Brady on how he's doing out east. I also hunt when I have time. I'm a pretty big water-fowl hunter and a bow hunter. This is a slower time of the year, so I take some time to unwind and go sit in the woods and contemplate life."
At some point during those moments, she knows that horses will soon come to mind.
That, she happily admitted, is never a bad thing.
"Life always centers around the horses," she said. "It's crazy how you can go from such a high to such a low or vice versa. We've had days where you feel you can't buy a win and then there is that one race, that one horse, who sets a new mark or blows the competition out of the water. It's worth it. Marktentwentyseven is a great example. There was one time we figured he would pick up a check, but not win. And what does he do? He won. He must have been feeling really good that day. It was pretty incredible."
Yet another reminder of that date with horse racing destiny and a journey that is far from over.
"I told Bryce that it would be pretty incredible in 10 years to do the racing full time," Sandy said. "I would love that."