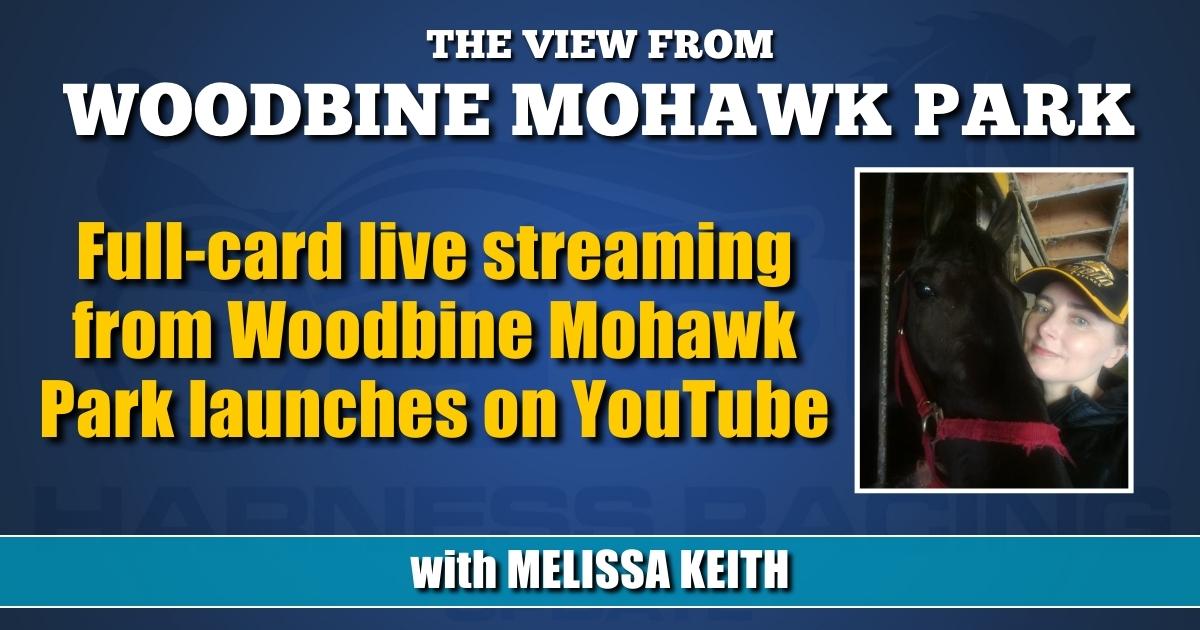 Full-card live streaming from Woodbine Mohawk Park launches on YouTube
Woodbine quietly debuted the live feed on the popular video platform
at the beginning of the month.
by Melissa Keith
Last week, live racing from Woodbine Mohawk Park made its quiet debut on YouTube, the second-most visited website in existence. The Woodbine Racetrack Live channel began offering the Woodbine Live Stream (www.youtube.com/@WoodbineRacetrackLive) on Nov. 3.
Watching live races from Mohawk online isn't new. The Ontario Jockey Club (OJC) introduced Horseplayer Interactive "Dial Your Wager" phone betting in 1997. In 2004, the platform relaunched as HPI Bet, Canada's first and only legal advance-deposit wagering (ADW) platform for horse racing. The Racing Network Canada debuted in 2001, screening live thoroughbred and standardbred racing for subscribers; in 2005, it was renamed HPItv. When Woodbine Entertainment announced plans to end HPItv in 2017, customers spoke out, leading the company to keep it as a viewing option.
Mark McKelvie is senior manager of communications for Woodbine Entertainment. He said the company's technology team had recently been exploring options for improving the live feed from Canada's top harness track. HPItv was not going to be affected, as it has a loyal audience of mostly older customers.
"YouTube certainly presented itself as possibly the best option, so the team had looked into other racetracks that were using YouTube and… how it was working for them…," McKelvie said. "They were really impressed with its abilities. It has a very low latency… That's probably the biggest benefit. It's in HD; the quality is outstanding."
"Latency" refers to the time it takes to transfer digital data, which affects how well a live event is synchronized with its live stream.
"There were concerns at one time about the delay, and that's obviously changed over time," McKelvie said. "It should be as close as possible for wagering."
The Woodbine technology team had previously tested YouTube during Mohawk's livestreamed qualifiers, which have already been available on the popular video-sharing site.
"That started almost five years ago now," McKelvie said. "We were already pretty familiar with YouTube. We do the qualifiers every week through YouTube, but also press conferences in the past, or 'Stronger Together' town hall-type meetings."
Behind the scenes, there was a reason why YouTube was the best vehicle for the WMP qualifiers.
"You've got to remember for the qualifiers, it's a lot smaller crew," McKelvie said. "In fact, we only bring in one or sometimes two people into Mohawk for the qualifiers, so YouTube definitely worked easily for getting the stream up in a couple of clicks of a button, essentially.
"I get a lot of calls around lunchtime or early afternoon, where people want to know where the replays are [archived online] for the qualifiers. I always have to let them know that the team that comes into work at night usually get in around 3:30. They then go in and cut the graphics in, with the field page and the times and the results. That's why those [qualifier replays] are usually uploaded early in the evening."
Until last week, Woodbine Mohawk Park's pari-mutuel races had been streaming on HPI and the WMP website though the company's own platform. Replays of individual races were uploaded to YouTube later, without the pre-game show or between-race banter provided by simulcast show hosts Randy Waples and Elissa Blowe, and often without the post-race interviews that follow bigger events.
"The platform we were using before, you know, we had invested in that several years ago, so there was already a bit of a loyalty to that," McKelvie told HRU. "In the past, it was just a case of having a video player we were using, that we were happy with, but it's just like anything: Over time, you continue to look at what your options might be."
YouTube was the winning option, beginning in Nov. 2023.
"The delay from the event happening to when the viewer sees it over the stream, it's as short as we've ever been able to offer," McKelvie said. "For our customers, our horseplayers, that's exactly what they want. It's almost as up-to-the-second as possible, so I think that's a big win for everybody."
The WMP livestream can still be viewed on the website (woodbine.com). The only difference is that YouTube, rather than the older proprietary streaming technology, is providing the live video.
"We were already putting the races on our website," McKelvie said. "There's no change there. So, for people who may not be the most tech-savvy, but they watch our livestream on our website, other than seeing that it's maybe just a little clearer… they probably won't notice much of a difference.
"It's embedded on our website, so when you go to Woodbine Mohawk Park's website and you hit 'stream races,' that page that opens up, you're still on our website, but you'll have the video embedded right there in the center. Someone could click on that and get redirected right to YouTube, or they can just hit 'play' and watch it right there on our site, just like they have for a very long time now."
A series of "Driver Resume" profile videos also appeared on the existing Woodbine Replays YouTube channel last week.
"Those were actually produced and edited probably close to a year ago now," said the senior communications manager. "Those were done by what was, at the time, our very new social content team. It's something that we've been building up over the last couple of years. Rolling those kinds of pieces out is what was obviously anticipated, and I think people can get kind of excited to see more of those coming with time."
McKelvie said to watch for more innovative videos from the Campbellville, ON track, in similar style to a recent Woodbine Racetrack thoroughbred series.
"We had one called 'Free Rein' that kind of follows some trainers and jockeys at Woodbine…," he said. "Pieces like that, they tend to perform pretty well on YouTube.
"Just recently, a couple of weeks back on a Thursday night at Mohawk, we had a bunch of the drivers in to shoot some interviews, and play some fun games. Those are going to be put into… short content pieces that will be up on our social channels and our YouTube channel, throughout this winter and into the spring."
There is a second advantage to WMP pari-mutuel races appearing in real time on YouTube, on their own channel.
"Your chances of capturing somebody that's a non-racing fan obviously go way up when you're on a platform like YouTube," said McKelvie, adding that "populating" the new channel with docuseries will attract viewers and subscribers even when the racing feed is not live.
There will be no geographical or age restrictions on the YouTube Woodbine Racetrack Live channel, he noted.
"In Canada, you can only bet through HPIbet, and that's age-restricted," he said. "The video itself, there's no option right there for somebody to start wagering, so there's no issues there."
Since its soft launch, the expanded availability of WMP racing has mostly drawn praise.
"Between what I've read and seen, and also heard from some customers, the wagering team, and the technical folks, they've been receiving positive feedback, so they're really happy with what they've heard," McKelvie said. "They did anticipate that this would be a change that would be well-received, so we're really happy with what we've seen so far.
"From a technical standpoint, there were a couple of hiccups, just making sure that once we rolled it out, it was going to be as smooth as possible."