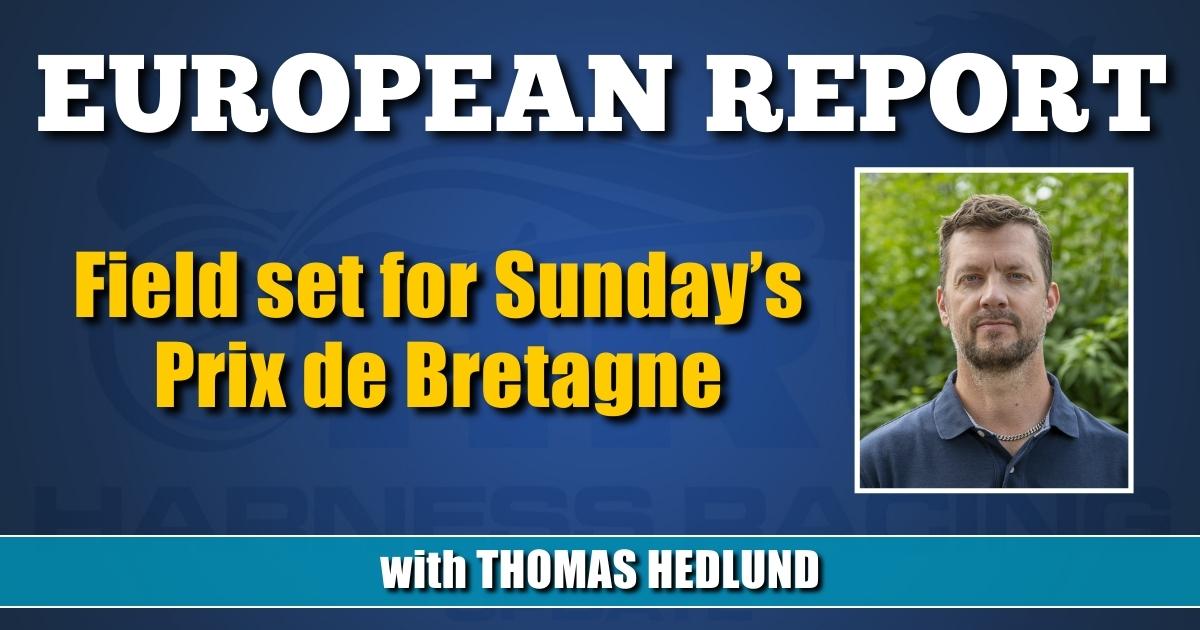 Field set for Sunday's Prix de Bretagne
by Thomas Hedlund
The first preparatory B-race before the Prix d'Amérique 2024, the $125,000 Prix de Bretagne, is scheduled at Vincennes racetrack on Sunday (Nov. 19) and several top trotters chase a spot in the big race in January.
This year's Prix d'Amerique winner, Hooker Berry, who basically already has his spot in 2024 Prix d'Amérique because of his earnings, will face tough competitors this Sunday in Ampia Mede Sm, Diable de Vauvert, San Moteur and Horsy Dream, among others.
Maybe the most interesting horse in Sunday's field is Ideal du Pommeau, the Sébastien Guarato-trained 5-year-old who impressed a lot during his 4-year-old season.
As usual, the three top horses in the Prix de Bretagne will earn an entry for the Prix d'Amérique 2024.
PRIX DE BRETAGNE 2023
2,700 meters
Horse — Driver
1. Hip Hop Haufour — Christian Bigeon
2. Farah des Caux — Alexis Garandeau
3. Just Love You — Alexandre Abrivard
4. Ideal du Pommeau — Matthieu Abrivard
5. Oracle Tile — Theo Duvaldestin
6. Ganay de Banville — Jean-Michel Bazire
7. Hokkaido Jiel — David Thomain
8. Horsy Dream — Eric Raffin
9. Hussard du Landret — Benoit Robin
10. Izoard Vedaquais — Benjamin Rochard
11. Elvis du Vallion — Yoann Lebourgeois
12. Hanna des Molles — Laurent Claude Abrivard
13. Gu d'Heripre — Francois Lagadeuc
14. Bleff Dipa — Roberto Vecchione
15. San Moteur — Björn Goop
16. Diable de Vauvert — Tony Le Beller
17. Ampia Mede Sm — Franck Nivard
18. Hooker Berry — Nicolas Bazire
CALGARY GAMES RETIRES
Timo Nurmos' super trotter Calgary Games will retire from racing, the trainer announced on Thursday (Nov. 16).
The 6-year-old Calgary Games was undefeated after 11 starts when he tried the Prix Tenor de Baune in Paris last year in December and that became his last entry at the racetrack.
The Ready Express son's career ended with 11 starts, 10 wins and lifetime earnings of $632,750.
He will now be a full-time sire at Menhammar Stuteri in Sweden.
AKELA PAL FERM BEST IN MONTEGIORGIO
Montegiorgio in Italy played host to the classic $160,000 Gran Premio Palio Communi on Sunday (Nov. 12) night and after two elimination heats, where Eclat de Gloire and Akela Pal Ferm (Maharajah) claimed their wins, respectively, the latter proved best in the final for driver Antonio di Nardo.
The Gennaro Casillo trained mare was outstanding in 1:54.4.
In The Netherlands, the same day, Alessandro Gocciadoro's Zeudi Amg (Ideale Luis) bested some well merited trotters in the $75,000 Prijs Der Giganten.
Rick Ebbinge was entrusted behind Gocciadoro's mare and hit the front position shortly after the car left the field. In front, Zeudi Amg was never threatened by any of the opponents so Ebbinge could relax in the bike in the stretch. Zeudi Amg won in a mile rate of 1:55 over 1.3 miles.
Etonnant made a break in the last turn after a tough three wide trip.
BREEDERS CROWN ENDS THE SWEDISH STAKES SEASON
Four divisions in Breeders Crown finals will be held at Eskilstuna racetrack in Sweden on Saturday (Nov. 18) afternoon.
Race 6 on the card is for the 3-year-old colts and geldings, where Kriteriet winner Fame And Glory will be the probable favorite. Race 8 for 4-year-old mares is maybe the most open story while the 3-year-old fillies (race 10) seems to be a battle between Oaks winner Adriatica and Italian-bred Ester Degli Dei.
The 4-year-old race (11) for colts and geldings closes the show with many well merited trotters.
The majority of the horses in the four finals race for a $300,000 purse and for those who don't (for example horses bred outside of Sweden), the purse is $150,000.
Complete race card here.