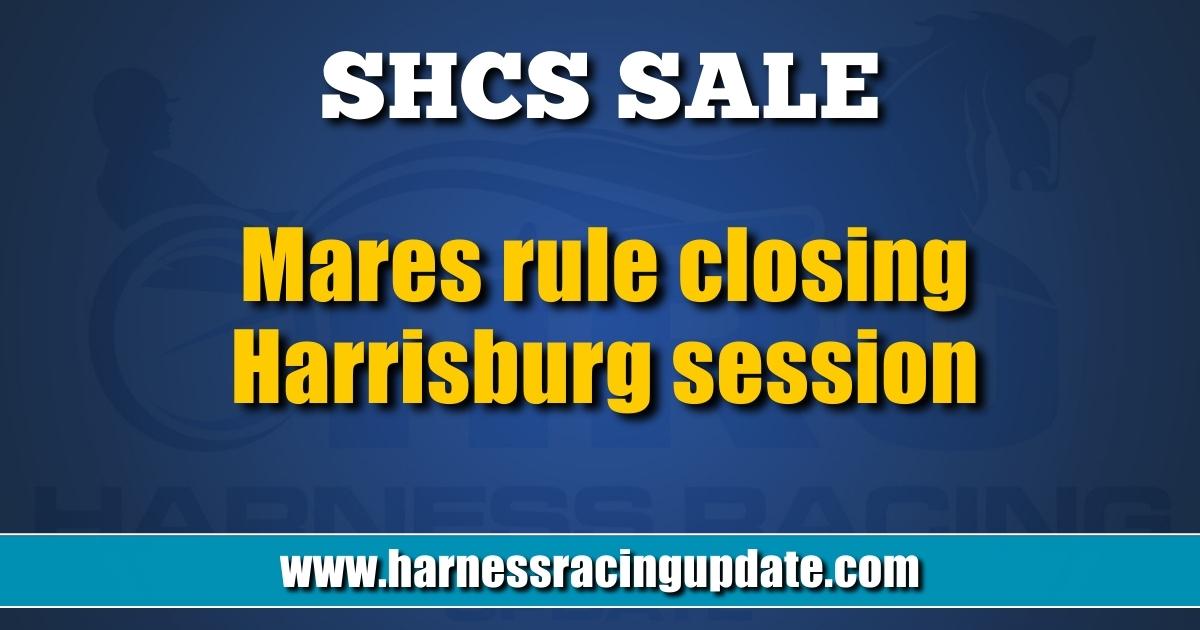 Mares rule closing Harrisburg session
The Standardbred Horse Sales Company auction concluded with a total gross of $63.8 million, down 9 per cent from 2022 ($70,050,000) and down 8 per cent from 2021 ($69,447,500).But, for context, it was the fourth highest total gross in the last 16 years.
by Ray Cotolo
The 2023 Standardbred Horse Sales Company auction was coming to an end Friday (Nov. 10) as consignors started packing their displays and rolling yards of rubber flooring while the last round of horses went through the ring closing out the Mixed Sale.
Racehorses of all kinds circled through on the last day – 2-year-olds, 3-year-olds, colts, fillies, geldings. The top figure for the day was $450,000, reached three times and all for mares who will say goodbye to the racetrack and hello to the breeding shed.
Swanky Hanover was the first to be plucked from the racetrack when selling as Hip #1417 to James Avritt, Sr. The 3-year-old filly is a full-sister to triple millionaire Manchego and a half-sister to near-millionaire In Secret. Just two years ago, this very filly circled the ring in Harrisburg as the second-largest purchase of the session when exiting for $700,000.
"I bought her [to be] a broodmare and I've got a share in Walner, so obviously she'll go to Walner next year," said Avritt, Sr., who got shut out on two other mares and took the six-figure plunge to secure the winning bid. "There were actually three I was looking at… one was Creamy Mimi, the older mare that sold. The other was Silly Me Hanover. I struck out on both of them, so this was the last shot I had. I had to fire a few more bullets than I wanted to."
Later, the $450,000 tag struck again with Hip #1472, a 3-year-old Muscle Hill filly named Bella Ciao. She is the second foal from Ciao Dolce, who is out of the stakes-winning mare Pizza Dolce as well as a half-sister to stakes winners Miss Paris and Bella Dolce. Winning Key Farms acquired the high-priced filly.
"As the sale went on, we realized we'd have to pay more than planned," said Eric Crocker of Winning Key Farms. "The family behind her is awesome right now. We knew we were going to pay too much, but we're happy. We got a deal on one yesterday, so we knew we could go a little more today and get the one we wanted. We lucked out, I guess."
Winning Key's investments continue Patty Key's mission to build a top-shelf breeding operation in memory of her late husband Bob Key. Yesterday, Winning Key walked away with Deal Wise As IT, a half-brother to triple millionaire and International Trot winner Vivid Wise As IT, for $250,000. The mare sold in foal to Chapter Seven.
"We love the overseas racehorses that can come over here and compete," Crocker said. "That's what we would like to raise ourselves. We're hoping the first one will have half of what his uncle is."
In terms of how Winning Key's development is going, Crocker said "We couldn't be more excited. We just keep moving forward and bought some more stallion shares. Volume Eight, a horse we raised and a 2-year-old Dan Patch colt, is going to stand at Hanover it looks like, so we're very excited."
One more time on the day the hammer slammed at the same $450,000 tag. The lofty bid came on the penultimate horse of the sale, supplemental entry and Hambletonian Oaks winner Heaven Hanover. Robert Lindstrom purchased Heaven Hanover for S R F Stable, which held a share of ownership in the filly. She'll retire from racing and, according to Lindstrom, will likely be bred to Gimpanzee.
Lindstrom also acquired Heaven Hanover's stablemate Secret Volo, who was the last horse of the sale. Secret Volo, fourth in the Hambletonian Oaks this year, will also retire from racing. Lindstrom purchased her for Courant Inc. to enter the breeding shed.
POINT OF PERFECT TO EUROPE
The odometer on Point Of Perfect will continue to climb, fast. On Thursday night, Point Of Perfect left Dover Downs following his 1:55 win in the $127,400 Matron Stakes and shot northwest on the highway to get to the Farm Show Complex. He went through the ring and will leave not only Harrisburg after selling for $330,000, but the United States altogether.
Bo Westergaard struck the winning bid on the former Ron Burke pupil, who is a 3-year-old colt by Walner remembered for his upset gate-to-wire victory in a Hambletonian elimination earlier this year. Westergaard, a native of Denmark, will add Point Of Perfect to his stable overseas with hopes of claiming some of the biggest prizes in Scandinavian harness racing.
"I saw it was a nice horse and I have followed the horse all the season and it could be a good horse for us in Scandinavia," Westergaard said. "We have a lot of races on one mile for those horses next year at 4 years old, so I hope we get a good season with him and the owner and my team can have a nice experience with the horse."
Westergaard has made a habit of snagging American racehorses to take overseas. Last year, Westergaard purchased the Muscle Hill—Win Missy B horse B A Superhero for export as well as the Chapter Seven—Margarita Nights stallion Seven Nation Army, who has earned over €40,000 this season.
"For me, it's to get some good, nice horses for breeding and to race in the big races in Europe," Westergaard said. "It's big to get a horse like Point Of Perfect and I hope he's going to have a big season next year."
OTHER SESSION LEADERS
McSeaside came in as the third-highest-priced purchase of the day when her breeder Erika Sergent signed the ticket for $360,000. Sergent Stables also owns her dam McGibson, who has also foaled millionaire Boston Red Rocks.
Hanover Shoe Farms made further additions to its broodmare band including a $335,000 purchase of Silly Me Hanover. The 3-year-old filly, by Walner, is out of the stakes-winning Chocolatier mare Shared Past, who is a three-quarter sister to millionaire Dejarmbro. The filly topped the six acquisitions by Hanover Shoe Farms on the session, which totaled nearly $1 million in purchases.
CLOSING THOUGHTS
David Reid, president of Preferred Equine Marketing said Friday's session seemed, "pretty good. The session just ended and I haven't looked at any of the numbers, but I thought the Fabulous Fillies sold well overall and the high-end racehorses sold well. They had a great pace here today and had a lot of lookers through this morning and it was a great day overall, from my perspective."
Dale Welk, president and director of operations for the Standardbred Horse Sales Company, thought the Mixed Sale proved stronger than he anticipated.
"Great Mixed Sale, tremendous Mixed Sale actually," Welk said. "We came into the start of yesterday down 19 per cent and I think we're going to wind up around 8 per cent at about $64 million for the total sale. We were right at $70 million last year.
"I wasn't optimistic that we would be close to a record, but I don't know if I was optimistic that we'd be this close. I thought we'd be down 10 per cent, really, just the way of things and the economy and some of the stallions coming in here – I knew they were going to be off."
The second session of the Harrisburg Mixed Sale grossed $12,925,000 from 217 sales for an average of $59,562, which brings the two-day total to $27,972,000 and an average of $46,235. Accounting for the yearling sale, the 2023 complete Standardbred Horse Sales Company five-day auction grossed $63,808,000 from 1,413 sales. The gross was down 9 per cent from 2022 ($70,050,000) and down 8 per cent from 2021 ($69,447,500), but was the fourth highest in the last 16 years.
For perspective, here are the all-time records for the SHSC auction:
Yearling sale average — $54,653 (2021)
Yearling sale gross — $44,356,000 (2022)
Yearling sale median — $32,000 (2021)
Most yearlings sold — 1,124 (2010)
Mixed sale gross — $27,515,900 (2006)
Mixed sale average — $52,224 (2022)
Mixed sale median — $34,000 (2021)
Most mixed horses sold — 1,104 (2008)
Combined mixed and yearling sale gross — $70,228,377 (2007)
Combined mixed and yearling sale average — $53,527 (2021)
Combined mixed and yearling sale median — $32,000 (2021)
Most combined mixed and yearling sale horses sold — 2,200 (2008)
And after auctioning over 1,000 racehorses, the show leaves town. By tomorrow afternoon, the sales offices will be torn down, the hundreds of temporary stalls will have been moved, and the sale that was in Harrisburg will leave no trace that it ever had occurred.
"This time [Saturday] it'll be somewhat of a ghost town," Welk said.
At least until we meet again next November.