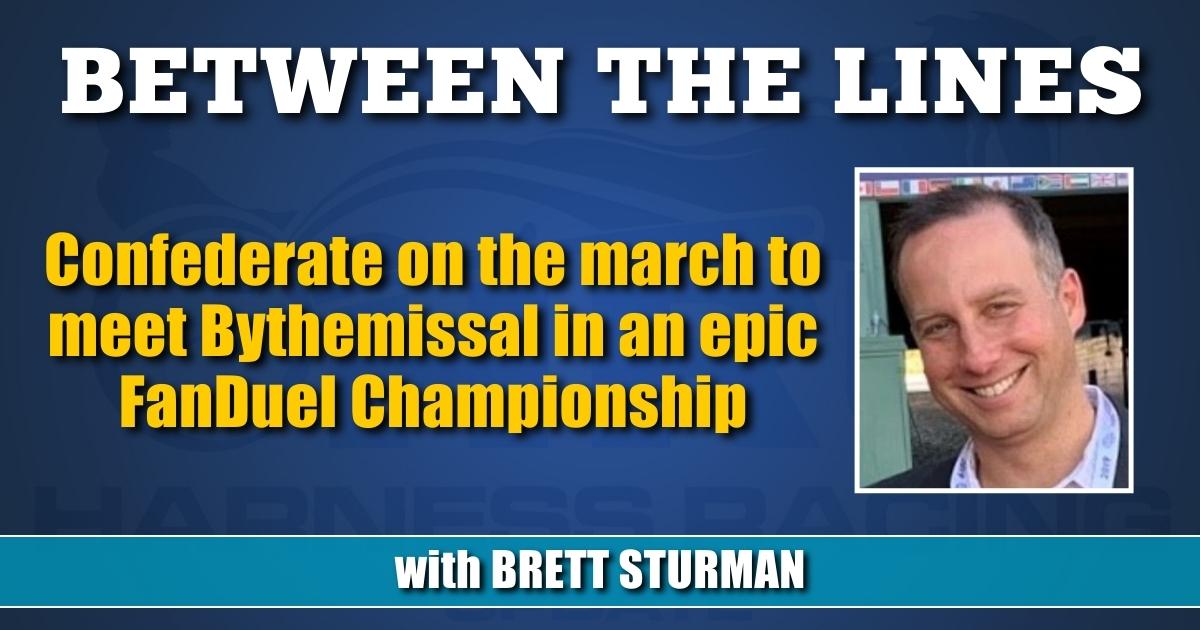 Confederate on the march to meet Bythemissal in an epic FanDuel Championship
by Brett Sturman 
Each taking care of their business in stakes at separate tracks Thursday night (Nov. 9), it seems increasingly likely that Confederate and Bythemissal will meet for the first and only time in the $350,000 FanDuel Championship (formerly TVG Stakes) at The Meadowlands on Saturday (Nov. 25).
Included in a stallion announcement issued by Diamond Creek Racing a week ago were the remaining race plans to supplement Confederate to the Matron Stakes at Dover and then race in the FanDuel Championship. The former occurred Thursday, with Confederate proving too good once again for his 3-year-old counterparts, overcoming an outside post to win convincingly in 1:49 over the Dover surface.
When Confederate enters the FanDuel Championship, he will be just the third 3-year-old colt or gelding pacer to enter the FFA Open Pace event since its inception in 2013.
The first 3-year-old to attempt the race was Captaintreacherous, which came in the inaugural year for the TVG Stakes. He finished sixth though only beaten a couple of lengths in that insanely deep field of older horses that included the likes of the winner Foiled Again, Pet Rock and Sweet Lou, among others.
In 2019, Bettor's Wish became the only other 3-year-old to enter the TVG Open Pace. He closed strongly to be second in that race, won by Always A Prince. Of course, he would go on the following year to close out his career as a winner in the 2020 edition of the race as a 4-year-old, but there's many similarities between him of 2019 and that of Confederate.
Like Bettor's Wish, Confederate will enter the FanDuel Championship as the sports No. 1 rated horse and the sports highest seasonal earner. Both will have used the Matron at Dover as a prep for the race. Bettor's Wish won his Matron in 1:49.2 in 2019, and Confederate won his in 1:49 on Thursday. Bettor's Wish won the Dan Patch that year for best 3-year-old male pacer, and Confederate is assured of that as well as Horse of Year honors.
Nothing that happens in the FanDuel Championship will have an impact on awards. Similarly, nothing will happen that can diminish the legacy of Confederate. But what if he were to win?
For all the discussion last year that Bulldog Hanover assembled the greatest 4-year-old season in the history of the sport, in which he did, a win from Confederate in the FanDuel Championship would have to put his year right up at the top of any of the best 3-year-old seasons.
Already having surpassed $2 million in earnings this year with his win in the Matron and major stakes wins that include the Meadowlands Pace, Cane Pace, Tattersalls Pace, Breeders Crown and others, he became the sports fastest 3-year-old ever when he won a KYSS leg in 1:46.1; just one-fifth of a second off Bulldog Hanover's all-age mark set last year. Like Somebeachsomewhere at 3, he was beaten a single time, ever so slightly. If he were to beat older foes in the FanDuel Championship, not only would he be the first 3-year-old pacer to do so (What The Hill and Tactical Landing accomplished the feat as 3-year-old trotters), I'd imagine he'd be the first 3-year-old pacer to beat older horses in any stake anywhere for a purse this high. What other 3-year-olds in history have resumes that would compare?
Standing in Confederate's way will be his toughest challenge to date, the 4-year-old winning machine, Bythemissal.
Like Confederate, Bythemissal was victorious on Thursday night too. He was as dominant as ever in winning the $125,000 Potomac Pace Invitational at Rosecroft Raceway against rival Tattoo Artist, Allywag Hanover and others in a fast 1:48. In winning that race by open lengths, Bythemissal has now won 25 of 32 races lifetime.
Digressing just for a moment and related to last week's column on how there's little rest for the top drivers, the official race off-time for Confederate's and driver Tim Tetrick's win at Dover was 8:45 p.m. Somehow, Tetrick made it to Rosecroft a couple of hours away to drive Lou's Pearlman in the Potomac Pace that went to post at 11:20 p.m.; that's amazing.
Currently the sport's fourth rated horse, Bythemissal has now won four in a row, two races ago of which was a win in the Breeders Crown in 1:48. His mark of 1:47.1 was taken at The Meadowlands in August in a division of the Sam McKee Memorial. Post positions notwithstanding, I assume that when Confederate and Bythemissal meet that favoritism will go to Confederate but it really feels like the race could go in either direction for these unbelievably tough and fast horses.
Tattoo Artist shouldn't be entirely overlooked either. Though it seems like Bythemissal now has recent form in his favor and appears to be well-positioned for older divisional honors over his rival, Tattoo Artist remains highly formidable. Stallion plans were announced for him this past week as well, and with Tattoo Artist to stand stud in 2024, the FanDuel Championship was stated to be the end of the 6-year-old's illustrious career.