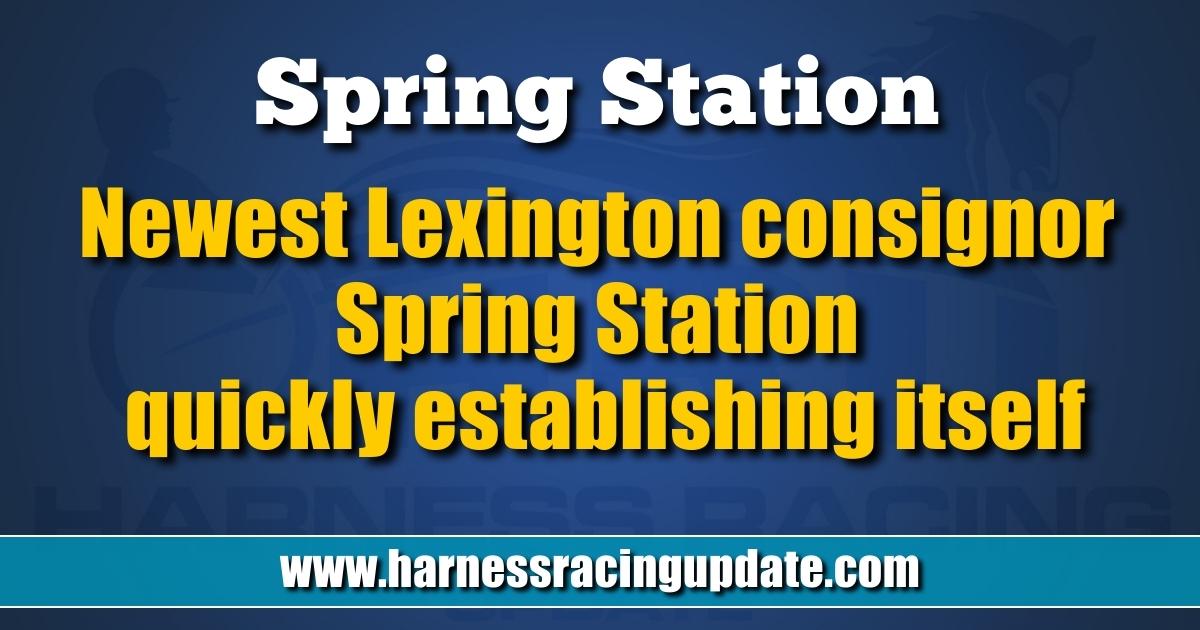 Newest Lexington consignor Spring Station quickly establishing itself
by Dave Briggs
Spring Station breeding farm has arrived on the scene like one of the freight trains that frequently runs past the front of its property in Midway, KY, close to Lexington.
This year, the farm owned by Eric Good and managed by Josh Green, will auction off its first yearlings at the Lexington Selected Yearlings Sale. It already has 12 to sell.
"We very much hit the ground running," Green said. "We felt like it was the ideal time to get started in Kentucky. A great time to have the dual-breeding [program]."
Green said he and his girlfriend, Sasha Moczulski, moved to Spring Station in April of 2022.
Just 18 months later, Green reports Spring Station has, "38 foals on the ground that were foaled out this year. We have about 65 mares in foal."
The Spring Station team also includes significant help from Dr. Bridgette Jablonsky, Dr. Megan Moschgat and Tim Hayes, all formerly at Hanover Shoe Farms.
Green, a former trainer, used to condition horses for Good, currently the co-owner of top older pacing gelding Bythemissal.
"Good was always interested in having a breeding farm in Kentucky," Green said. "Two years ago, when [Moczulski and I] were at the Fasig-Tipton sale, we were buying yearlings that we would be training. We looked at some different farms and then [Good] asked us if we would be interested in pivoting from training and going into… helping manage the farm.
"We've always loved Kentucky. I'm originally from Ohio, so we just thought about it and thought, 'When would we have an opportunity like this?' So we just decided to go for it."
Green said other farms are rooting for Spring Station to succeed.
"It's amazing how the other farms have been so helpful," he said. "So many people have just been great."
Count Diamond Creek among those pulling for Spring Station to do well.
"I'm amazed at what they are doing and what they are investing in," said Shaun Laungani, Diamond Creek's vice-president and director of bloodstock services. "People are willing to uproot their lives and move to Kentucky, which is just amazing."
Green said the original farm was named Spring Station, "for the underground springs that run underneath that whole entire area" home to a number of prominent thoroughbred farms.
As for the active railroad tracks that run through the front of Spring Station, Green said it's made the farms horses bombproof.
"We will have mares that have babies and when we put them out, the very first day the foals do not shy at the train," Green said. "It just has to be that they heard the train so many times when they were in the mare's belly. There's nothing really that makes sense. They pay no attention to it whatsoever."
Borrowing a tradition from the likes of Hanover Shoe Farms, Spring Station names its yearlings with the word "Station" at the end.
"Opening day, we have a really nice Captaintreacherous filly [Charlotte Station, Hip# 66] that we're really excited about. Just a gorgeous Captain filly," Green said.
"We're very excited to have two yearlings that they slotted the first day. We've got the Sweet Lou [Pleasure Station, Hip# 41]. He's the same family as Bythemissal – the dam of Bythemissal is a full-sister to this colt's dam. That makes it kind of neat with Eric owning Bythemissal."
Finally, Green touted Spring Station's own Barbie. Moczulski named a Walner filly out of Midpoint, Barbie Station (Hip #188).
"That was before the Barbie movie came out or we even knew anything about it. It's kind of neat how it's come along. It's a Walner filly from a strong filly family – it's Ariana G's family. She sells the second day.
"Sasha has loved, loved, loved her from early on. She had so much personality. She's been very, very athletic and moves very well in the field. So, we're excited about her. Her video, it's just pink.
"Sasha did that and she does the marketing for the farm. She went with that angle and promoted it. It's just all come together."
Overall, Green said, the Spring Station teams is, "just excited about what we have. We've got a good little first crop. I think 10 of the 12 are first foals, younger families. A couple of the mares that we had bought were already in foal, so they've been raised in Kentucky. They've all been there as of when they were young foals. Two of them are also dual-eligible, from before we bought the farm and had the mares somewhere else.
"We're going for the big one," Green said. "Where it will really change for us is 2025. That's where it will really, really pick up as far as numbers and also Eric has bought a lot of quality mares that we'll be excited about. What we've got in the pipeline, we're very excited about."