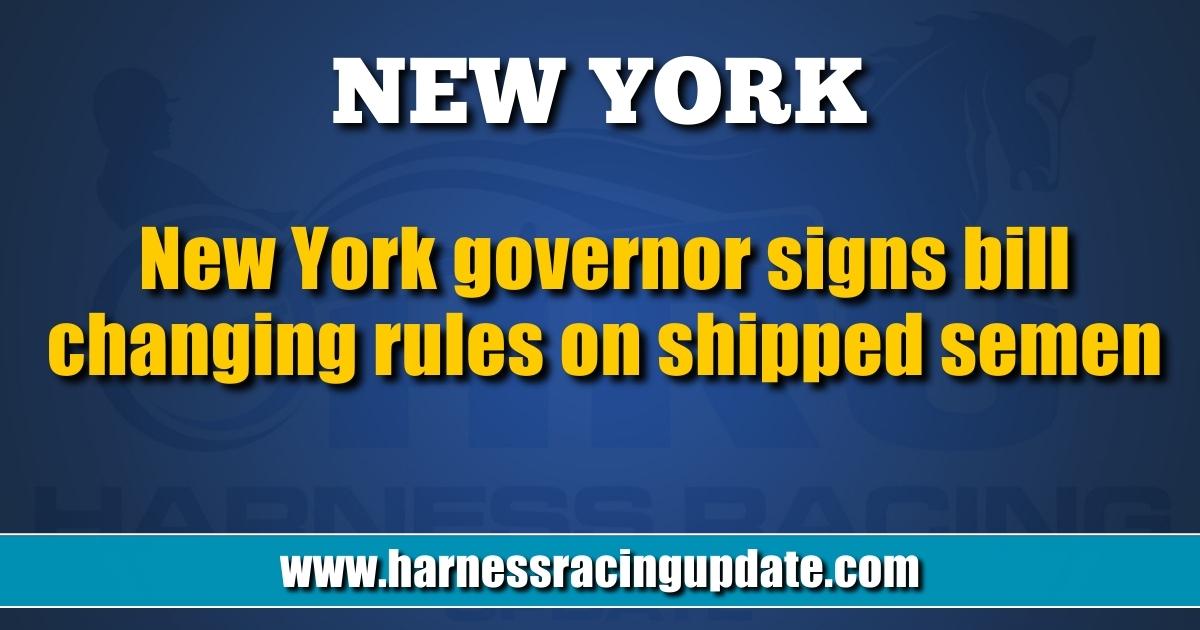 New York governor signs bill changing rules on shipped semen
Beginning in the 2024 breeding season, progeny of mares located out-of-state but bred to New York stallions via shipped semen will be eligible for the New York Sire Stakes program.
by Dave Briggs
On Friday (Sept. 29), the state of New York officially approved a rule allowing the progeny of mares bred to New York stallions via shipped semen beyond state borders to be eligible to the rich New York Sire Stakes (NYSS) program.
The change to the state's racing, pari-mutuel wagering and breeding law was a long time in the works.
Prior to Friday, New York was the last major standardbred jurisdiction that required mares to be located in the state and bred to New York stallions in order for their offspring to be eligible to the NYSS program.
In passing Assembly Bill 3528, governor Kathy Hochul said, "New York must continue to adapt our racing programs if it is to remain a national leader in horse racing. I must also ensure that the integrity of the Fund is uncompromised and that New York breeders are incentivized to keep as much of the process in New York as possible. I have reached an agreement with the Legislature to pass legislation in the upcoming session that will accomplish both goals by keeping top prize money available for owners that continue to keep all aspects of their breeding process in New York, while, for the first time, allowing certain aspects of the process to occur out-of-state. Based upon this agreement with the Legislature, I am pleased to sign this bill into law."
Last November, just prior to the Standardbred Horse Sales Company auction in Harrisburg, PA, Tom Grossman, owner of Blue Chip Farms in Wallkill, NY, told HRU that a measure allowing shipped semen appeared imminent. At that time, he handicapped the chance at getting the measure passed at 90 per cent and the chance of getting it passed before the 2023 breeding season at 50 per cent.
Beginning in 2024, progeny of mares bred to registered New York stallions will be eligible to the NYSS program regardless of where the mare is located.
"I've had mixed emotions historically," Grossman said. "We have a responsibility to grow agriculture and keep farms alive in New York. The numbers say it will be good for the overall industry, that it follows the stallions. I think we would get more stallions and more higher-end stallions in particular. That obviously would lead to more New York-breds in training and more New York-breds in training centers and at racetracks and the trickle-down economic effect of that.
"We had a pretty consistent number of mares bred to stallions in New York that stayed for the resident breeders awards, so the whole pie increases a good deal and that number probably comes down just a little, but I still think [Blue Chip has] more New York resident mares, so I think it's a win-win for everybody. It addresses a lot of our customer complaints recently about lack of new stallions, lack of variety of stallions et cetera, which has been hard to attract without shipped semen. That's what the numbers bear out.
"The number of New York-breds eligible to the Sire Stakes program has dropped precipitously over the last three or four years to where, short term, it's wonderful news for a yearling buyer. There's something like $25,000 in Sire Stakes money for every eligible horse, which is multiples higher than any other jurisdiction, but it's not a sustainable model and we have to grow the pie. In the short term, it certainly makes sense to buy or breed a New York-bred."