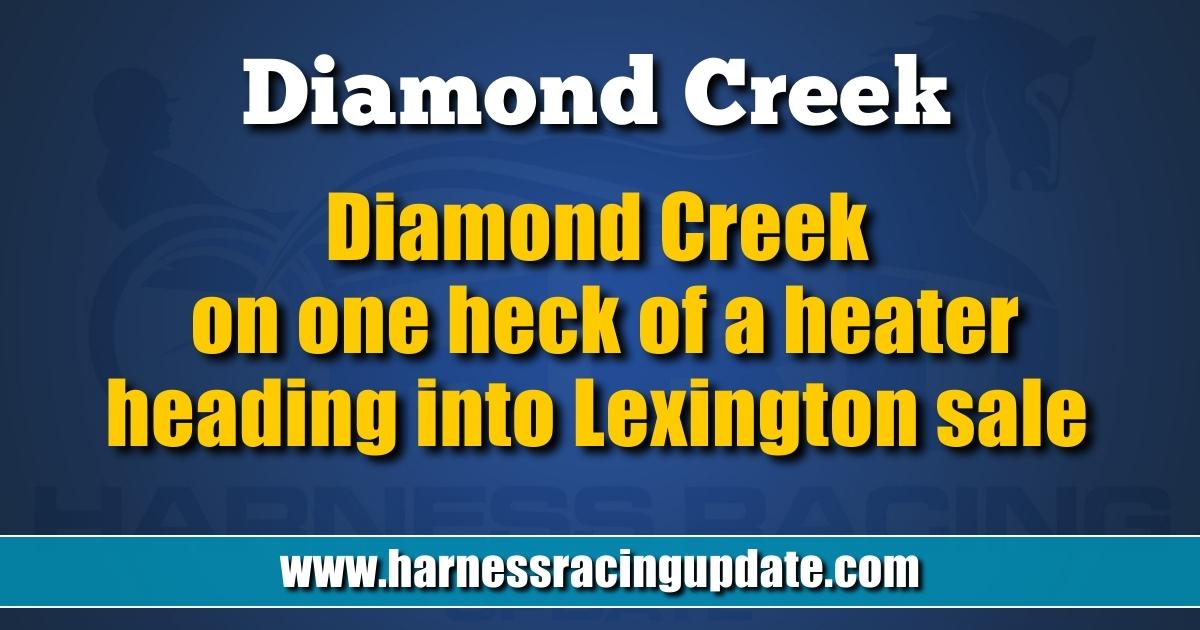 Diamond Creek on one heck of a heater heading into Lexington sale
by Dave Briggs
So far, the 2023 racing season has been a blast for Diamond Creek. The farm bred and owns Confederate — the fastest 3-year-old pacer in history and #1 ranked horse in the sport's weekly Hambletonian Society / Breeders Crown poll — among many others.
Diamond Creek also is the third ranked breeder in earnings despite having about 750 fewer starts than either top-ranked Hanover Shoe Farms or second-place Winbak Farm.
Shaun Laungani, Diamond Creek's vice-president and director of bloodstock services, said the performance of the farm's horses on the track provides some terrific momentum heading into the Lexington Selected Yearling Sale. Diamond Creek, owned by Adam Bowden, will sell some 30 of its own horses and nearly 25 more as an agent for other breeders.
"The year we're having couldn't be more fun and rewarding," Laungani said. "The Bowdens have put so much into this and to see them finally getting something back with a homebred colt like Confederate and some of the others is just a pleasure to see and the whole team is just beaming with pride.
"Finally, it's all coming together. It was an exceptional year. It won't be like this every year, but we're going to enjoy it while we can.
"Everybody can just see the rewards from all the work over the year and that's just huge because we do get some flak from buyers because we do keep foals out of certain mares for the homebred team to race, but they are all raised the same way, by the same hands and they all get the same [treatment].
"Confederate was raised in a field with horses that went to the sale. I hope it shows that they can confidently buy from us and potentially hit a home run, because even though we keep certain foals out of certain mares, there's absolutely potential champions in our sales consignment every year."
To further his point, Laungani highlighted a number of successful Diamond Creek graduates the farm sold at the sale.
"Bond is an example of a horse we didn't keep and has gone on to be better than any filly homebred that we've ever had," Laungani said. "She's outperformed any trotter we've kept since a horse like Creatine years ago.
"Then, you go down the list and we've finally got some traction with some 'sales graduates.' We've got Geocentric, which we sold in Harrisburg last year, or Anthony Perretti bought some stock that's doing so, so well. There's a horse like Arson, a little fast colt that we sold last year out of our foundation mare that's won, I think, five or six stakes wins as a 2-year-old. Seven Colors is a horse we sold for a client as a yearling in Lexington."
This year, yearlings Diamond Creek bred that they are selling at the Lexington sale all have one-word names that start with the letter B.
"Adam has always loved the one-word names for their strength and classic appeal," Laungani said. "To simplify the process, we did basically what they do in France, which is each year you're assigned a letter and what we did is just change that a little, so each year there's a letter for our homebreds and there's a letter for our sale group. This year the sale group starts with 'B', while the homebreds start with 'F'… Here's where it gets really confusing, because we skipped the letter 'E' because it would be hard to name that many horses."
As for deciding which horses to keep and which ones to sell, Laungani said, "The sale group is more about what's commercially viable, what does the public want, as opposed to what Diamond Creek wants."
This year, that means selling all but one of the yearlings trotters Diamond Creek has produced.
"We have not established a very good trotter racing program and that's nobody's fault but our own," Laungani said. "We're not as adept as we should be, basically, at racing and managing trotters and so we're only keeping one trotter as a homebred.
"We're basically just doubling down on the pacing side and saying, 'This is our strength and we're going to focus on this as far as racing goes.'
"The Gimpanzees normally would have been kept in years past, but they are all being offered. The Gimpanzees remind us of him and they've been impressive the whole way, but really once they got to the paddock video day and we saw how smart and willing they were, it was like validation of a horse we thought could potentially be a breed-changer.
"We think they'll sell really well. We think that people are going to really like them and they'll go on to race. People have to keep in mind that this is just a preview crop for Gimpanzee. He bred his smallest crop the first year and the full crop gets bigger as it goes on. So, hopefully they do well."
As for pacers, Laungani said, "the big storyline is Downbytheseaside and our connection with that stallion. I think we're selling 15 of them on Day 5.
"There's a few notable ones – we've got full brothers, one was Gulf Shores [Billion, Hip #938] and one was Sling Shock [Ballistic, Hip #964], so those are kind of our heavy hitters there."
Earlier in the sale, Laungani highlighted:
• Balcony, Hip #296: "A Southwind Frank that is a niece to Bond. She reminds us of Bond. She's a great mover. Everyone needs to see her – she's made very well. Absolutely love her. She's got the pedigree to do all kinds of things.
• Barricade, Hip #253, "is a super sporty trotting colt. It's the first colt out of this mare. This is very unusual, but this is basically our best trotting mare. This mare had six previous foals, all fillies. He's a Chapter Seven, dual-eligible colt. He's quite fancy. That would definitely be a colt that would've been kept in the past.
• Blank, Hip #105, "is a first foal, first crop Gimpanzee colt. This is the colt that looks the most like the stallion himself. This is the first foal out of a fast Muscle Hill mare, so we absolutely love that colt."
• Marilyn Ruth, Hip #74, an agent horse for Anthony Perretti Bloodstock. "Even though they are young in their operation, they've got Geocentric, which we sold for them last year and this is another Gimpanzee first foal, out of a super-fast, 1:51-record mare Tuscany. She had a short career, but was fabulous at the Red Mile in her 3-year-old year. This filly could potentially do anything with her pedigree. She's quite lovely."
• Ghostbuster Sa, Hip #257: "This colt came to us in late May, early June and just like other horses that we've had come over from Italy, of course, the trip is hard on them. He has just improved and improved, every day, every week, every month since he got here. He's really blossomed and we've grown quite fond of him."
• Lou Grass, Hip #311: "It's a Sweet Lou colt and Sweet Lou colts are having a banner year. This is the same cross — Sweet Lou over A Rocknroll Dance mare — as Confederate and Cannibal. They were the only two A Rocknroll Dance mares bred to Sweet Lou and so this cross is just right. It's 100 per cent. You'll start to see it more now, but this colt is coming along when there still aren't that many, so it's a golden cross deal. He's a very nice horse and we like him a lot."
• Brigade, Hip #483: "This colt has done it the right way and he's really grown on me. This family is super productive."