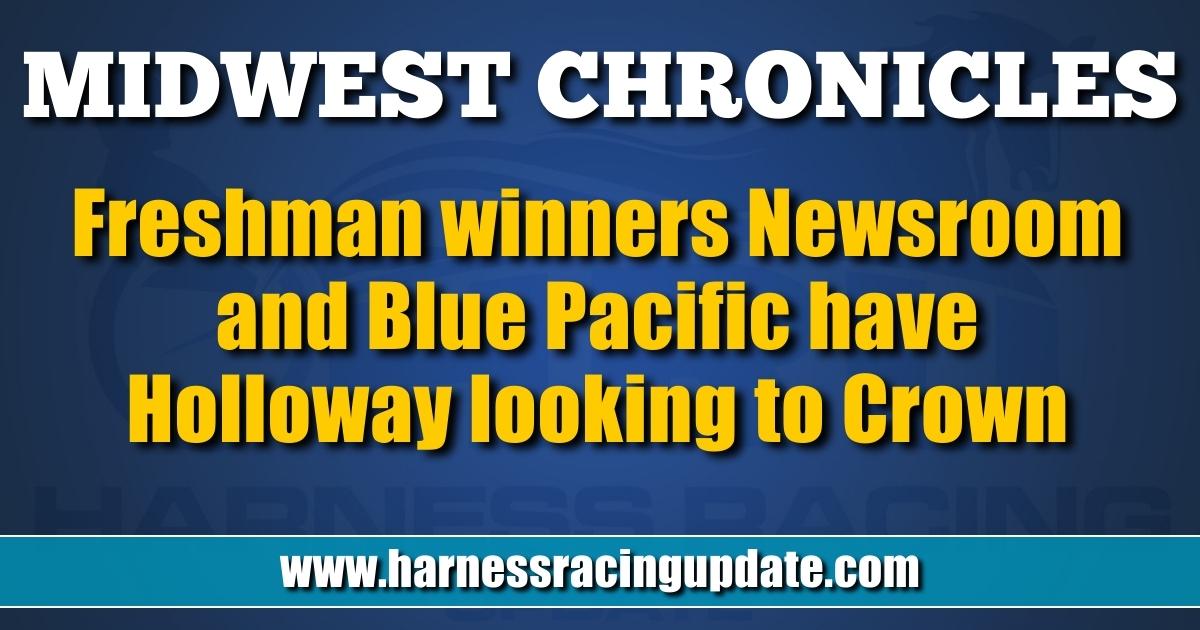 Freshman winners Newsroom and Blue Pacific have Holloway looking to Crown
by James Platz
On Friday night (Sept. 22), Harrah's Hoosier Park showcased several Grand Circuit stakes that offered a preview of some of the trotters and pacers that could battle it out four weeks from now when the Anderson, IN oval plays host to Breeders Crown eliminations. Trainer Joe Holloway entered the evening with one Crown hopeful. He finished the night with the freshman duo of Newsroom and Blue Pacific each staking their claim as threats in October's championship events.
The young pacers both reached the winner's circle, but did so in completely different fashions. Newsroom, the undefeated Always B Miki—Well Hello There colt, dug in gamely in the lane to fend off 14-1 Noblesville at the wire to win the $110,000 Elevation by a quarter length. The favorite, driven by David Miller, took command early and held on late to stop the clock in 1:51.4 and record his sixth win. The victory was one of four on the program for the Hall of Fame reinsman.
"I think the world of the horse," Miller said after the race. "I'm not going to brag on him at all. That's the worst thing I can do for him. I'm just happy every time he races, he comes out of it good, and he races well, and everybody's happy. I'm really high on him. I think he's a really good horse."
Newsroom's early exploits are drawing comparisons to previous champions Holloway has campaigned, including Jenna's Beach Boy, Perfect Sting and Always B Miki.
The colt has scored victories in the Tompkins-Geers, Kindergarten and $150,000 New Jersey Classic final. The conditioner assessed his newest budding star, giving high praise of his progression as a racehorse.
"He has guts, which he showed tonight," Holloway said. "He has lung power. He has gait, he has speed. I thought he was more advanced than most of the others, except maybe Sting or Jenna; certainly more advanced than Miki was at this stage."
The fact that Newsroom is in Holloway's barn is a matter of pure luck. He purchased the colt — bred by Mark Mullen and Stephen Day III and consigned with the name Theresalwaysaway — for $30,000 at Harrisburg last fall. The dam, a Well Said mare, had produced three previous starters from four foals, with one winner.
"He wasn't marked in my book," Holloway said. "I bought him from Preferred. David Reid has that large viewing area. He wasn't in my catalog, but he caught my eye. When I kept going over to look at different horses, I saw him a couple times."
The trainer asked to see the horse and marked him in his book. When the colt passed through the sale ring, Holloway bought him for Marty Granoff's Val D'Or Farms. Over the winter, Newsroom impressed the trainer and separated himself from the group.
"Marty always told me buy anything you want that sells cheap," Holloway said. "If they're no good, get rid of them. He kept training well. Around March, Marty asked, 'Who do you like the best?' I told him and he said, 'Get out of here. Who do you like the best?' I told David [Miller], 'You better come and train this colt.'"
Miller sat behind Newsroom and echoed Holloway's sentiments. Six victories later, the driver is making comparisons of his own.
"He reminds me of his dad," Miller said. "He looks like him, the same color, the same mental approach. I've noticed that a lot about him."
Those are lofty hoofprints to follow. Breeders Crown champion, Horse of the Year, double millionaire, one-time fastest horse in history, top-rated sire, Hall of Fame inductee.
It's premature, and even unfair, to saddle Newsroom with lofty expectations. Still, Holloway knows the intangibles are there for the colt to be special, even if his Elevation win was slightly out of character.
"He has a shot," he said of the pacer, now a winner of $170,775. "He wasn't his best tonight, but you know what, he got the job done, and that's awful good. I don't know why he wasn't his best. That I'll have to figure out. Obviously, I thought he should have won easier. He didn't. He's a good horse. He's really a good horse. He had every right to be beat, he was even passed a little bit, but he comes back on."
Newsroom looks to extend his streak at Lexington before returning to Hoosier Park for the Crown eliminations Oct. 20 and 21. While his winning effort Friday, required a gritty response in deep stretch, stablemate Blue Pacific surprised her connections with a dominating three-length victory to secure the $200,000 Kentuckiana Stallion Management stake for freshman pacing fillies. Miller guided the Sweet Lou—Miss Jones 2-year-old to a 1:50.2 track record performance in only her third career start.
"She surprised me to death," Miller said. "She missed some time there; she got laid up. I kind of thought she would be that type of filly, but not this quick. That was her third lifetime start, and she's doing stuff like that. To me, that's pretty impressive. That was amazing."
The Fair Winds Farm-bred filly qualified at Gaitway in early and mid-June, but a setback prevented her from debuting until earlier this month in the New Jersey Classic. A $53,000 Harrisburg purchase, also owned by Val D'Or Farm, Holloway just hoped to salvage the season and prepare for 2024.
"I would have hoped she was this kind of filly early," the trainer said. "But she got sore. She bucked a shin and we lost quite a bit of time. Then the hopes were to put some money on her card, be able to retain her, and race her at 3. I got her ready for the Jersey Classic. I didn't go into it with intentions of winning it."
After finishing third in her elimination, Blue Pacific put a neck in front at the line to take the final in a time of 1:50.3. After she came out of the race sound, Holloway changed the plan from racing at Lexington to taking a shot in the lucrative Kentuckiana. The decision paid dividends when she moved to the top as the field raced to a :55 opening half and then kicked clear in the stretch to collect her second win in three attempts. The winning time shaved two-fifths of a second off the previous track record for 2-year-old pacing fillies. With the victory, Blue Pacific has banked $173,050 in less than one month. Once again, Holloway is adjusting his plans with the filly to book a return trip to Hoosier Park next month.
"She has exceeded my expectations," he said. "Early on when she baby raced, I would have hoped she was this kind of filly. Now we go to the Grand Circuit races, and it looks like she can come back here for the Breeders Crown. I was hoping to maybe go to the Kindergarten. I didn't know. She was going to tell me, but she looks like she'll be okay."