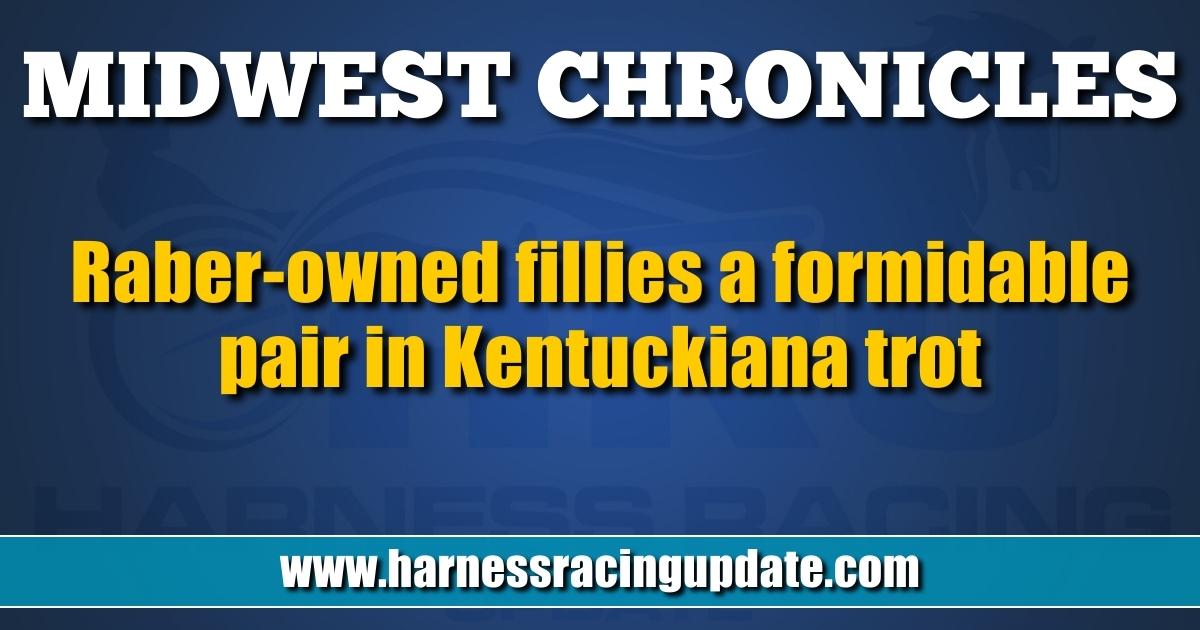 Raber-owned fillies a formidable pair in Kentuckiana trot
by James Platz
Ryan Raber, a mere 21 years old, purchased his first standardbred at the 2019 Hoosier Classic Sale. In that short window of time, the Montgomery, IN, resident has fared well in the business with multiple winners. Tonight (Sept. 22), a pair of fillies he owns in partnership will vie for top prize in the $260,000 Kentuckiana Stallion Management stake for freshman trotters. Skyway Paige is the 5-2 morning line favorite, while Crystal Swan is 15-1. Both 2-year-olds are trained by Susan Miller, wife of horseman LeWayne Miller.
"I couldn't be more blessed," Raber said of owning the fillies, each set for their biggest test thus far. "I'm just lucky to have the opportunity. I never dreamed I would be in this position."
The young owner has grown up around horses. The son of Loren "Short" Raber, proprietor of Hoosier Standardbred Farm, Ryan learned the breeding side of the business and regularly attended the Hoosier Classic each fall when the farm sold its annual consignment. At age 17, he decided to buy his first horse, Country Girl Charm. That initial selection sent him down a path of immediate success.
"She was a Whom Shall I Fear and I gave $6,000 for her at the Hoosier Classic sale," Ryan said. "I got her trained down at home and she turned out to be a decent horse."
Decent is an understatement. When Ryan believed she was ready to qualify as a 2-year-old, he reached out to LeWayne Miller. Once in his stable, Miller liked the filly so much, he bought a stake in the trotter. Over three seasons and a handful of starts at age 5, the mare collected 10 wins and hit the board another 14 times in 42 attempts. Country Girl Charm took a sophomore mark of 1:54.2 at Harrah's Hoosier Park and finished her career with $333,825 in earnings.
"I'm not a big fan of racing aged horses," Ryan said. "We did a little with her just because she was so special. We still have her now. She's actually in foal with her first baby."
Along the way, Ryan sold more pieces of the filly, and today, the ownership group includes D&S Stable in Montgomery and JW Stable, located in Milroy.
"I was just getting started and it pretty much took everything I had to buy her and get her conditioned," he said. "I sold pieces of her as I went along and that really got me jump started."
The experience with Country Girl Charm solidified Ryan's involvement in racing and forged a partnership with Miller that remains strong. Ryan has bought into other horses Miller owns or trains, and he purchases yearlings each fall and gets them started at home in Southern Indiana before turning them over in the spring. Last fall he purchased Skyway Paige at the Hoosier Classic sale for $10,000. Then, Miller offered a chance to buy into Crystal Swan after he signed the ticket for $25,000. Ryan initially passed.
"If I buy a horse, I'm hands on," Ryan said. "I don't really go by another man's word. I like to see the horse myself. LeWayne said there is a piece available. I told him no at the time of the sale. She sold Friday, so I went back that night and looked at her and something about her caught my eye. I called him back and said, 'I'd like to have a quarter if I can.' Her mother and Country Girl Charm's mother are sisters, so that immediately grabbed my attention."
Miller broke and trained Crystal Swan while Ryan developed Skyway Paige at his Montgomery farm. Country Girl Charm's success paved the way for the installation of a half-mile track. Three weeks before she was set to qualify, he shipped the Swan For All freshman to Miller in central Indiana.
"I like to train them around 2:05 before I bring them to the big track," Ryan said. "A lot of times if I train them in 2:05, they are ready to qualify right away. I trained Skyway Paige there in 2:07."
Bred by Ken Slabach, Skyway Paige is the third foal from Cantab Hall mare Prismatica, a winner of more than $200,000 on the track. She is a 100-per cent producer, with Skyway Paige her richest ($106,545 to date) so far. The filly has hit the board in seven of eight seasonal starts, with three wins for the partnership of Ryan, his father Short (Hoosier Standardbred), Miller (L & S Racing), and Anthony Swartzentruber. The freshman trotter enters the Kentuckiana with back-to-back victories in Indiana Sires Stakes action, taking her 1:55.3 speed badge two starts back. She currently ranks second to Ponda Title in sires stakes divisional points. Dexter Dunn is slated to drive Friday, and the duo will start from post 5.
"She's been drawing outside in all the sires stakes races," Ryan said. "She drew the 5-hole, which I think is the winningest post here at Hoosier, so we'll see."
Crystal Swan, now owned in partnership by Ryan, First Chance Stable, Platinum Stable and David Postman, finished fourth her last time out, also an Indiana Sires Stakes leg. The Swan For All lass is the first foal from Dejarmbro mare Tymal Hurricane. She is a three-time winner, including a sires stakes score (1:55.4) and a Grand Circuit win at the Indiana State Fair. Bred by Benjamin Graber, the winner of $82,738 has been assigned post 4, with Miller set to drive.
"Crystal was a gorgeous filly out of a great family, so we made her eligible," Ryan said. "She is also Breeders Crown eligible."
The owner's motivation for staking the fillies to the Kentuckiana ties back to Country Girl Charm, who was not eligible to the race as a freshman.
"I missed it with Country Girl Charm and it looked like she would have been okay in there with the way the race turned out," he said. "I decided I didn't want to miss that opportunity again."
No matter the outcome of tonight's race, Ryan is pleased to have a piece of two quality trotting fillies that have already achieved considerable success this season.
"When I bought Country Girl Charm, my dad told me, 'Enjoy it. You only get one of these in a lifetime,'" Ryan said. "Now both of these fillies have records faster than she did as a 2-year-old, and Skyway Paige is closing in on her 2-year-old earnings. I've been very fortunate; very lucky."
The Kentuckiana Stallion Management stake for freshman filly trotters is programmed as race 6, with a post time of 8:04 p.m. The event also includes Ponda Title, runner-up in last week's Jim Doherty; Dozen, winner of five straight for Marcus Melander; Sambuca Hanover, victorious in four of six seasonal starts; and Graceful Design, third in the Doherty and Peaceful Way finals. Tonight's Hoosier Park card is headlined by the $210,000 Caesars Trotting Classic and several other open stakes. The 15-race card boasts purses of more than $1.5 million.