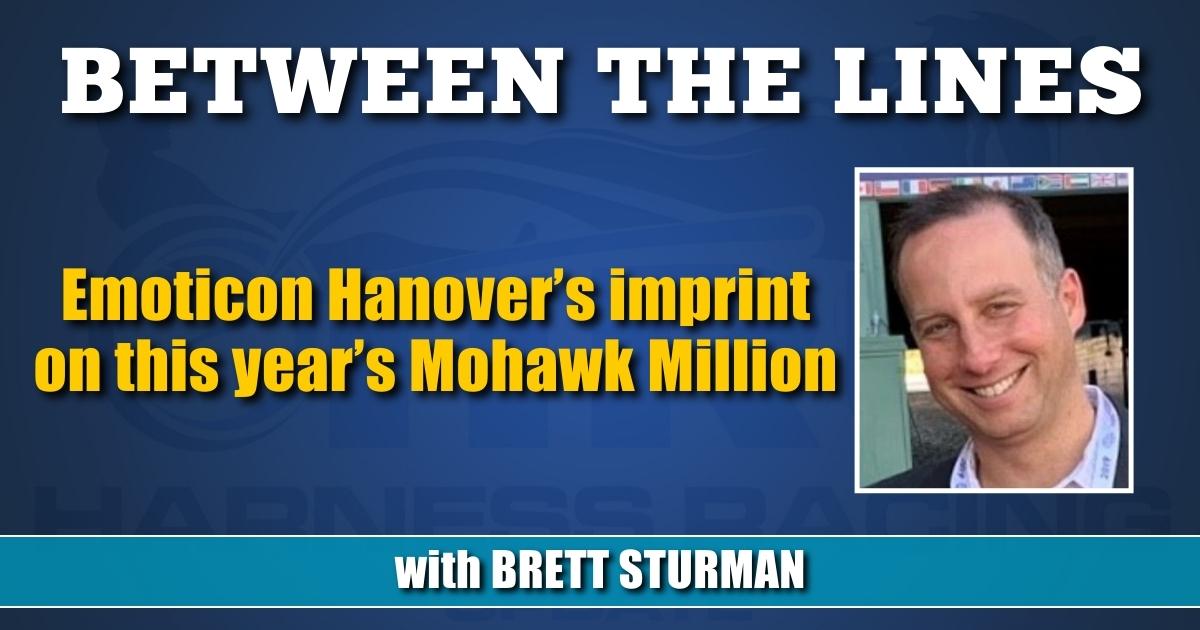 Emoticon Hanover's imprint on this year's Mohawk Million
And other thoughts throughout one of the more highly anticipated race cards of the year.
by Brett Sturman
In the fourth edition of the Mohawk Million (Sept. 23) open to all 2-year-old trotters, a record number four fillies will take on six colts and geldings in an attempt to replicate Venerable's feat from 2021 as the only other filly to win the seven-figure event.
Of those fillies, the two being sent out by Serge Godin's Determination and trainer Luc Blais, both have close relations to the world champion trotting filly they campaigned just a few years ago, 2018 O'Brien winner Emoticon Hanover. That's because Determination's entrant Drawn Impression (Muscle Hill) is the first foal out of Emoticon Hanover, and the other entrant Emoji Hanover (Greenshoe) is a half-sister to Emoticon Hanover, both being out of the mare Emmylou Who.
Whereas Determination bred Drawn Impression, Emoji Hanover on the other hand, was a $180,000 buy at the 2022 Lexington Selected Yearling sale.
The Mohawk Million didn't exist at the time Emoticon Hanover raced as a 2-year-old, but she had shown the same early career promise as a freshman that both Drawn Impression and Emoji Hanover have demonstrated thus far. Both Emoticon Hanover and Emoji Hanover won the Champlain Stakes, and when the rapidly progressing Emoji Hanover did so in her most recent race in a time of 1:54.2, she improved four full seconds than her clocking when she notched her first win in the race prior. Like Determination's misfortune last year at the post draw in this race with Silly Me Hanover, Emoji Hanover has drawn another outside post, this one in the farthest out, post 10. Of the two Determination slots, Drawn Impression will attract more attention and may have even battled for race favoritism if not for being scratched-sick out of her division of the Champlain. Her wins in the Peaceful Way elimination and $425,000 final where she vaulted off cover both times to sprint away once underway were extremely impressive. Post position 5 should lend itself well enough towards her racing style and the question for the daughter of Emoticon Hanover may only be a matter of fitness.
A win from either of these fillies would not only add to their own career, but also to the story of Emoticon Hanover as well as give Determination and Blais a win in the Mohawk Million; a race that they've been part of since day one.
Ultimately, the road to Mohawk Million glory will go through the nearly unbeatable, T C I. The Cantab Hall colt trained by Ron Burke comes off a win in the newly relocated Peter Haughton at Hoosier Park last weekend and there haven't been many anxious moments in any recent races as he continues to run up a potential record-breaking bankroll by the time his 2-year-old season is done. Burke's other entrant, Tennessee Tom is formidable as well. The Long Tom gelding went from fifth to the lead in a super-fast brush en route to winning the OHSS championship two weeks back.
Elsewhere, Security Protected got the 2-hole ride against T C I two back in their PASS Final at Pocono three weeks ago and that's where that race ended. He did close from well out of it when those two faced off again last week at Hoosier, but he had too much ground to cover and lands a similar outside post once again. Desiree Jones is another trainer with multiple slots accounted for in the race, as she'll send out presumed longshots despite having posts 1 and 2, Tactical Strike and Top Mast. Tactical Strike looked like she was giving ground away on the inside throughout during her race in the Champlain but gradually closed later along the inside. It was a similar trip for Top Mast in the other Champlain division, who also stayed along the inside and came on mildly through a late seam.
Allegiant will have raced just six days prior to the Mohawk Million and won't have much time to rebound. Maybe she bounced somewhat from her prior win in 1:52.2, but she clearly wasn't at her best last Sunday at the Red Mile when she gave way tamely to fillies she had beaten with regularity prior. Griff regressed last out in the Champlain when she made an early break, and that came following two improbable wins with rallies coming from out of nowhere. Show Me is another that will have just five days off in between his most recent race, a maiden breaking score in his sixth career try. He did well for himself to win when taking it to favorite International Law who broke, and then did enough to hold off a couple others that were closing.
Picks: Drawn Impression, T C I, Security Protected
$970,000 METRO PACE FINAL — 2-YEAR-OLD OPEN
For $970,000, this year's Metro is just $30,000 shy of giving Woodbine Mohawk Park what would have been two separate million-dollar races on the same card. And in a bit of an oddity, all horses from the Metro elimination won by Legendary Hanover drew posts 1 through 5, and all horses from the elimination won by Clever Cody have drawn the outside posts 6 through 10.
In the Metro, Legendary Hanover will look to keep his perfect career record of six-for-six intact. He won his elimination last week comfortably after getting away fourth from post 8 and then brushing to the lead and never looking back from there. He's twice won in 1:50, perhaps here in the Metro he may be able to crack that barrier.
Seemingly habitual slow starter Captains Quarters got caught on the inside throughout his elimination in a race where nothing really went his way. Good thing that was only an elimination, and once he was able to angle in the stretch, he had plenty of pace as shown by that :25.2 final quarter. Lou's World outraced his elimination odds at 92-1 on the driver change to Todd McCarthy when he came first over all the way from seventh and was able to get into second through the stretch as pocket sitter and well supported Chain Gang backed away from that spot. Clever Cody comes off a lifetime best mile of 1:50.4 when he won his elimination holding sway throughout, Ohio invader showed he will be a threat. Remember The Alamo got a 2-hole trip in his elimination but needed a little bit more late. Gem Quality wasn't bad in his elimination when he continued to press on despite the first-over grind.
$540,000 SHES A GREAT LADY FINAL — 2-YEAR-OLD FILLIES
The top two fillies in both eliminations threw down last week and it'll be fascinating to see what comes now as all four collide in the final. Caviart Belle and her impeccable record is still the one to beat and will warrant her role as race favorite, though Odds On Platinum did put a brief scare into her in last week's elimination. For Odds On Platinum, she'll try to win the same race as a 2-year-old that her dam, American Jewel won and set a world record at the time in doing so, when she won the Shes A Great Lady in 2011. Last week, Odds On Platinum tracked Caviart Belle intently halfway through the stretch and when she angled out to take her shot, it looked like she had momentum and thought for sure she was going to go by. But to her credit, Caviart Belle was emboldened by the challenge and came right back and ended up prevailing by a half-length in the end.
In the other elimination, It's A Love Thing and My Girl EJ similarly had the race late to themselves as well. My Girl EJ was coming off that race against Geocentric when she raced unbelievably well and stands another solid chance to shine. It's A Love Thing used all of that fast final quarter of :25 and change to keep My Girl EJ in second and she continues to fire every race. Gets another shot at Caviart Belle.
$381,000 ELEGANTIMAGE — 3-YEAR-OLD FILLIES
After just missing by a neck in the Hambletonian Oaks, Bond has come back to win close calls in her last couple, including last week's Elegantimage elimination. In winning her race last week in 1:52.1, she was a full second quicker than fellow elimination winner Righteous Resolve.
In Bond's elimination, she was handled aggressively making multiple moves to the lead and had enough left to stave off a late push from Rose Run Yolanda on the inside who found late clearance to come up just a neck short. In that race, Call Me Goo popped out around the final turn to take her chance but still found herself a length or two down. Tactical Mounds made a belated uncovered move from far back and closed well too late.
Righteous Resolve went coast to coast and easily denied pocket sitter Baroness Hill. Quick Stop, who sat last out of six for most of the race, rallied wide from an impossible spot to nail down second when she closed in :26.2.
$660,000 CANADIAN TROTTING CLASSIC — 3-YEAR-OLD OPEN
This group is a pretty well-known commodity by now and Up Your Deo looked about as good as ever when he ran up the score in his elimination win in a career best time of 1:51.2. It did come off a perfect pocket trip but any repeat of that try would seemingly make him tough to beat now with the big money on the line.
In the other relatively uneventful elimination in which no real racing took place until the final quarter mile, Celebrity Bambino returned to the winner's circle off a second over trip. In that race, both the leader and first over horses tired, and Celebrity Bambino was able to capitalize off the trip and hold off third-over horse Winners Bet by a neck. Gaines Hanover was right there as well to those horses inside in another honest effort.