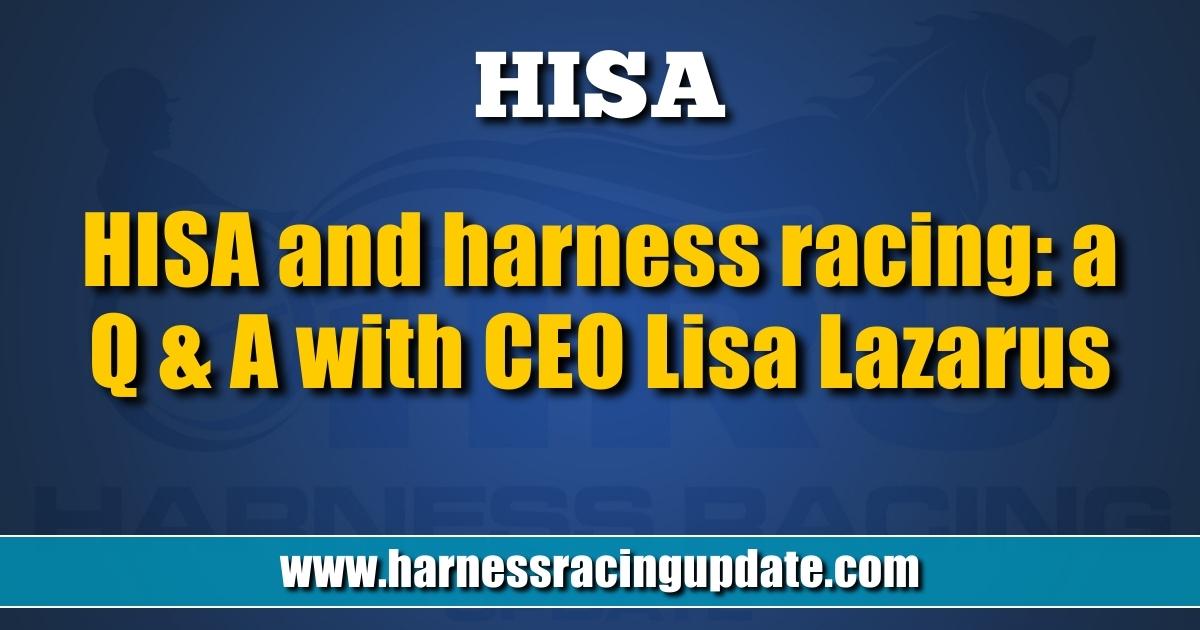 HISA and harness racing: a Q & A with CEO Lisa Lazarus
by Bill Finley
The relationship between the Horse Racing Safety and Integrity Authority (HISA) and the sport of harness racing has been, to say the least, a contentious one. The United States Trotting Association has been an outspoken critic of HISA and has joined others as a plaintiff in lawsuits contesting its constitutionality. USTA Chairman Joe Faraldo has called HISA an "existential threat to harness racing."
Yet, to date, HISA has had no role in the sport. The law that created HISA covers only thoroughbred racing and no other breeds. However, it contains an opt-in provision whereby state racing commissions can elect to have HISA cover additional breeds. HISA went into effect on July 1, 2022. The Horseracing Integrity and Welfare Unit (HIWU), an arm of HISA that oversees drug regulations and the enforcement on drug-related penalties, went into effect on May 22 of this year. Currently, neither is involved in harness racing in any way.
So where do things stand when it comes to HISA and harness racing? To get a better idea of the situation, Harness Racing Update reached out to HISA CEO Lisa Lazarus with a list of questions regarding HISA's relationship with the harness racing. Her answers are below:
HISA does not specifically mention harness racing. However, there is an opt-in provision whereby state racing commissions can have additional breeds covered. Have you heard from any commissions saying they want HISA to also cover standardbred racing? Do you anticipate that HISA will eventually expand and that harness racing will come under its umbrella? If that is to happen, do you see it taking place in the near future?
"There have been no indications of any opt-ins coming in the near future."
Have any commissions specifically said that they will not opt to have HISA cover harness racing?
"No, they have not."
If in fact, HISA is extended to cover harness racing where will the money come from to cover the added expense? Do you anticipate that per-start fees will be necessary? If not, where might the bulk of the money come from?
"Funding of additional breeds is expressly contemplated by the Act – the State Racing Commission or breed governing organization seeking to opt-in to HISA is required to have 'in place a mechanism to provide sufficient funds to cover the costs of the administration of [HISA] with respect to the horses that will be covered… as a result of the election.'"
Because standardbreds start more often than thoroughbreds, many in the standardbred business worry that that will mean they will actually be paying more in per-start fees than their thoroughbred colleagues. Is this a legitimate worry?
"See our answer to your previous question."
The USTA charges that HISA will drive both large and small businesses out of the harness racing industry by 'stifling them with new fees.' They go on to say HISA will cost jobs and drive many people out of business.' What is your response to this?
"We are already almost at the end of the first year with HISA's funding model and we have not seen that happen in thoroughbred racing. Responsible, prudent investments in equine welfare and integrity are a necessary part of being good stewards of a sport in today's world."
The USTA argues that HISA will make the sport less safe because it will remove critical health measures that protect the horse, most notably Lasix. What is your response to this?
"HISA will be driven by the outcome of the furosemide scientific study mandated by Congress and will be led by the data at the end of three years when the research is complete. That study will be conducted independently and be shared when available."
Since the thoroughbred and standardbred are two different breeds with different needs and issues, will all rules apply equally to both? Can you give us an example of areas where the rules and protocols for standardbred racing may be different than they are for thoroughbred racing. Should there be two different sets of rules?
"The Act requires the Authority to consider the 'unique characteristics' of any breed that elects to be covered by the Act. We will need to study this and make an informed decision about what is best for each breed. But it is clear, there would need to be two different sets of rules."
Many prominent harness trainers, breeders and owners have come out in favor of HISA. With that in mind, do you feel that the USTA's position is a proper reflection of how harness horsemen feel about HISA by and large?
"I am not able to comment on this as I do not have sufficient information."
A common criticism we hear from the USTA is that the people pushing HISA are a small elite minority. USTA president Russell Williams has said this of HISA, 'A small group of rich men want racing to go back to being a rich man's hobby.' What is your reaction to that statement?
"I think it is misinformed. HISA is led by a diverse group and seeks feedback from all stakeholder groups. HISAUS.org lists all the active participants on dedicated committees and the Horsemen's Advisory Group weighs in on many important issues. That group is made up of trainers, owners, breeders, veterinarians, horsemen group leaders and backstretch worker representatives from around the country – big and small tracks. HISA is the antithesis of going backwards. Investing in equine health, welfare and integrity is the evolution of the sport."
What is your message to those in the harness industry who are skeptical of HISA? Why would HISA be a good thing for standardbred racing?
"Just like thoroughbred racing is stronger under a united and uniform set of rules and accredited laboratories testing for the same banned and controlled medicines at the same level, the harness industry would benefit from this oversite and structure. Bettors need to have confidence in the product they are wagering on, and HISA delivers a fair and level playing field for all participants to be treated equally. My message would be that HISA is willing to discuss with any state racing commission or breed organization the benefits of uniform rules. The harness industry will have the benefit of watching the implementation of the thoroughbred industry."