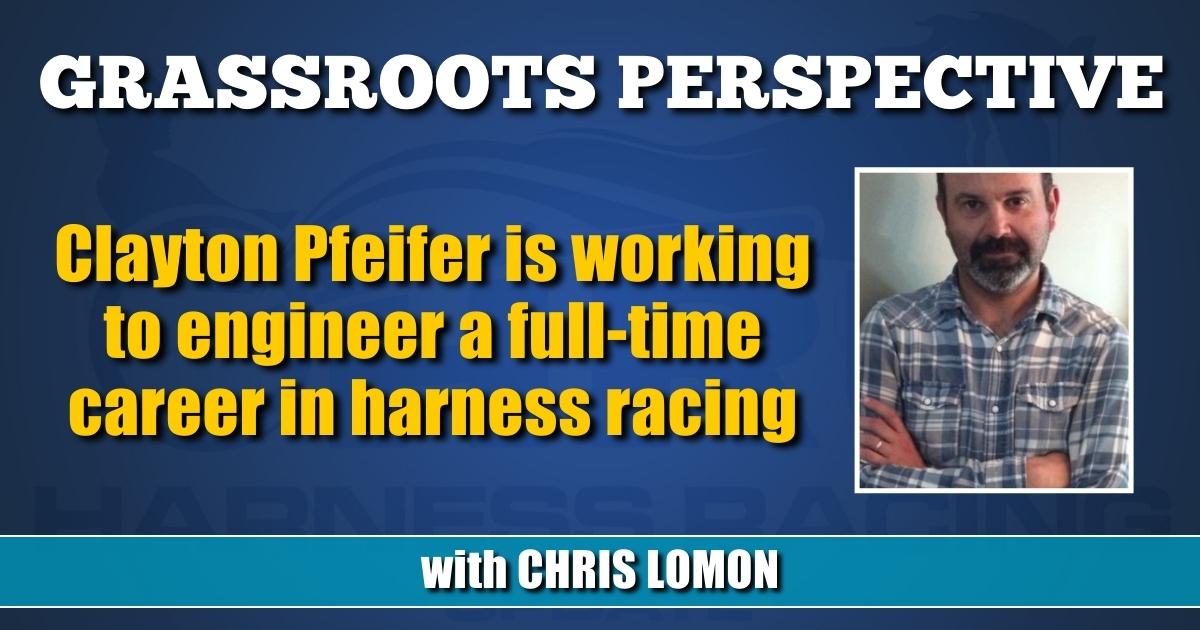 Clayton Pfeifer is working to engineer a full-time career in harness racing
by Chris Lomon
Standardbred racing is a part-time role for Clayton Pfeifer, but the Ohio horseman doesn't treat it that way.
It's a sport and a world the young man who works full-time in the Pike County Engineer's Office in Waverly, OH, knows well, dating back to the times when he would tag along and help his father and grandfather, both long-time horsemen, around their barn.
And while he didn't quite understand all the meticulous details that went into the horses and the family operation, Clayton did realize, early on, that he had forged a connection with the pacers and trotters that he greeted every morning and took care of throughout the day.
"My dad and my grandfather have been in the business for 30 to 40 years now, and I probably started out when I was around 6 or 7," Clayton said. "I started cleaning stalls, doing things like that, and getting the horses ready. By the time I was around 12, they would let me jog and train them. It was a big rush being able to jog them and see how athletic they are. I just liked being around them and the atmosphere of the barn and the racetrack."
A standout varsity pitcher on the Waverly High School baseball team, that chapter of his life closed when he required Tommy John surgery on his shoulder after his sophomore year.
That unfortunate turn did, however, open the door for the opportunity to pursue a career in the race bike.
In 2020, Clayton, who received a license to drive at the fairs, recorded 31 drives, and won his first race, the victory coming at Jackson County Fair in Wellston, OH, on July 17 with Pines Triplenickel, a pacer owned by Patsy Hall and trained by his father.
At the age of 18, Clayton, mere weeks after earning his provisional driving license, recorded his first pari-mutuel win, the milestone coming on Jan. 18, 2022, at Miami Valley Raceway.
He teamed with JLS Yankee Rose, a daughter of Yankee Cruiser—JL Spend Forever, also trained by his father, to best six rivals in the dash for maiden pacing fillies.
A length behind at the stretch call, the bay, at 14-1, collared the leader and went on to a three-quarter length score in a time of 2:00.1.
"It was a nice, easy win," Clayton said. "It was a huge thrill. When I crossed the wire, I remember my adrenaline just kicked in. I had a big smile on my face. It's one of those moments where you feel you really accomplished something."
Another pacer, All Sass, owned by his grandfather and trained by his father, has provided the Pfeifer family with several highlights in 2023.
Winless in 10 starts last year, the 3-year-old daughter of Well Said—All Lace has hit her best stride this season, one in which she has racked up three wins and 10 top-three finishes from 21 starts.
"She's always been game and she has never let me down every time I've raced her," Clayton said. "She's just an all-around good mare, even in the barn. She's good to jog, she's good to train, and she's definitely not like her name."
On Aug. 9, at Scioto Downs, the bay filly, bred by Winbak Farm, gave Clayton his second pari-mutuel win.
Sent on her way at 12-1, All Sass rallied stoutly down the lane for a one-length triumph in 1:53.1.
"She got away well, sat second, and at the top of the lane, I tipped her out and she just went right on by. That was a great feeling, too. Any time I get to drive is a big thrill."
The biggest challenge Clayton has faced is getting those chances.
"I would love to make a career out of driving horses but there are so many drivers in Ohio and so many good ones," he said. "It's hard. I just want to continue to drive and make the most of any opportunities I do get. Whether I'm driving one of the favorites or a long shot, I also go out there with the same goal of giving my horse the best chance to succeed. The best thing you can do is go out there with an open mind and do what you can to map out the best trip."
When it comes to charting his future in the sport, Clayton, who wears the same black, white and cardinal red racing colors as his father and grandfather, will strive to improve and hopefully, gain more attention for what he brings to the table.
He'd also like to see more nights like the one he experienced on July 15.
"I had my first race at Northfield and finished third with All Sass in a leg of the Ohio Sires Stakes," Clayton said. "That was great. I really enjoyed it. There is a good group of drivers up there, a really strong driving colony. So, it was nice to go out there and be on the same track as those guys. It ended up being a nice result for us. All Sass raced great, and we were very happy with how she did."
In the moments when he does need to get away from the pressures of work and life, he heads to the great outdoors. Clayton also enjoys another side of the equine world.
"I like deer hunting during that season," he said. "I do that a lot. But there isn't much time to do a lot of things outside of my job and racing. I have a girlfriend and she is big into quarter horses. I ride with her and go to shows with her. I don't like sitting around much, so I enjoy being active."
And Clayton no doubt enjoys the standardbred life.
As to how it will pan out, part-time gig or full-time career, remains to be seen.
One guarantee, however, is Clayton's bond with the sport and its stars.
"I work my 40 hours of week and then head to the barn to take care of the horses, and then do it all over again the next day," he said. "It's a busy life, but I have always liked being around the horses. I'm pretty sure that is never going to change."