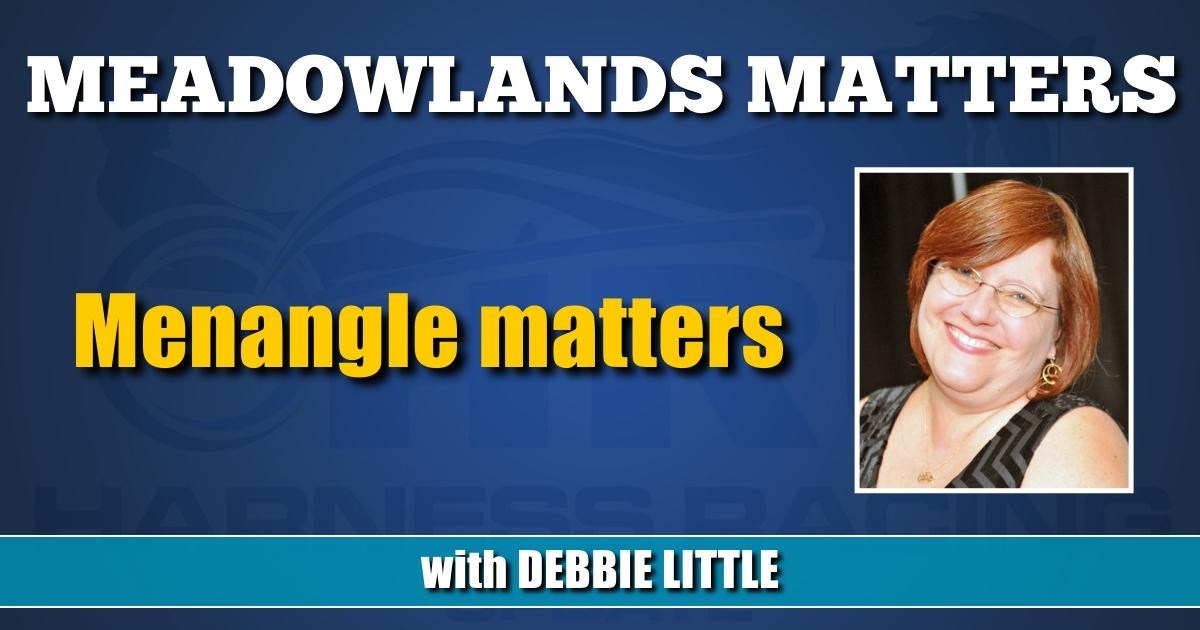 Saturday morning, The Meadowlands' Down Under contingent will be up early to watch the $2.1 million TAB Eureka.
by Debbie Little
Bloodshot eyes in the Garden State will be watching the world's richest harness race, the $2.1 million TAB Eureka, on Saturday (Sept. 2) from Australia's Club Menangle, which is about an hour from Sydney.
With a 14-hour time difference and nearly 10,000 miles between the states of New Jersey and New South Wales, the TAB Eureka will go off at 8:45 p.m. on Australia's east coast, which will be 6:45 a.m. on the east coast of the U.S.
After spending over a decade in Australia, trainer Brett Pelling moved back to the States — specifically New Jersey — six years ago, but just like his fellow expats, he keeps up to date with the Down Under racing scene, including the TAB Eureka, a race for Australian-bred 3- and 4-year-old pacers.
"These people down there are professionals," Pelling said of those that came up with the idea for the Eureka. "They think outside the box. They're young. They are promoting like you wouldn't believe.
"You'll find when you go to the track, I mean, the signage, the sponsorships, the people that they bring on board, the events that they have. Everything they do is unbelievably well done. Highly, highly professional and they reach out and they make themselves part of the community, which is what we don't do. We just don't do that."
Pelling thinks American tracks could learn something from their Down Under counterparts when it comes to marketing and promotions.
"I will guarantee you that if people from here, especially The Meadowlands, went Down Under, they would just turn around and say to themselves, 'What have we been doing? We have this product right here at the center of the universe and we've been wasting it,' because that's what they'll see.
"They have major companies on board, promoting racing events but they make it part of the community in a good way. It's a place to go. People go there, they dress up and go. There are always things going on and they promote. They just do a fabulous job. And the signage when you go there, I mean, you go there and see the signs of major corporations. You'll go to some of these tracks and you'll be looking at signs the equivalent of Apple and Shell and all this type of stuff."
Trainer Noel Daley was born in Australia and moved back home from the U.S. several years ago but after less than a year, moved back to New Jersey in 2019.
Daley is a native of Queensland, where Eureka presumptive favorite Leap To Fame is from.
"The young fellow who trains [Leap To Fame], I'm saying young fella because he's younger than me," Daley said with a laugh, "Grant Dixon, I can remember him as a kid starting out. He's a very good trainer/driver over there, but he sticks usually to Queensland. He doesn't travel many horses. He always runs a big team and mainly stays right there in his home state.
"The guy who owns that horse has been sort of his main patron and he has supported the industry in Queensland for the last 40 years. Kevin Seymour's the guy's name. If he hadn't been around, things wouldn't have been as good. They focus on staying at home usually, but this horse is obviously a good one."
Daley is also familiar with the team of Emma Stewart and Clayton Tonkin, who send out The Lost Storm — one of two 3-year-olds currently in the field — and Encipher, the lone 4-year-old mare.
"They're ridiculously unbeatable in 2- and 3-year-old races," Daley said.
There's a familiar name connected to Encipher, that of Luke McCarthy, older brother of The Meadowlands regulars Andy and Todd. Luke is best known in the U.S. for driving Muscle Hill to victory in the $540,000 World Trotting Derby in 2009.
"Luke's one of the best big-race drivers there is, especially when it comes to distance," Todd said. "He knows speed so well and he's so tactically minded. He knows the best place to put his horse to try to have the most finish in the end.
"I'm sure that Luke will be giving [Encipher] the best trip possible and she could be a sneaky one to keep an eye on."
The McCarthys lived about 30 minutes from Menangle, which they consider their home track.
Before moving to the States to race at The Meadowlands in 2020, Todd was the "King of Menangle," winning several driving titles.
"I remember talking to Todd's father John, one of the greatest guys, and I've hung out with John because he's my era," Pelling said. "And we're talking one day and he said, 'I said to Todd one day, 'Todd, How do you get them out of the gate like that?'' Because he can get them out of the gate. He can time that first step and that's what it's all about down there, timing that first step and getting it right because you got a horse having a neck in front, a half-length in front [at the start of the race] is a big deciding factor."
Todd said that Menangle is 1,400 meters, or seven-eighths of a mile, and is most similar to Woodbine Mohawk Park.
At 2,400 meters, the TAB Eureka is longer than the average race contested at Menangle and the horses will start at the top of the backstretch.
"So, with the 2,400 meter starts, the outside horses tend to get a little bit of an advantage just because of the way that the gate is coming off the turn," Todd said. "The outside sort of tends to be at a little bit of a higher speed than the inside horses. So, if you can kind of feed your horse into the gate at the right time, there, you can be already going a little bit quicker than the inside ones are. It tends to help those horses leave out of the gate and slot across and get a forward position.
"In a race like this, I would think that there will probably be some moves pretty early-on out of the gate."
Without having seen a draw for the race, Todd was speaking in generalities about how distance races tend to go at Menangle.
"Without knowing this field too well, it's hard to predict what horses will land where and then, obviously, that kind of dictates the rest of the race," Todd said. "But, usually, over the longer distance races at Menangle, there's a little bit of action early. Everyone likes to kind of sort themselves out by the first turn there, which is inevitably now on the backstretch coming into the homestretch. And then often you'll see some more moves in the home stretch with horses trying to reposition themselves when the tempo seems to back off there. It's a good opportunity if you want to try and make a move and get in a forward spot that seems to be where the slowest part of the race is.
"And then after that, we don't see too many more moves other than horses sort of beginning their run at whichever point they decide to. I think that the distance side of it definitely is going to play into some hands more than others. And, yeah, it's going to make for an exciting race."
Pelling, Daley and Todd all plan to watch the TAB Eureka prior to heading to The Meadowlands for 9 a.m. qualifiers.
"I mean, this Eureka thing was basically created to stop the world, that's why they're doing it," Pelling said. "You know, they're trying to bring attention to the game. That's what they're thinking.
"This Eureka thing is good. These guys have done their job by having you looking to have something in print about it. They've done their job."