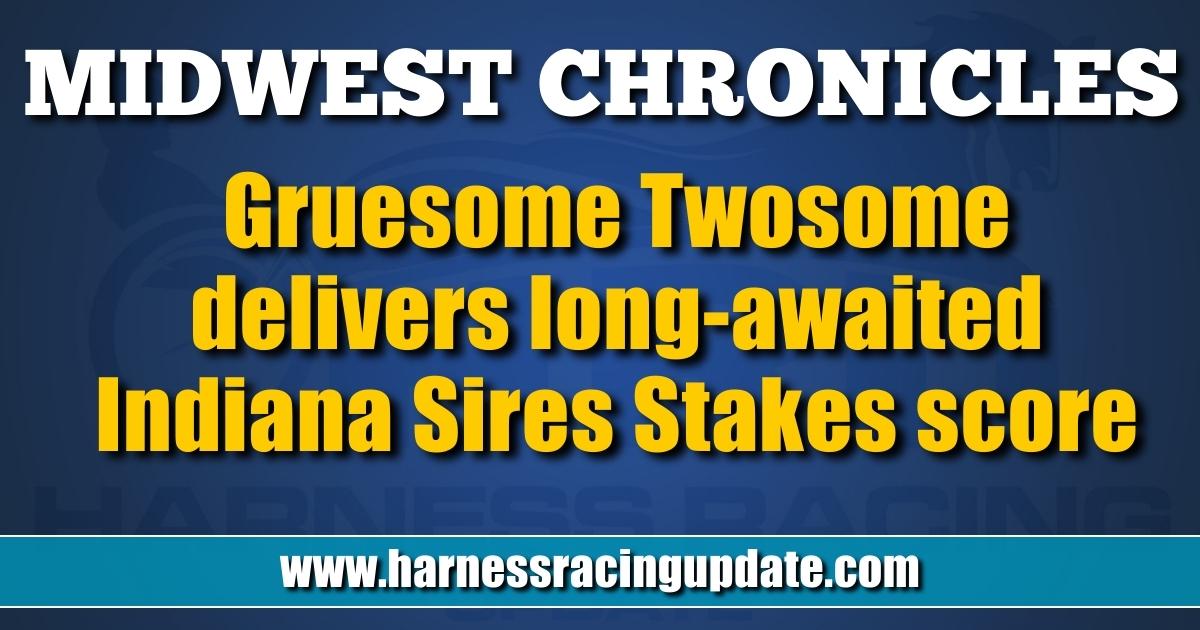 Gruesome Twosome delivers long-awaited Indiana Sires Stakes score
by James Platz
Conditioner Daryl Bontrager sent out his second career pari-mutuel starter on July 29, 2014 in an Indiana Sires Stakes elimination for freshman trotting colts. At odds of 74-1, Remind Me Later raced second that night for the northern Indiana horseman. Nine years to the day, Bontrager finally broke through to score his first win in the state's top program, steering Gruesome Twosome, a horse he co-owns with Ira Steinberg, to victory. He didn't have to wait nearly as long to collect a second sires stakes win, as the You Know You Do—All Set Lets Go colt stopped the clock in 1:56.1 Wednesday (Aug. 23) in a $67,500 split at Harrah's Hoosier Park.
"That was a big moment for me. I've been second with four or five different horses, but I could never get that win," Bontrager said of the July 29 triumph. "To get that win, and to do it as a trainer and driver, with a horse that I own a part of and I made myself, that was huge. It made it a little more special."
The 34-year-old ventured into harness racing nearly a decade ago after competing in the pony racing circuit near his Goshen, IN home. Pony racing is particularly popular in that area, with several racers moving up to standardbreds from the trottingbred ranks.
"I got into pony racing when I was 15," he said. "I did that for a number of years and made the transition to harness racing. I liked the adrenaline rush of the ponies. I wanted to see if I could make a living at it."
He quickly built a stable of 12 horses, racing primarily in claimers at Hoosier Park. He would connect with Steinberg after purchasing a yearling. The yearling's breeder knew the Arlington Heights, IL.-based owner, and thought the two men would be a good fit for one another. Steinberg sent Bontrager a couple of horses that first season.
"The first one was just a little red filly," Bontrager said. "She was a Shady Shark Hanover filly that paced in [1]:54 and change as a 2-year-old. She made a little bit of money. It just kept going from there."
Over the course of five seasons, horses trained by Bontrager collected 52 wins and just over $350,000 in earnings. But the demands of managing the stable by himself became too much, and in 2019, he stepped away from the business temporarily.
"I was kind of burned out on it because I had way too many," he said. "I took a break for one year. Life was just too boring without it."
When Bontrager returned in 2020, he did so with a revised business model. Holding down a job at a local feed store, and with a wife and four children at home, harness racing was still important, but it had to fit his terms. He kept his numbers low and focused on pursuing quality over quantity. Shipping to Hoosier Park takes two-and-a-half hours each way, not accounting for the five-hour detention required by the track.
"Working a full-time job and playing the role of a dad and husband doesn't allow time to train a whole lot," he said. "I train five right now. The goal is to focus on stakes horses. As much time as it takes me to race one horse, leaving the wife and kids at home, I'm not going to go race a horse in a non-winners of one to be claimed all season. It's just not worth it to me. I'd rather go fishing with the kids."
Steinberg kept in contact with Bontrager while he was away from the business. Upon his return, the two resumed their partnership. Last fall, when the trainer attended the Hoosier Classic sale, he did so shopping for a horse on which they would share ownership. The trainer settled on colt Topville Alluknow, consigned by breeder Merle Yoder's Topville Acres. He was the second foal from a Donato Hanover sister to Indiana Sires Stakes final winner Measuredperfection and Jailhouse Diva, dam of Jailhouse Dance, winner of last season's Super Final for freshman filly trotters.
"I absolutely loved this horse," Bontrager said. "When I saw him, he was big, he was long-legged. He was built right and came from a respectable breeder. He had a really good video. I liked his family. We don't go out buying $50,000-$70,000 yearlings. We have a budget that we have to stay within. It's a little bit tough for us to buy quality colts with the budget. We have to work really, really hard to find horses that fit the bill within that budget."
Selling early on the second day, Steinberg told his partner that he could go to $15,000 on the colt, later renamed Gruesome Twosome. Bontrager signed the ticket for $17,000.
"I liked his conformation," Bontrager said. "I couldn't find any defects on the horse, and I couldn't find many defects on the family. I thought I had to have him."
Training this winter, Bontrager had a sense that the colt could be a sires stakes-caliber trotter. A horse that wears very little equipment, Gruesome Twosome displayed natural ability.
"In January and February when I started training him a little bit more, I knew his talent level exceeded anything else I had in the barn, on the trotting side especially, and even on most of the pacers," he said. "I had six of them at that time. We were training 2:40, 2:35, and he was almost as good as the best pacers I had in the barn at the time. He never made mistakes."
In his debut on July 8, the colt raced near the back of the field and finished eighth in a field of nine, covering the circuit in 2:00.3.
"He was looking around and I could not get his attention," Bontrager said. "He wasn't putting up any effort. He didn't know he was a racehorse."
Returning home to Goshen, the trainer worked with his young pupil, and the next start produced considerably different results. Sent off as third choice, Gruesome Twosome took command early before being shuffled to second. The colt then trotted home in :27.2 to win by a length and a quarter in the $10,000 Indiana Sires Stakes eligible event.
In his first sires stakes start, a $67,000 division, the colt settled in sixth from the rail on July 29. Bontrager would move him into the outer flow, second over racing out of the turn. Gruesome Twosome kicked home in :27.3, winning by more than two lengths in a time of 1:56.1. Steinberg was on hand to celebrate the win.
"That long stretch, he loves it," Bontrager said. "Every time I've raced him, he passed several horses in the last eighth."
Gruesome Twosome followed the win with a runner-up effort in the third leg, held Aug. 16.
Wednesday night, Bontrager was not sure if he would find daylight late to add a second divisional score. Racing out of the turn, it appeared the two had a clear path to the wire.
"Brandon Bates came flying off the rail," he said. "He came out pretty hard, and all of a sudden that hole that was in front of me closed up. Kevin [Lambright] was passing on the outside, and that hole was almost shut. I drove up in there and it opened up again, and any little bit of daylight I was going to take. It opened up, and we were grateful it did."
Gruesome Twosome and Bontrager would push past leader Mel Gibswan, driven by Bates, while holding off favored Musclefantastic and Lambright to their outside, crossing under the wire a quarter-length in front. The colt has earned three wins in five career starts, banking $88,625 for his connections. Gruesome Twosome currently sits atop the points standings in the division, 20 markers ahead of nearest rival Elhelpski, who sat out the fourth leg. A win is worth 51 points, and two legs remain to secure the all-important spots in the $250,000 Super Final.
"I think he's only going to continue to get better," Bontrager said. "He's a big colt, and he still shows that he's got some growing to do. There is so much I love about this colt. I don't think we've seen the end of him. So far he's never been weary-legged or tired. I think there is more in the tank."
Bontrager waited nine years to pick up his first Indiana Sires Stakes win. With Gruesome Twosome, he can dream big when looking to mid-October's Super Finals.