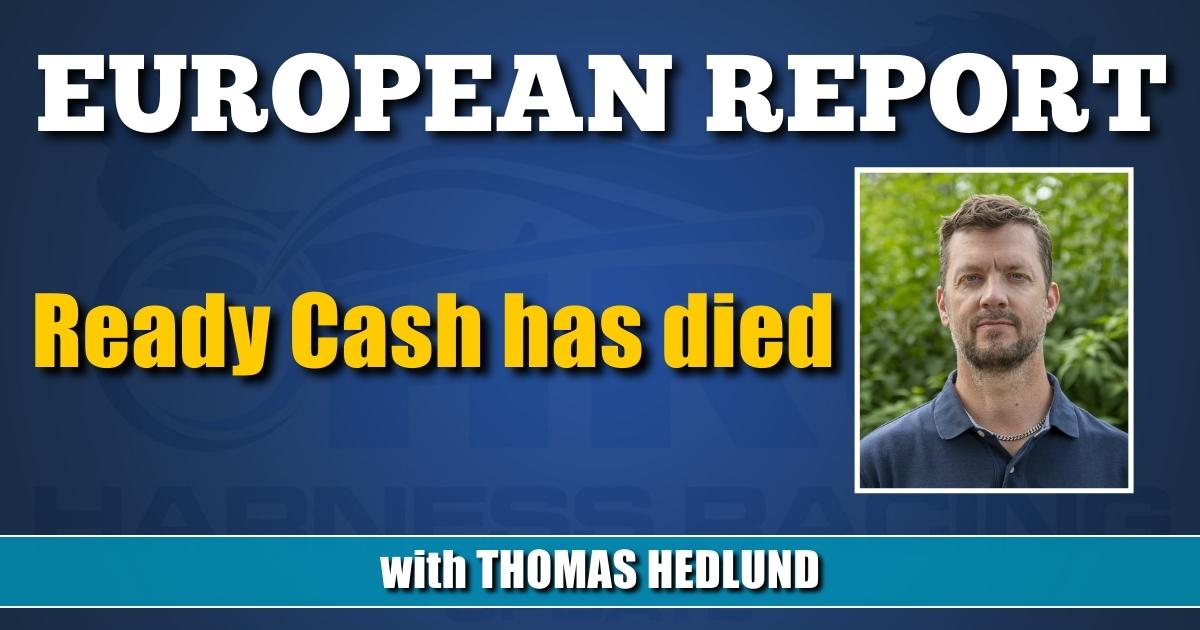 by Thomas Hedlund
Ready Cash, one of the best standardbred sires in the world, died due to colic in his home country of France on Tuesday night (Aug. 8).
He was one of the most prominent sires in the industry in the past 10-12 years and his legacy has been significant for all European harness racing countries and even for the American market.
Ready Cash was syndicated early as a stallion but owner Philippe Allaire continued to race the horse, which resulted in wins in the Prix d'Amérique in 2011 and 2012. Four years after Ready Cash's latest victory in one of the biggest races in the world, it was time for one of his most merited sons to claim the trophy at Vincennes. Bold Eagle won the Prix d'Amérique in 2016 and 2017. In 2018, another Ready Cash son was best in Paris. Readly Express came to Paris and showed the world what he was made of and soon thereafter a new French star showed up at Vincennes. In the 2021 and 2022 Prix d'Amérique, the winner was Face Time Bourbon. What all these trotters have in common is that their results as sires are also strong, so Ready Cash's legacy will live on for a great while in the business.
Here are some of Ready Cash's most well-known offspring: Bold Eagle, Face Time Bourbon, Readly Express, Bird Parker, Django Riff, Back Of The Neck, Traders, Brillantissime, Charly du Noyer, Millindollarrhyme, Gotland, Very Kronos and Ideal du Pommeau.
WILL FRENCH OR AMERICAN BLOOD PROVE STRONGEST AT ÅBY?
Åby racetrack in Sweden plays host to the $260,000 Åby Stora Pris over 3,140 meters this Saturday (Aug. 12) and the race is a battle between American and French sires. Traditionally, the French horses are favored by the long distance in the race. But in the sixth edition of the Åby Stora Pris over 3,140 meters suggests it will be neither French nor American blood that will prevail. Maharajah (Viking Kronos) counts as Swedish and his offspring have claimed the Åby Stora Pris in three out of the last five years over 3,140 meters.
The favorite should maybe be Italian-bred Bengurion Jet (Maharajah), who has shown great capacity in some big European races this season. Alessandro Gocciadoro's 6-year-old won the Sweden Cup at Solvalla in May and has made two more appearances during the summer. The question mark regarding Bengurion Jet this time is probably the distance. Gocciadoro has raced his horse over the mile most of the time and in last year's Åby Stora Pris, Bengurion Jet showed nothing that will make him the winner this year.
Five-year-old Father Patrick son Kentucky River will probably be some fans' favorite in the race while some will vote for Googoo Gaagaa son Power. Both of these "American" trotters have shown that long distance is more beneficial for them compared to the mile.
ÅBY STORA PRIS 2023
3,140 meters
Horse — Driver
1. Gangnam Style K — Mats E Djuse
2. Usain Töll — Tommy Karlstedt
3. Rackham — Christoffer Eriksson
4. Power — Robert Bergh
5. Feydeau Seven — Björn Goop
6. Bengurion Jet — Alessandro Gocciadoro
7. Aetos Kronos — Johan Untersteiner
8. Admiral As — Örjan Kihlström
9. Hades de Vandel — Robin Bakker
10. Kentucky River — Per Nordström
11. Hierro Boko — Mika Forss
12. Unico Broline — Erik Adielsson