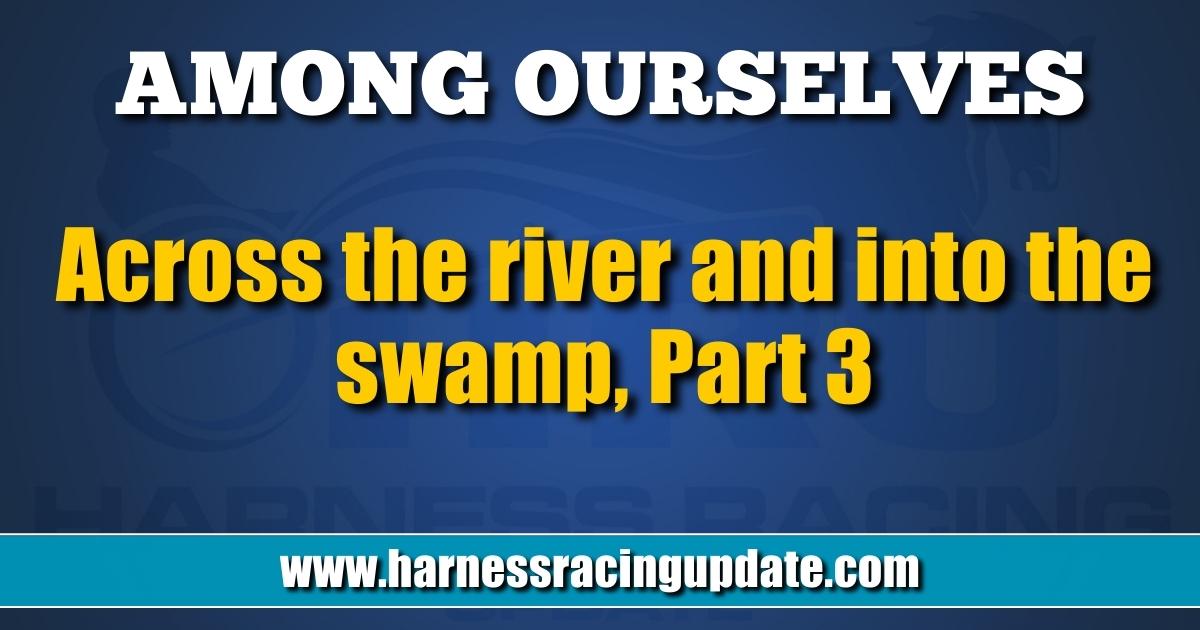 Across the river and into the swamp, Part 3
by Frank Cotolo
Part 1 is here.
Part 2 is here.
If James A. Michener wrote a novel about New Jersey it would begin in prehistoric times and include speculative prose about life developing in the vast wetlands before human intervention. The next hundred pages would include intricate details about Dutch settlers turning a forest into marshlands and harvesting saltmeadowsalt cordgrass.
A thousand or so pages later it would still not be clear how the area declined into an environmental graveyard in modern times. Nor how a poor boy by the name of Mal Burroughs from Jersey City built a business responsible for constructing on the ancient swamp the foundation of The Meadowlands racetrack.
The first time I saw Mal Burroughs I was covering the 1997 Hambletonian at The Meadowlands. I knew nothing about him at that time other than he was the trainer and (amateur) driver of Malabar Man, an early favorite for the August classic. My assistant editor Joe Samulka and I did not fancy betting on the public choice. We were all over Trond Smedshammer's Bowling For Dollars, offering a better win price, early speed and the skill of a professional driver. It cost Joe Samulka and our bets when Mal Burroughs guided Malabar Man to a victory over the tiring Bowling For Dollars. Impressive.
Five years later, as managing editor of TIMES: in harness, I interviewed Mal Burroughs for the August edition. His life before, during and after The Meadowlands stood upon the Jersey marshlands was compelling, certainly compared to any James A. Michener text.
Growing up in urban, rowdy Jersey City, Mal Burroughs said, helped build his character.
"You become mentally and physically tough growing up in that kind of environment," he said. "You're not intimidated as easily as some young boy in the suburbs."
In 1954, he was 14 and was forced to support his mother, brothers and sister when his father died in a car accident. The Burroughs family moved to nearby Rutherford and Mal bought a dump truck, worked in the daytime and "I got a high school equivalency diploma at night," he said. He wanted to get a college degree the same way but "it was taking too much out of me." So, he bought another dump truck. Then another. He hired truck drivers and began booking construction jobs "for some developers that were working in The Meadowlands [area] … There was a big demand for dirt to fill in the swamps. I just happened to be at the right place at the right time."
In 1961, 21-year-old Mal launched Burroughs and Son.
"I figured when I made deals with older businessmen, they would think I was the son," Mal said. "So, when they tried to squeeze me for money to get a better price I'd say, 'I have to check with my dad.' It worked every time."
That was 36 years before Samulka and I lost the Hambletonian at The Meadowlands to Malabar Man; but in 1961 the guy who drove the trotter that beat us did not know the difference between a trotter and a pacer. It was, as he said, before "I built the racetrack there."
Mal did bigger jobs before building the racetrack. Burroughs and Son worked on the Turnpike and Route 80, for instance. And for the New Jersey Sports and Exposition Authority's (NJSEA) new racetrack Mal and company excavated the landfill, brought fill back to the track for a barn area, dug all the infield lakes and put in all the drainage.
"I did everything except the structure itself," he said.
Details? Get this, Mr. Michener. The Burroughs crew utilized four cranes, 120 trucks and up to 50 men (while he employed nearly 400) to handle the massive weight of the mechanics responsible for laying the foundation of the site.
"I had that job done in 18 months," he said.
That was, of course, the original Meadowlands framework, part of the entire NJSEA sports' complex (NJSEA) which included a stadium playing host to the New York Giants. On Sept. 1, 1976, the racetrack opened with a harness racing program. It drew a capacity crowd of 42,133.
Malvern Burroughs attended the first night of racing at The Meadowlands. He was there with the NJSEA's Sonny Werblin and New York Jet's hero, Joe Namath.
"It was quite an exhilarating experience to say the least," he said and it was not handicapping to win money as a member of the pari-mutuel crowd. "I was more interested in the horses than the betting. I was intrigued the way the play unfolded… To me harness racing looked more interesting than thoroughbred racing. There was obviously more strategy in the ways the drivers moved their horses and get got into [winning] positions."
His construction business began with one truck and after the first night at The Meadowlands, "The idea of being able to own one of those horses and become involved in the planning of the horse's career became attractive."