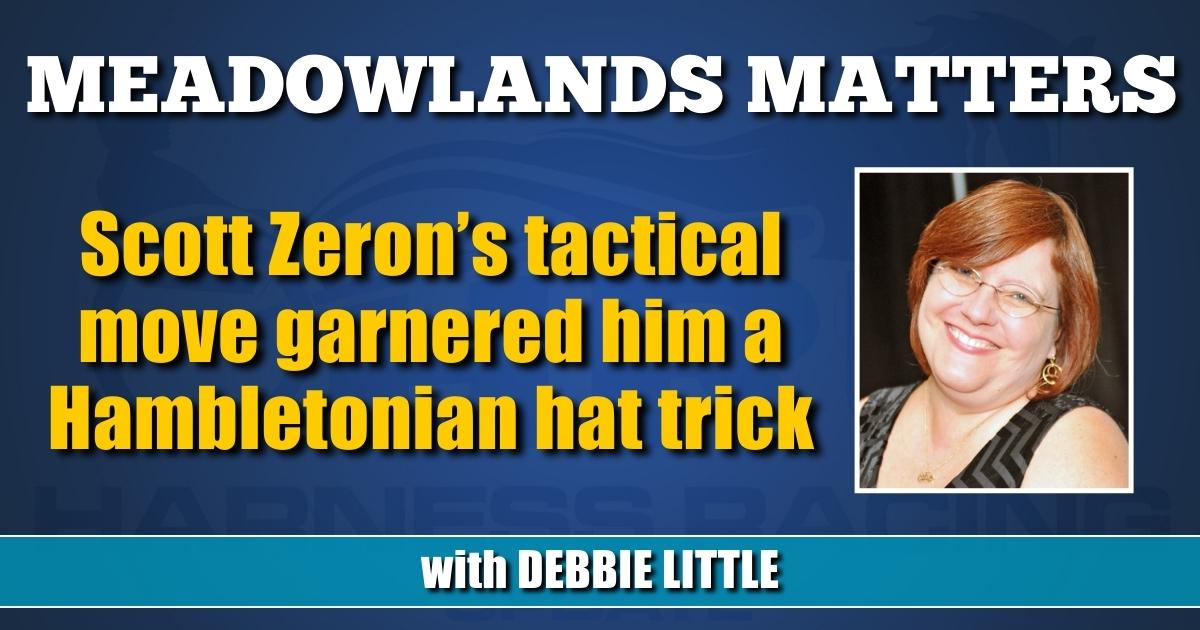 Scott Zeron's tactical move garnered him a Hambletonian hat trick
The driver breaks down how he pulled off an improbable victory with Tactical Approach.
by Debbie Little
In 2022, Scott Zeron stole the show on Hambletonian Day and didn't need a horse to do it. This year, he used a tactical approach to be in the spotlight again, winning his third Hambletonian.
Last year, Zeron co-hosted The Meadowlands' simulcast show for about two hours analyzing a few races, including the Hambletonian and Oaks. Zeron was unable to drive on Hambletonian Day 2022 due to injuries sustained in a bad accident a little over a week prior.
"That's a 180, right?" said Zeron of going from the sidelines to the winner's circle. "You know, that's the cards you're dealt and we overcame and healed up. [Accidents] happen to the best of us, and yes, it's certainly great to be on this side of the fence, especially driving some power."
At the start of his Hambletonian Day, which would end with a victory in "America's Classic Trotting Race" with the Nancy Takter-trained Tactical Approach, Zeron told his parents to "lower their expectations on the whole day," which he obviously surpassed.
According to Zeron, every driver's goal that doesn't have the absolute standout in the race is to be in the mid-pack in the outer flow.
"So, that's why in a lot of the million-dollar races, we are always just protecting that two-wide path in the first turn and making sure that we're trying to be fifth or sixth on the outside," Zeron said. "You know, it's honestly a great trip for a million dollars, because you give your horse every opportunity."
Zeron said when Brian Sears [Ghostly Casper] left from post 9, he knew he couldn't leave over him and he also knew that everyone would stay wide.
"So, everyone protected their lane, which forced my hand to just not be the guy who was sitting sixth over," Zeron said. "So, I thought options were limited, so I just said, 'You know what? I'll roll the dice and go left.' So, I went left and as I'm going left, each and every person just is pulling as they're supposed to be in the mid pack.
"And, you know, Oh Well [Tim Tetrick] is going to be first up and Dexter [Dunn, Winner's Bet] is going to follow him. So, everybody wants to be in that train. And I certainly don't blame them."
Zeron said he was just trying to get his horse somewhere close without having to use him too hard early in the race.
"And, evidently at the half, I was very happy where I was sitting [sixth at the rail]," Zeron said. "Before the three-quarter poll, [Doug McNair's] horse [Osceola] got bumpy before he ran, which gave Ake [Svanstedt] the room to pull to the outside. So then, now Ake moves like he's supposed to because now he's had a great trip with Up Your Deo.
"And then, now I creep up onto [David Miller's] back and I'm assessing the situation and my horse is loaded, you know, he feels like a million dollars, but now I'm back to, I got to get lucky. I'm happy that I'm this close at the three-quarter pole because I have a good horse, but now I have to get lucky."
That luck was provided when Miller pulled Point Of Perfect and Yannick Gingras driving Celebrity Bambino started to drift, which left a small lane on the inside for Zeron.
"Well, step one was getting through, because if you watch the head-on, there's not a lot of room up the inside and I'm not going to go over pylons," Zeron said. "So, yes, I know I was lucky that there was just enough room. I didn't have to slow my horse down, advancing into it so I was able to keep his tempo up.
And then when I got through it, now I reassess to see where I'm at.
Zeron believed that by the time he got enough room to move through at the rail, he would not be close to those on the front but he actually ended up on par with a couple.
"Timmy's two lengths up, but my horse has come unglued," Zeron said with a laugh. "So, as we went further down the stretch, my horse responded so well late in that mile that he was always kind of going to get up, I guess. If I had room, he was always going to get up."
In winning his third Hambletonian, Zeron was so happy for Takter to get her first and for the owners of Tactical Approach, who he said put seven figures into the business every year.
"These connections are a great group of guys," Zeron said. "Robert Leblanc, I've driven a ton of horses for over the last few years for Alagna. John Fodera, everybody loves John Fodera. He's the greatest supporter and coach there is out there, right? John Fielding, my OG owner. John Fielding gave me Alsace Hanover, my first Grand Circuit horse back in the day and then Joe Sbrocco owned Art Speak. That was Sbrocco's first win, which, you know, he's had great horses forever. That was his first Hambo."
Zeron also had a Hambletonian Day hat trick winning a total of three stakes races. In addition to the Hambletonian, Zeron won the Continentalvictory with Tactical Mounds (23-1, also post 10) and the Lady Liberty with Silver Label (4-1, fourth choice).
When asked early whether he had any power that day, Zeron said he told one reporter that Silver Label was his best shot and he had no shot with anything else.
"And I said, 'I'll tell you what, at the end of the day, if you said Scott Zeron had such a great day, I must be God because I can't even picture who I can win with,'" Zeron said with a laugh. "I couldn't expect Tactical Approach to win. You know, it was ludicrous."