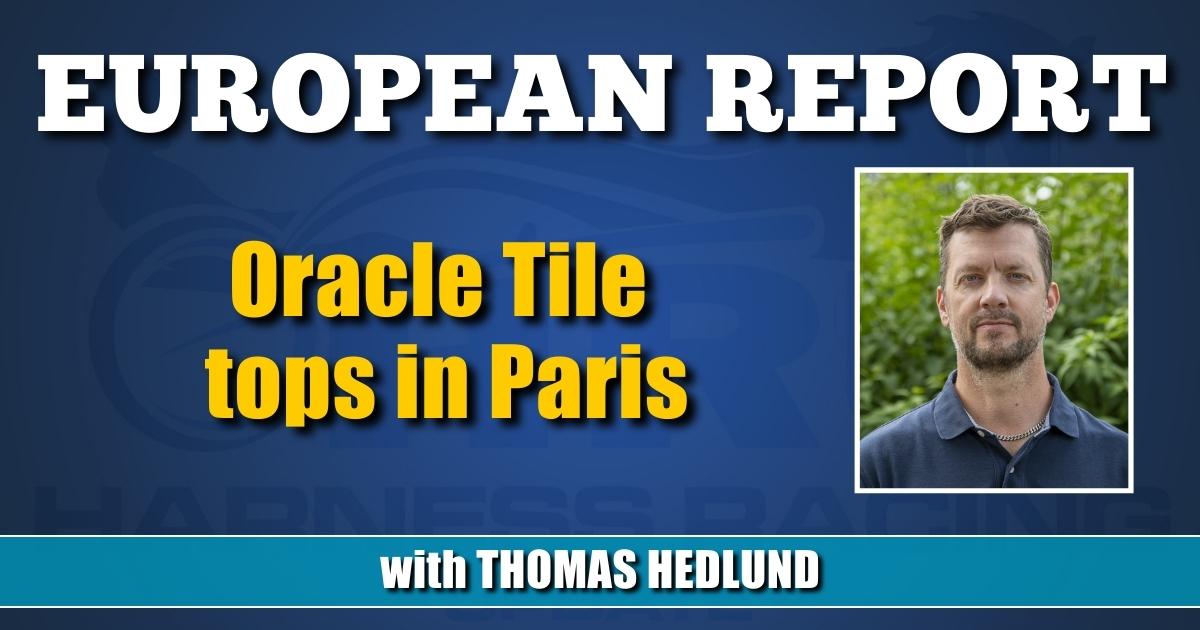 Oracle Tile tops in Paris
by Thomas Hedlund
Etonnant was the heavy favorite when the $165,000 Prix Jean-Luc Lagadere was held at Enghien racetrack in Paris on Saturday (July 30) afternoon, and midway into the race, it looked like Richard Westerink's top trotter would capture another big win in his home country.
But Jean-Michel Bazire had other plans as he sat behind Elie de Beaufour, who quickly connected on Etonnant's outside on the back stretch and the pace began to quicken dramatically at that point.
Elie de Beaufour put hard pressure on Etonnant throughout the last turn and the long home stretch at Enghien
proved to be to massive for Etonnant and Elie de Beaufour this time.
From third over, Theo Duvaldestin attacked with his Oracle Tile (Ready Cash) as the stretch started and Oracle Tile showed his best ability for speed as the wire approached. Pretty safely Oracle Tile claimed the win in a mile rate of 1:56.2 over 1.7 miles, ahead of runner up Elvis du Vallon and bronze medalist Elie de Beaufour. Etonnant finished fourth.
BLEFF DIPA OUTSTANDING
Holger Ehlert's Italian Derby winner Bleff Dipa (Mister J.P.), paired with Roberto Vecchione, won the $105,000 Gran Premio Due Mari in Taranto, Italy on Sunday (July 30) night. Roberto Vecchione left second over after a quarter of a mile and took over the lead from early front runner Bonneville Gifon with a kilometer to go.
In the last turn, Bleff Dipa said goodbye to the opponents and flew down the stretch to an outstanding win in 1:53.2.
Always Ek finished well for second and third place was shared between Back On Top and Global Trustworthy.
RECORD FOR ABRIVARD
French top driver (and jockey) Matthieu Abrivard set a new record for wins on French soil as he claimed seven out of eight races in Royan-Atlantique on Sunday (July 30) afternoon.
French race cards are not often as massive as, for example, American or Swedish cards, so seven victories was quite an achievement for a day in France.
Sulkysport.se reported about this in the Monday edition and in the same article other drivers' milestones are mentioned. Bruce Ranger's lucky day at Pompano Park on Sept. 5, 2005, resulted in 13 wins on the same race card and in Europe, German driver Heinz Wewering was tops with 11 wins in Hamburg in 1995, according to Sulky Sport.