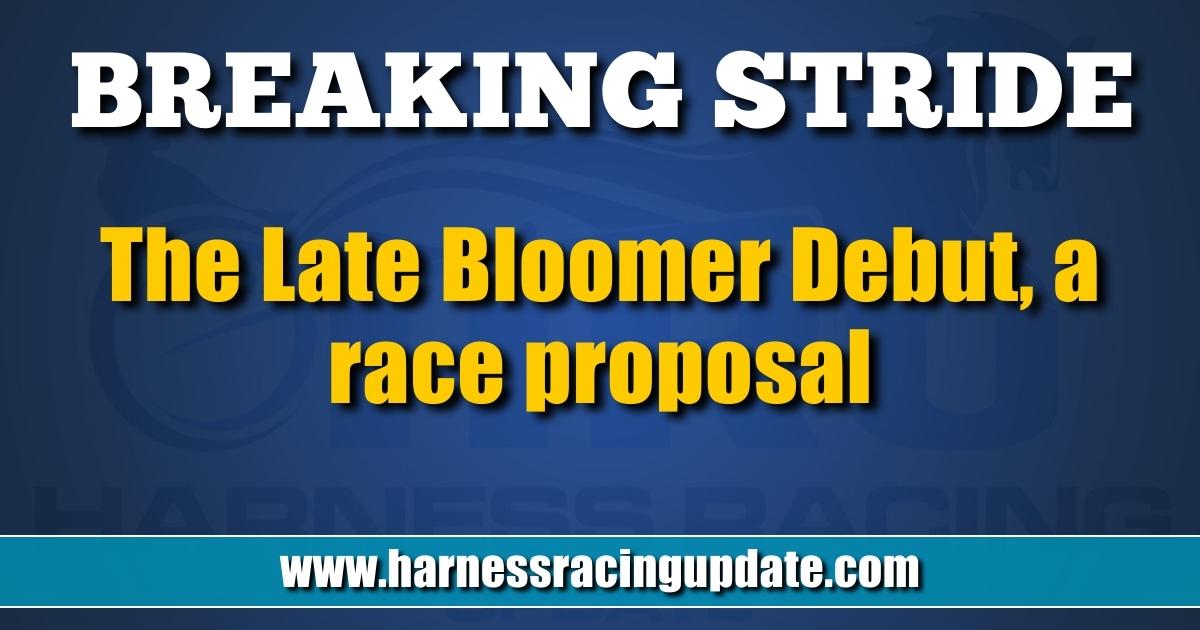 The Late Bloomer Debut, a race proposal
by Trey Nosrac
Let me toss an idea on the table before it gets lost in my mental junk drawer.
Saturday, July 1, 2023, was a highlight of my harness racing wagering year. Scioto Downs played host to four Preferred Equine Next Generation races, each with a purse of $150,000. Various owners, trainers or stables needed to put up 10 grand to enter a drawing to own a slot in the Next Generation races. Owners of these slots seek out competitive novice horses. For me, the entire process is great fun and quite intriguing.
Each horse in The Next Generation race is a 2-year-old that never participated in a pari-mutuel race at a commercial racetrack. This type of race is the epitome of what I enjoy watching and wagering on: untested horses with a minimal performance record behind them. How they perform in that first official race is an exciting mystery. For me, the Preferred Equine Next Generation races are more playable than traditional big races later in the season. Fiscally and emotionally, I was all over the four races. Kudos to whoever was behind this concept.
The concept of the Next Generation is engaging. Assuming the financials on the race are positive, I suggest a sequel because:
"There is no harm in repeating a good thing," — Plato.
"Every beginning is only a sequel. After all, the book of events is always open halfway through," — Wislawa Szymborska.
"This may be a bad idea, but it might be a good time," — Trey.
The proposed sequel to the Next Generation race uses the same format. The word sequel is probably not a good adjective for this race concept because 2-year-olds will not be eligible. All the equine participants will be 3-year-olds that are brand new faces.
The title of the proposed race should be, The Late Bloomer Debut. The race depends on finding young horses in a specific category: 3-year-olds sired in the state that never made a start, not even in a fair. The Late Bloomer race is for contestants of the crop of 2-year-olds that missed the early racing train. Maybe they were immature, injured, or sored up at age 2. For some reason, they did not race.
A few thoughts on the proposed race:
• Injured 2-year-olds will have a brighter future and a race to target that offer a career restart.
• This early race could fill a void in the schedule, a race in March or April when very few "big" races are on the table.
• A handful of marginal horses and owners could have an unexpected day in the spotlight.
• Owners and trainers have 2-year-olds that get pushed too hard. This carrot could convince a few to skip the freshman season.
• When you have a borderline 2-year-old in training and shut the young horse down, the possibility of entering the Late Bloomer race would ease the disappointment.
• Use the Next Generation as the template for the Late Bloomers and monitor the wagering and popularity metrics.
• A beautiful thought that would make buying a slot promising is that all your competition would be in the same boat. Ergo, your competition will be very select (perhaps not speedy).
• Sequels are good business. Tom Cruise will probably be filming Mission Impossible #27 in his 80s.
• There is nothing to lose if not enough 3-year-olds are in this category to fill the fields and stage the race, slot money would get refunded.
When eligibility in the Late Bloomers Debut is limited to only unraced 3-year-olds, the pool of competitors should be small, this is an asset. These races are still debuts. The quality of the starting field would be relative. A marginal racehorse debuting for colossal money is a remarkable and marketable concept. How good would a headline like this look: Ms Greystone wins $100,000 Late Bloomer Debut Filly Trot in 2:05.2, pays $46.20 to win.
You may think a slow time for a big purse is stupid, but this headline has a silver lining for the horse-buying and racing public. The 3-year-old debut races would be exciting and intriguing. The race would involve a dramatic jockeying for owners and trainers looking for just the right 3-year-old for the slot.
And remember, being a late bloomer is preferable to never blooming.