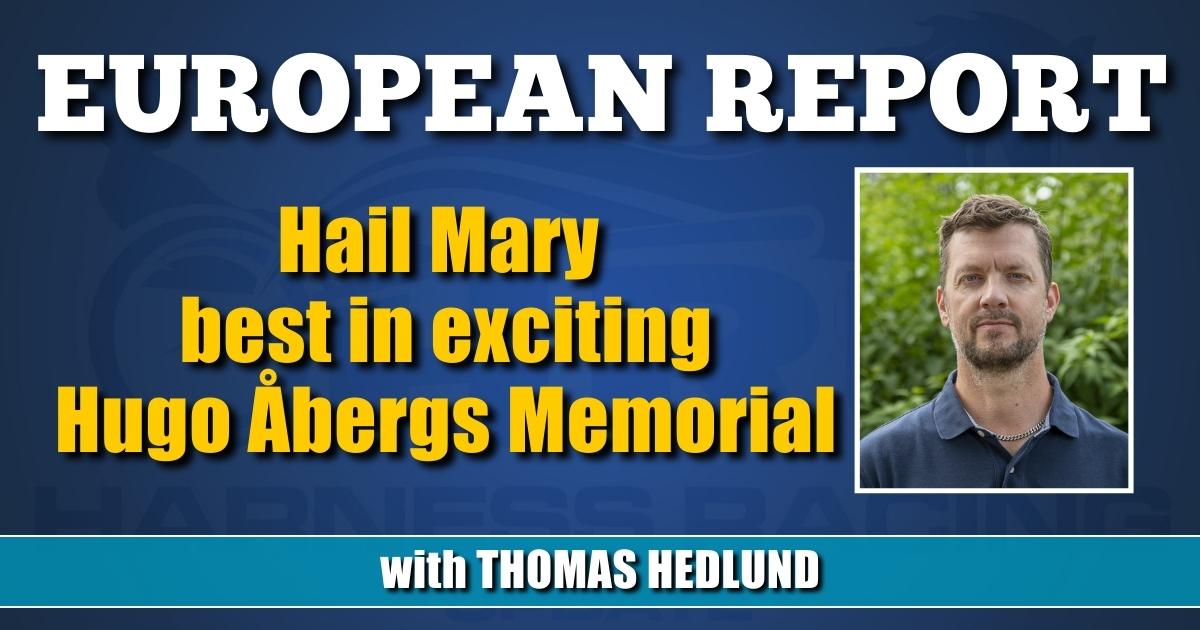 Hail Mary best in exciting Hugo Åbergs Memorial
by Thomas Hedlund
The last Tuesday in July is synonymous with the $310,000 Hugo Åbergs Memorial over the mile at Jägersro racetrack in Malmö, Sweden and Tuesday's (July 25) edition was an open story with several good trotters battling for the win behind the gate.
The draw pointed toward favoritism for Daniel Redén's Hail Mary (Googoo Gaagaa), paired with Örjan Kihlström and Hail Mary answered the question of who was going to win the Hugo Åbergs Memorial 2023.
The race turned out to be quite spectacular when Adrian Kolgjini decided to try his Ultion Face in front from post 1, while, from post 2, Önas Prince and his driver Per Nordström hunted for the same position. The battle between the two Jägersro horses ended with Ultion Face in front and Hail Mary on the outside after 500 meters.
Kihlström's move, sending Hail Mary first over, turned out to be decisive. Kihlström is a master at controlling his opponents from that position and Hail Mary has both speed and strength to manage a tough trip. So, when the field turned into the stretch, Hail Mary had disarmed the leader and Kihlström noticed that his two-to-three length advantage would be enough to claim the prestigious race for the fourth year in a row.
Kihlström won with Propulsion in 2016, 2017 and 2018, then with Double Exposure in 2020, Who's Who in 2021 and Don Fanucci Zet last year. The Propulsion victories are not victories any longer, by known reasons, but still, one must admire Kihlström's accuracy in this particular race.
Hail Mary won the Hugo Åbergs in 1:51.4 ahead of an insanely quick Vivid Wise As, who started his attack four wide from last position in the last turn. Hierro Boko, who beat Hail Mary in Mikkeli two weeks ago, was third.
The second $155,000 Breeders Course final for 3-year-olds was won by a well-known duo in European stakes races. Paul Hagoort and Robin Bakker had Italian-bred Ester Degli Dei (Maharajah) in the race and the filly was undefeated after four attempts before the Tuesday final. The win wasn't completely undramatic though. Ester Degli Dei couldn't defend the front position shortly after the start, but when leader Noah Boko made a break after 600 meters, Bakker got the lead for free with Ester Degli Dei.
Ester Degli Dei defended herself bravely when outside trotter Eros Jet applied hard pressure on the backstretch and these two horses battled side by side, all the way toward the wire. Italian-bred horses dominated when the race was summed up.
Ester Degli Dei won in 1:55.2, Eros Jet was second and Everything Bi third. Alessandro Gocciadoro trains the runner up and the bronze medalist.
ETONNANT WILL COME TO AMERICA
On Wednesday it was announced that Richard Westerink's top trotter Etonnant will enter the $1 million International Trot at Yonkers in September.
Etonnant tried Yonkers already last year and Westerink is looking for revenge after the horse's break in 2022.