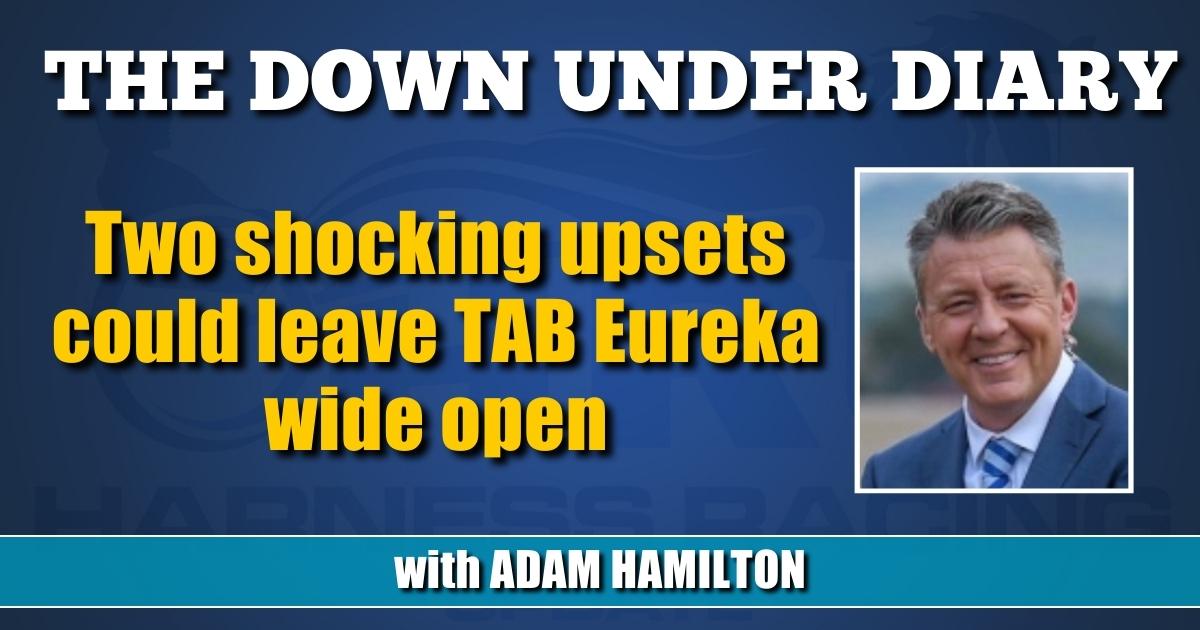 Two shocking upsets could leave TAB Eureka wide open
by Adam Hamilton
The world's richest harness race, Australia's $2.1 million TAB Eureka, has taken an unexpected twist.
In the space of three hours last Saturday night (July 22), the two biggest guns of the race — Queensland sensation Leap To Fame and Miracle Mile hero Catch A Wave — were both beaten in shocking results.
Wedged in the middle was the baby of the Eureka field, the only 3-year-old in the Sept. 2 feature, The Lost Storm.
And he seized on the downfall of Leap To Fame and Catch A Wave to make his own statement.
A breathtaking win in the Group 1 Queensland Derby at Albion Park — scoring by 16.2 without being extended in quick time — showed The Lost Storm was trekking well towards seriously testing or beating his older rivals in the Eureka.
More on him soon, but let's get back to those shocking upsets.
First out was Catch A Wave, who was the $1.05 favorite (for a $1 bet) and strolled to the front as expected from post 3.
His megastar driver Kate Gath dictated her own terms and everything pointed towards an easy win at his first start back from a four-month spell as Catch A Wave neared the home turn.
But when Gath said go, the 4-year-old son of Captaintreacherous didn't cut loose. Instead of coasting to victory, his stablemate and older half-brother, Yambukian, drove through along the sprint (passing) lane and snatched victory by a whisker in the last stride.
"I still can't believe I actually won it, beat Catch A Wave," Yambukian's stand-in driver James "Herbie" Herbertson said moments after the huge upset.
A measured trainer Andy Gath admitted to being "deflated, but not ready to panic."
"He spelled the best he ever has and came back a much bigger horse, which is exactly what we hoped for," Andy said. "He's probably 30kgs heavier than last campaign and maybe we didn't have him as fit as we thought. He did star-gaze a bit at the top of the straight, which he's had a tendency to do in front much of his career, but I think it was more his condition giving out at the finish than anything else. I say that because he had a big blow after the race and that's not usually him.
Andy had a few possible theories for the shocking loss.
"He'd been working so well at home, we thought he was ready without really screwing him down," he said. "With horses like him you try to target certain races to have them absolutely primed to protect their longevity. We thought he was working so well at home, and it wasn't the strongest field, that he'd win, but it seems we just didn't have him fit enough. He still ran quick times [last half :54.4 and last quarter :26.6), but Yambukian ran the best race of his career and was too good on the night.
"It's a perfect example of why you have lead-up races and why we've got him back racing six weeks before the Eureka and sometimes you learn more about your horse out of defeat than victory. We're not panicking. We've got time on our side and he's shown before we can peak him for big races when it matters."
Catch A Wave is likely to work between races at Geelong on Friday next week (Aug. 4) with fellow TAB Eureka hopeful Captain Ravishing before Andy looks at his only other lead-up race.
"Geelong fits well, but the key is having a lead-up race at Melton two weeks before the Eureka," Andy said.
Leap To Fame's defeat — his first since Oct. 29, last year — came in vastly different and far more dramatic circumstances in Queensland's biggest race at Albion Park last Saturday night.
Chasing his 23rd win from just 29 starts and poised to smash through the $1 million stake money barrier, Leap To Fame was a commanding $1.40 (for a $1 bet) favorite in the $400,000 Group 1 Blacks A Fake (2680m) despite drawing the back row.
Remarkably, just as happened to Catch A Wave, he was upstaged by his less-fancied older half-brother, Swayzee.
But Leap To Fame's performance to finish second — beaten just 6.2 meters — in near track record time (a 1:54 mile rate) was the best performance of his career for a multitude of reasons.
Swayzee found the lead early and as promised by his brash trainer Jason Grimson, driver Cam Hart adopted dashing "catch-me-if-you-can" tactics, while trainer/driver Grant Dixon had to make a move from near the rear of the field to sit parked and do all the chasing.
They went the last mile of the staying trip (2680m) in a blazing 1:52, including a :54.8 last half.
Leap To Fame refused to lay down and just kept trying to catch the dashing Swayzee.
It wasn't until after the race when the enormity of Leap To Fame's race became a lot clearer. His left sulky wheel was punctured with 300m to run, the tube wrapped around the wheel and effectively seized it so it was like a handbrake.
It was strange to see Dixon take the sulky off Leap To Fame as soon as he pulled-up and walk him back to the stalls in front of a deflated and bewildered crowd.
"That was character building night," owner Kevin Seymour said. "Grant [Dixon] was adamant that without the flat tire he could have won or gone very close. That's racing for you, I guess. At least the horse has come through it well and now we turn our attention to the TAB Eureka. I'm sure the horse didn't lose any admirers in defeat when you consider all the circumstances."
Leap To Fame is likely to have one or two lead-up runs in Brisbane before heading to Menangle for the TAB Eureka.
While all that was unfolding last Saturday night, the mystery horse of the TAB Eureka, Captain Ravishing, was having some fast work at home as he prepared for a racetrack return.
The powerhouse 4-year-old, who has already produced some breathtaking moments in his nine wins from just 15 starts, has not raced since a lackluster seventh to Catch A Wave in the Miracle Mile on March 4.
It seems his first public appearance will be in the exhibition workout with Catch A Wave at Geelong on Friday next week.
It would leave Ahmed Taiba, who has resumed training Captain Ravishing after a stint with Emma Stewart and Clayton Tonkin, time for one, maybe two lead-up races, which you would think he would need given the TAB Eureka promises to be a grueling 2400m test.
Let's get back to Captain Ravishing's former stablemate, The Lost Storm, and how his Queensland Derby win saw his TAB Eureka odds slashed from $8 to $6.
"He could potentially be as good as any horses we've trained," co-trainer Clayton Tonkin said. "But we know the enormity of the challenge we're facing with a 3-year-old against these amazing 4-year-olds. But the conditions of the race give us that big advantage of a preferential draw and good draws are just so valuable in the big races.
"As good as he is now, he'll be better by TAB Eureka time. This trip to Brisbane will bring him on a lot, it'll be good for his development, and he'll have more racing under his belt by then, too."
This inaugural TAB Eureka has all the makings of the best race of at least the past decade Down Under.