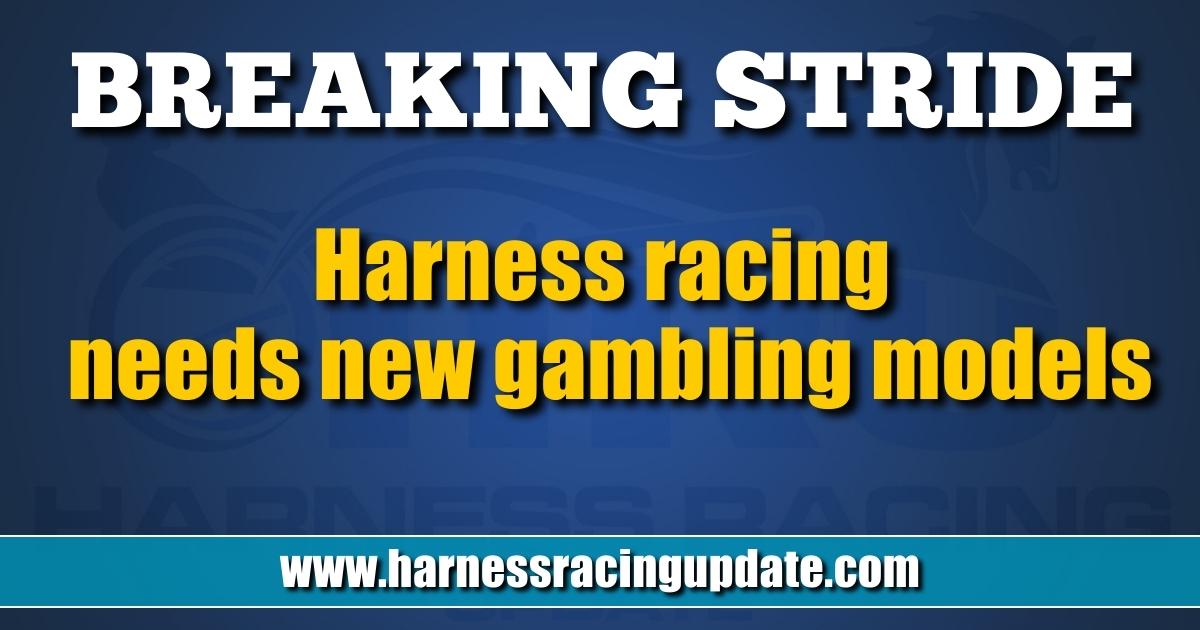 Harness racing needs new gambling models
Putting together markets that challenge the long-term gambler and tell long stories is a market where we can fit, promote and introduce new people.
by Trey Nosrac
On May 14, 2018, the Supreme Court of the United States rendered a decision, known as PASPA, that opened the door to the sports betting industry. On the other side of that open door, the speed, power and growth of a world that allows people to wager on sports and other propositions have been astonishing. Today, you can find legal gambling markets for award ceremonies and pickleball. Tomorrow, more options will be on the gambling menu because the gambling wave gains strength daily, and our little sport is, by necessity, in the water.
The question of where our sport will be in five years is uncomfortable. Whomever is at the helm should look five or 10 years ahead and strive to be proactive. Our leaders need to keep a tight fist around what gambling revenue we have and the subsidies we receive. But more importantly, they need to create new and viable revenue streams.
It is a waste of time going back and carping about how fantasy sports gambling evolved to gambling on real sports, the validity of PASPA, or how foes of sports gambling became advocates. Looking back at who did what is not helpful. That is all in the rear-view mirror, the road ahead is our future, and without a doubt, the road will be bumpy and different.
These are extraordinary times on the gambling front. Nobody is sure exactly how or what the new gambling markets will be. Nobody knows what user experiences will appeal to new gambling customers. Suppose you have a thousand bucks earmarked for gambling in 2024, how will you spend it? Your options will be beyond counting. Are you an active person who finds a thrill in wagering if the next pitch in a baseball game will be a strike?
As we mull possibilities about the future gambling markets, fast-paced gambling with low takeout will be troublesome for harness horse racing. Gambling on horses can improve, racing can be faster and a horse race can become a more valuable wager; all these are helpful. But it seems more likely that intellectual wagers based on storytelling and featuring bets covering more extended periods are better fits for a sport like ours. What does that mean?
Long-term wagers should be a part of our future. I already use this gambling model in other sports.
Major League Baseball is a passion of mine. Before the first pitch on opening day, I make a season-long wager on a team to win the World Series. Maybe next year, I predict each of the six division winners in MLB, go to a gambling site, and search for a season-long wager with a nice payoff. I must win all six division crowns to cash in this exchange ticket.
These sorts of wages appeal to a subset of sports gamblers. This style of bet may appeal to you. Your thousand dollars of gambling money will last longer. You make your plays up front and wait months for any possible payoff. Each day is a page in a complete story. An emerging and intriguing part of wagers in these gambling markets is that you can buy or sell your ticket through exchanges. A gambler of this sort feels wisdom is essential and that they have more control than a wager on a foul shot going into the hoop.
Bundling groups of racehorses long before they step onto a racetrack and following the season should be considered. There are countless ways to combine horse markets. A gambling market with groups of six trotting horses could be on the table at the beginning of the 3-year-old season. To win, your group must include the Hambletonian winner. Another type of winning ticket could be for the aggregate total earnings for a group at the end of the 3-year-old season.
For the pedigree followers, create groups of a dozen yearlings sold at auction. Maybe create interstate markets for the 2-year-old season performance immediately after the sales. This market would bundle yearlings sold at public auction into groups of six. For example, Interstate Yearling Market Lot #12121 would include one yearling from Indiana and one from New York, Ohio, Pennsylvania, Canada and Kentucky. I pay $100 for this wager. To win, of all the bundles sold, horses in Market Lot #12121 must have the highest money earned at the end of the 2-year-old racing season.
Consider the shelf life of a wager like Market Lot #12121. Gamblers would visit their phones and computers daily to track the horses' earnings in their Market Lot. We would enjoy researching other state racing programs. Each qualifier, day, and race are reasons for involvement. The payoffs will be significant enough to matter, and the increased attention may bring more short-term wagers.
Putting together markets that challenge the long-term gambler and tell long stories is a market where we can fit, promote and introduce new people. Would this be easy? Hell no. But it is a target for the future and a more hopeful future than merely going around in the same old circles.
Our goals should be concepts like convincing exchanges to include harness horse racing or, better yet, be ultra-bold, keep the money in-house, and set up markets. Pull out all the stops, try anything, always hoping to find a sliver of revenue in the new sports gambling world.
Who knows what will catch the eye of the emerging gambling world?
We all know what will happen if we do not.