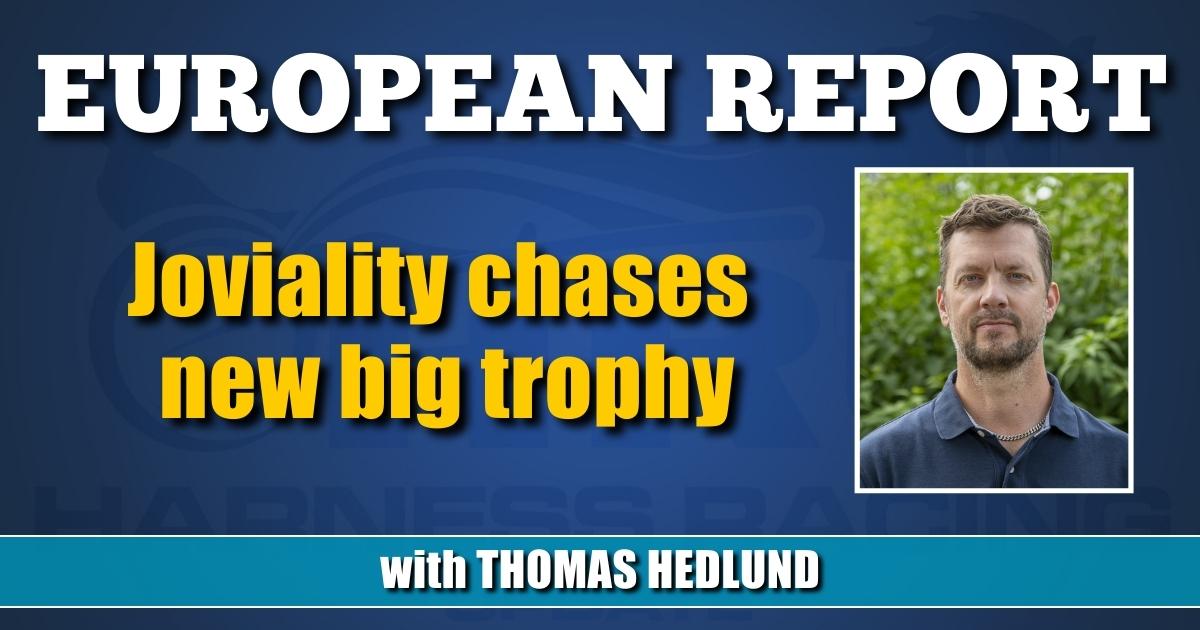 Joviality chases new big trophy
by Thomas Hedlund
Courant Stable's homebred mare Joviality (Chapter Seven) has been an exciting element in the Swedish 4-year-old races this season and the former Marcus Melander trainee has charmed the harness racing fans with her splendid technique since she arrived in Sabine Kagebrant's barn.
After her victory in the Drottningpokalen in early May, Joviality was defeated by Jazzy Perrine at Solvalla on the day of Elitloppet, but after an easy win in the Prix Diana Zet and in her elimination heat of the $465,000 Stochampionatet on July 14, she will carry the pressure as a heavy favorite in today's (July 23) final at Axevalla racetrack.
Six elimination heats were held on July 14, all over the distance of 2,640 meters, which was another new experience for Joviality. Since she moved to Sweden, she has handled the 1.6 miles distance perfectly.
There are no opponents that can be compared to Joviality in the 12-horse field, in terms of merit, but it's horse racing and anything can happen. Joviality will be the big favorite and Kagebrant has a golden opportunity to claim another big stakes race in Sweden in her first serious year as a trainer. Kagebrant has kept Joviality in perfect shape in every start so far this year and the horse is a welcomed contribution to the European races, hopefully for years to come.
STOCHAMPIONATET 2023
2,640 meters
Horse — Sire — Driver
1. Joviality — Chapter Seven — Erik Adielsson
2. Bold face — Mosaique Face — Adrian Kolgjini
3. Joy Sisu — Brillantissime — Mika Forss
4. Queen Belina — Nuncio — Örjan Kihlström
5. Aurelia Express — Readly Express — Mats E Djuse
6. Miking — Maharajah — Thomas Uhrberg
7. Global Dancer — Carat Williams — Björn Goop
8. Xerava C.D. — Uncle Lasse — Per Lennartsson
9. Jennifer Sisu — Propulsion — Magnus A Djuse
10. Jurista — Ready Cash — Daniel Wäjersten
11. O'Mara Zon — Maharajah — Ulf Ohlsson
12. Mary Ann Lane — Orlando Vici — Johan Untersteiner
ANOTHER WIN FOR FINLAND'S NEW STAR?
Jägersro racetrack's $310,000 Hugo Åbergs Memorial over the mile, traditionally held on the last Tuesday in July, is on the card this Tuesday (July 25). An exciting field of 10 horses will collect behind the gate.
Önas Prince, who represents Jägersro, drew a perfect post 2 and driver/trainer Per Nordström usually never misses to reach the front position with the son of Chocolatier. Finland's new star, Hierro Boko, who won St-Michel Race in Mikkeli last weekend, tries to claim another big win and the race is full of other contenders.
The second final in the $155,000 Breeders Course for 3-year-olds is held at Jägersro the same night and Alessandro Gocciadoro dominates the race as he trains four out of 10 challengers.
HUGO ÅBERGS MEMORIAL 2023
1,609 meters
Horse — Driver
1. Ultion Face — Adrian Kolgjini
2. Önas Prince — Per Nordström
3. Power — Robert Bergh
4. Hail Mary — Örjan Kihlström
5. Hierro Boko — Santtu Raitala
6. Vivid Wise As — Alessandro Gocciadoro
7. Stoletheshow — Magnus A Djuse
8. Hell Bent For Am — Erik Adielsson
9. Howdy Partner — Björn Goop
10. Go On Boy — Romain Derieux
SECOND FINAL OF BREEDERS COURSE FOR 3-YEAR-OLDS
1,640 meters
Horse — Sire — Driver
1. Everything Bi — Varenne — Alessandro Gocciadoro
2. Ester Degli Dei — Maharajah — Robin Bakker
3. Noah Boko — E.L.Titan — Mika Forss
4. Eros Jet — Maharajah — Magnus A Djuse (Gocciadoro)
5. Et Gar — Villiam — Örjan Kihlström (Gocciadoro)
6. Easy di Girifalco — Maharajah — Santtu Raitala (Gocciadoro)
7. Emma Jet — Maharajah — Michel F Rothengatter
8. Ni Hao Bros — Nuncio — Peter Untersteiner
9. Global Enjoy — Explosive Matter — Johan Untersteiner
10. Cincinnati Beach S — International Moni — Micha Brouwer