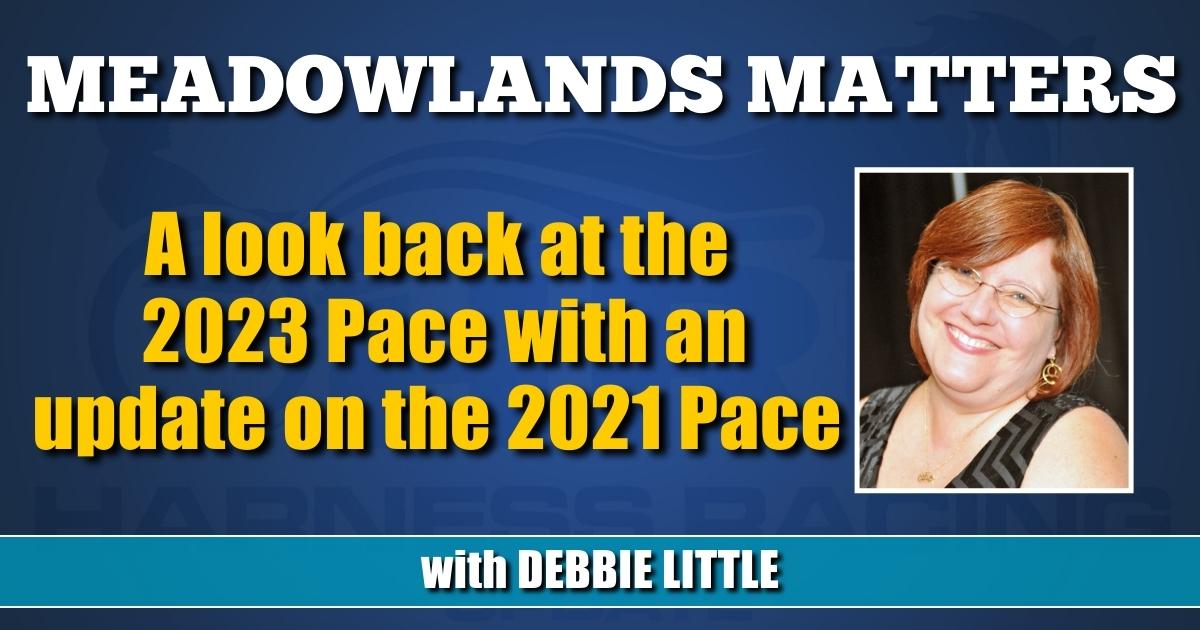 A look back at the 2023 Pace with an update on the 2021 Pace
How Adam Bowden's plan came together.
by Debbie Little
It was The A-Team's Hannibal — not owner/breeder Adam Bowden — that said: "I love it when a plan comes together," but nothing could be truer of Bowden's Meadowlands Pace.
When Confederate — owned and bred by Bowden's Diamond Creek Racing and Diamond Creek Farm, respectively — paced away from the field in the stretch of the $668,000 Pace at The Meadowlands on Saturday (July 15), it was the validation of the plan he introduced in 2020. Bowden explained that plan in detail to HRU a couple of weeks ago.
Confederate was sent off as the 1-2 odds-on choice, which boded well at a track where the favorite comes in almost 40 per cent of the time.
However, Pace Night 2023 was not playing true to form, as the majority of the chalk bit the dust. In fact, on the night, the favorites came in at almost half the average, at just 21 per cent.
In the 10 races prior to Confederate stepping on the track, the favorite won only twice: race 5, a conditioned pace, and race 8, the $169,000 Mistletoe Shalee. Both races were won by less than a length.
The Shalee for 3-year-old filly pacers is the companion race to the Meadowlands Pace and it was won in incredibly impressive fashion by 2022's 2-Year-Old Filly Pacer of the Year, Sylvia Hanover, also a 1-2 favorite. Not bad for the filly's first start away from Woodbine Mohawk Park.
With so many non-favorites crossing the wire first, some may have thought that the odds were not in Confederate's favor, but they were not considering a much more important stat.
Coming into the night, Confederate's trainer Brett Pelling held the record for most Pace victories with four, three of which were the post-time choice. Although Pelling finished second in the Pace more times than he won it — a total of five — he never lost with the favorite and that streak continued.
Confederate, driven by Hall of Famer Tim Tetrick, did it the hard way, going first up from just before the half. The 3-year-old son of Sweet Lou—Geothermal won by 3 ½ lengths, the largest margin of any of the nine stakes races on the card.
Tetrick now has six Pace wins, the most among active drivers and just one behind John Campbell, who has seven, a number that many thought would take a lot more years to even approach.
Bowden had a total of three finalists in the Pace: Confederate, Christchurch and Cannibal, who finished first, third and sixth, respectively.
When asked who he'd like to acknowledge for Confederate's Pace night win, Bowden said: "I'd thank everyone associated with the horse. The farm staff who foaled him, raised him and prepped him. Brian Brown and his groom, Ashley Dowis, who with Marcus [Johansson] mapped out and executed a nearly flawless 2-year-old season. Brett Pelling and his groom, Jessica Shenski, again together with Marcus for mapping out a nearly flawless 3-year-old season. Shaun Laungani, DCF VP, for always keeping us grounded, challenging the norms, making us question our decisions and focused on the big picture. And finally, my father for giving me this wonderful opportunity and encouraging me to reach my goals and always strive to be better. Without him, this doesn't exist."
When discussing standout performances from Pace Night, in addition to acknowledging the great performances by Confederate and Sylvia Hanover, Big M TV simulcast show co-host Greg Blanchard said: "Probably the most entertaining and enjoyable to watch of the night was that Haughton final and great to see Charlie May get a big win like that as well."
Two years after being disqualified for interference in the 2021 Meadowlands Pace, Don Tiger's Charlie May made the biggest score of his career in the $444,000 William R. Haughton Memorial.
A perfect drive by Hall of Famer Dave Miller got Charlie May to the wire first by a half-length over Tattoo Artist.
Tiger believes his good friend, the late Dave Brower, was smiling down on Charlie May's victory.
At 31-1, Charlie May was the second longest-priced winner on the night. Only Mikala returned more, taking the $159,000 Dorothy Haughton Memorial at odds of 41-1.
The 5-year-old gelding Charlie May was winless in his five previous starts in 2023 but had never missed hitting the board, finishing second on four occasions and third in the other.
With the 2023 Meadowlands Pace in the books, the 2021 Pace remains in the appeal process with Tiger taking his fight to the New Jersey appellate court.
"We still feel really good about it and I think in the end it'll work out," Tiger said. "I already felt we won when the [Administrative Law Judge, Andrew M. Baron] gave that decision. That's what I needed personally. I'm already satisfied.
"Unfortunately, in situations like this, there's really no winner and what I mean by that is, what happened that day happened. You can't get back that day."
Although it truly isn't possible to go back in time and rectify what happened on the night of the 2021 Pace, should the case eventually be adjudicated in his favor, Tiger wouldn't mind trying to recreate that celebratory winner's circle moment.
"If it all works out legally and we do officially get it all done, I would definitely reach out to Jeff [Gural] and Jason [Settlemoir] and see if they were okay with [presenting Charlie May with an official 2021 Pace blanket] and if they were, I would 100 per cent be there.
"I would make sure the horse was there and I would make sure the people were there. I would definitely do that. So, I would say that's something very fun to look forward to."
Tiger has never wavered from what he said two years ago about giving the Pace purse money away should he finally win his case.
"I would stick as much as I could in the horse racing industry," Tiger said. "It sounds crazy but I would probably set up some kind of legal fund for maybe $20,000 and get somebody in Jersey and say here's an escrow account and you can use that for horseman that might need an appeal or might need legal help. There are all kinds of cool things that I've thought about along the way to do.
"All the trainers that have been with me over the years, I plan on giving them all a kicker. Obviously, I would give the trainer and driver [of Charlie May] a kicker. It would be kind of fun spending the money to be honest with you. The only thing I've ever done this for was to get the record books straight. I never did it for monetary reasons."
Tiger hopes his case will have an impact on the industry moving forward, but in order for that to happen, the racing commission would have to be open to change, the same way governing bodies in other sports are.
"This is the problem with the commissions," Tiger said. "They feel that it's better to protect the lie and to have their own set of systems than just to try to adjudicate things properly. Sports like the NFL, MLB, NBA, want to get it right. That's all they care about. They just want to get everything on the field of battle right and we just haven't switched over in horse racing to that completely yet."