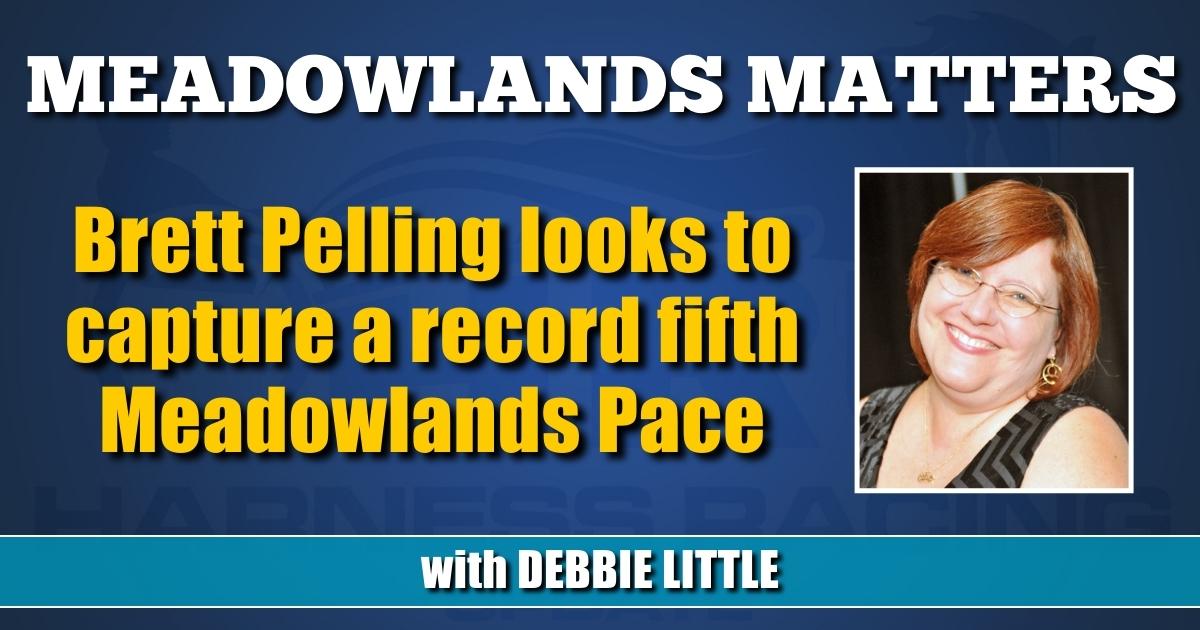 BRETT PELLING LOOKS TO CAPTURE ARECORD FIFTH MEADOWLANDS PACE.
by Debbie Little
Trainer Brett Pelling sends out Confederate — the 6-5 morning-line favorite — in Saturday night's (July 15) $668,000 Meadowlands Pace, looking to extend his dominance in The Big M's signature event.
Pelling, once dubbed the "King of the 3-Year-Old Season," has a record four wins in the Pace, two more than any other active trainer. The late Bill Robinson currently sits in second place with three victories.
"I'm okay with [going in as the favorite]," Pelling said. "I actually feel very comfortable in that situation. I've been there before in multiple situations with Breeders Crown horses and different horses, and, you know, I'm fine with that."
It was exactly 28 years ago — July 15, 1995 — that Pelling won his first Pace with 7-5 favorite David's Pass and he believes luck played a big part in that one.
"He finished fourth in his elim and he won the toss," Pelling said. "I think there were three divisions, top three and plus one [went to the final] and he won the toss to get in, but he was sick that night. I think he had like five days off, jogged Friday, and raced [in the Pace final] Saturday.
"I don't know how many guys would actually do that, but that's what I did and it worked and he won and I know he was the favorite. That was a good effort getting that horse over the line. It was a good effort and it was a great drive [by John Campbell]. He recovered from a problem and that was very satisfying, and that was our first million-dollar winning race."
Three of Pelling's four Pace triumphs came as the favorite with one, Dream Away, the 7-2 second choice, in 1997.
"Dream Away was just really good that night," Pelling said. "He had the right draw. I think he drew the rail and he just kind of pushed out of there and Ron Pierce just made one of Ron Pierce's moves. Back in the day everyone used to grab hold and set up, well he took off. He tried to get away because there was a horse to beat in there, one of Robinson's, I think.
"And Ronnie just got as far away from him as he could and held on. And that was the first horse I ever had for Marvin Katz, Al Libfeld and Sam Goldband. So, that was actually, I think, their first big, big win back in '97 and they've gone on from there."
In 1999, The Panderosa gave Pelling his third Pace in five years, winning with Campbell from the 10-hole.
The Panderosa sold in 1997, under the name Dead-Eye Hanover, at the Standardbred Horse Sale for $250,000, the most by far paid for any pacer. According to Pelling, at the time many thought The Panderosa was one of the greatest yearlings they had seen.
"He was absolutely just a neat horse," Pelling said. "And his performance in the Pace, you can probably narrow it down and of all the Paces there might have been, his performance would have been top three because he just sat parked every step of the mile. And top of the lane he just put him in another gear and blew them away and even Campbell was in awe of his performance on that night.
"[In my office] I've got a whip, the only whip that I have by the way, but it was actually the whip from that night and Campbell signed it. So, we cased it and everything."
Pelling's last Pace win came in 2005 — his fourth in an 11-year span — with Rocknroll Hanover.
"To me he was just a dominant horse," Pelling said. "He was just bigger, stronger, faster than they were. I was always in awe of that horse. To me, he never had a horse come from behind him in his entire career.
"People think Confederate is special because of how he can sprint off a helmet, but, you know, Rocknroll Hanover was exactly the same. To me, one of the biggest losses from the industry was that horse dying as young as he did. He just didn't get to leave the legacy that he should have."
The following year, in 2006, Pelling jumped on a plane and headed home to Australia for 11 years before returning in 2017 to pick up where he left off.
But according to Pelling, it's much harder to win a race like the Pace now.
"Back in the day, if you had a horse who could pace home in :27 seconds and off any speed, you could be third over, fourth over, and you know you were going to be okay," Pelling said. "I just think the mathematics of the whole business has totally changed and when you're sitting seventh now is the same as, as like back in the day, you might have been 10th.
"I don't know how many races I've won at The Meadowlands, but I think it's like, 1,500 or 1,600 or something. And I would say the first 1,400 is when I was here before. And I would say of that 1,400, we won at least,1,250 of them off the pace because that's how I race my horses.
"These numbers are totally off the top of my head. I have no idea, but now, if I've won 200 races since I've been back at The Meadowlands, I would say 150 of them have been on the front and that's because I want to win. And that's how you need to do it. Just the whole game has changed that way and to me it's not for the good."
As Pelling looks for his fifth Pace trophy, Confederate's driver Tim Tetrick is looking for, as The Meadowlands announcer Ken Warkentin put it "half a dozen, cousin."
Tetrick currently has five Pace victories ranking him second behind the great John Campbell who has seven.
"Timmy is a great, great driver, he's great to deal with and there's no disadvantage there," Pelling said. "And, as a big race driver… Timmy's smart."
As for Confederate, maybe the fact that Pelling's always won the Pace in an odd year will help or, more importantly, that he's never lost the race with the favorite.
"He'll probably go off 4-5, but he still has to circle around horses and beat them," Pelling said. "He's going in as the favorite, but believe me, it's not simple. There's a lot of things that have to happen for him to win.
What many may not know, is that with all of the success Pelling's had in the Pace, he's finished second more times — a total of five — than he's won. And, on four occasions, he missed hitting the wire first each time by less than a length: Fit For Life (1998, nose), Astreos (2000, 3/4), Timesareachanging (2004, 3/4) and Papi Rob Hanover (2020, neck).
Village Jolt (2005) finished second to Rocknroll Hanover beaten by three lengths, but that one doesn't fall into the same category as the other losses.
"So that was a quinella. That was the most awesome thing ever to actually quinella the race," Pelling said.
"I've had more seconds than wins. I'm just looking to balance the books."