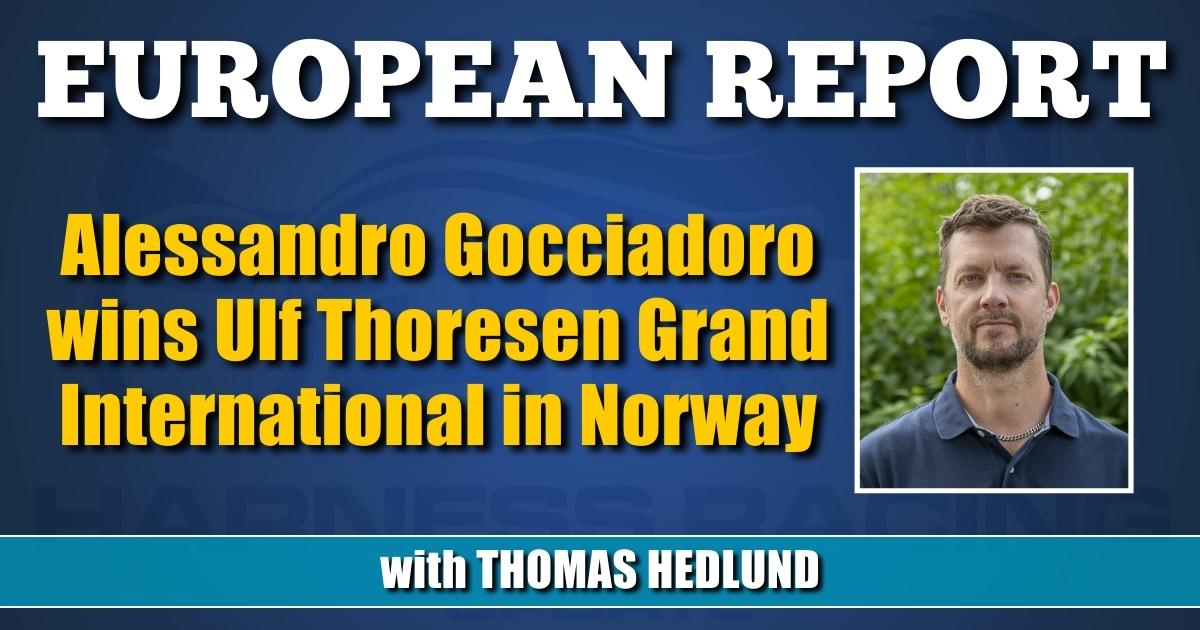 Alessandro Gocciadoro wins Ulf Thoresen Grand International in Norway
by Thomas Hedlund
Alessandro Gocciadoro went to Jarlsberg, Norway for the $170,000 Ulf Thoresen Grand International on Sunday (July 9) afternoon and after an optimistic and pretty tough drive, his Banderas Bi (Ganymede) claimed the trophy in a mile rate of 1:53.2 over 1.3 miles.
Banderas Bi answered on Gocciadoro's signal of attack after a quarter of a mile and the duo landed outside of leader Best Ofdream Trio 200 meters later while the pace was high in the race.
Banderas Bi was from that position never seriously challenged, even though Power and Feydeau Seven both finished strongly as runner up and bronze medalist, respectively.
Ulf Thoresen Grand International was an exciting show where first choice Hades de Vandel raced three wide most of the trip and still finished fourth, not too far behind the top trio.
Banderas Bi was an early talent when he started his career as a 2-year-old in Italy and at this point the 6-year-old Ganymede son has proven that he also belongs in the top among older trotters in Europe.
The fastest record ever in Norway was set during Jarlsberg's Sunday card when Gocciadoro hit the wire in 1:51.2 over the mile with his Zeudi Amg (Ideale Luis) in the Stoeliten for mares.
Gocciadoro's dominance in Europe this summer is something special and the Italian trainer is not afraid of traveling, whether for himself or his horses.
WILL GOCCIADORO'S DOMINANCE CONTINUE IN FINLAND?
Gocciadoro presents horses in top shape and they steadily make impressive performances almost every week. It doesn't seem to matter in which country the yellow-suited trainer/driver steers his horses.
Next up for Gocciadoro is the $155,000 St Michel Race in Mikkeli, Finland on Sunday (July 16), where Sweden Cup winner Bengurion Jet is his weapon.
St Michel Race is one of the most prestigious races for the older elite in Finland and the mile race used to be an event full of speed.
ST MICHEL RACE 2023
Horse — Driver
1. Mask Off — Tapio Perttunen
2. Henry Flyer Sisu — Mika Forss
3. Run For Royalty — Antti Teivanen
4. Mellby Jinx — Daniel Wäjersten
5. Hierro Boko — Santtu Raitala
6. Hail Mary — Örjan Kihlström
7. Bengurion Jet — Alessandro Gocciadoro
8. American Hero — Pekka Korpi
GOCCIADORO TO NEW YORK
Gocciadoro has received an invitation to the $1 million Yonkers International Trot on Sept. 9 and it's the well-merited Vivid Wise As (Yankee Glide) that will make the trip over the Atlantic Ocean.
Vivid Wise As recently claimed the $170,000 Gran Premio Gaetano Turilli in Turin and that victory meant that Vivid Wise As has 18 Group 1 victories on his CV.
Danish bred Get A Wish, Australian trotter Aldebaran Zeus and Swedish owned Jiggy Jog are all invited to the prestigious race at Yonkers in September.
MILE SHOW IN PARIS
Saturday's (July 15) $125,000 Prix de Washington over the mile at Enghien racetrack in Paris will likely be a spectacular show, with some of Europe's best trotters behind the gate.
Elitloppet winner Hohneck and last year's Elitloppet winner Etonnant will face each other again over 1,609 meters and seven other contenders will enter Enghien's track.
PRIX DE WASHINGTON 2023
Horse — Driver
1. Callmethebreeze — Frank Nivard
2. Capital Mail — David Thomain
3. Fric du Chene — Paul-Philippe Ploquin
4. Etonnant — Anthony Barrier
5. Echo de Chanlecy — Tony Le Beller
6. Hohneck — Gabriele Gelormini
7. Bleff Dipa — Roberto Vecchione
8. Grandy de Ranchy — Matthieu Abrivard
9. Hermine Girl — Julien Travers