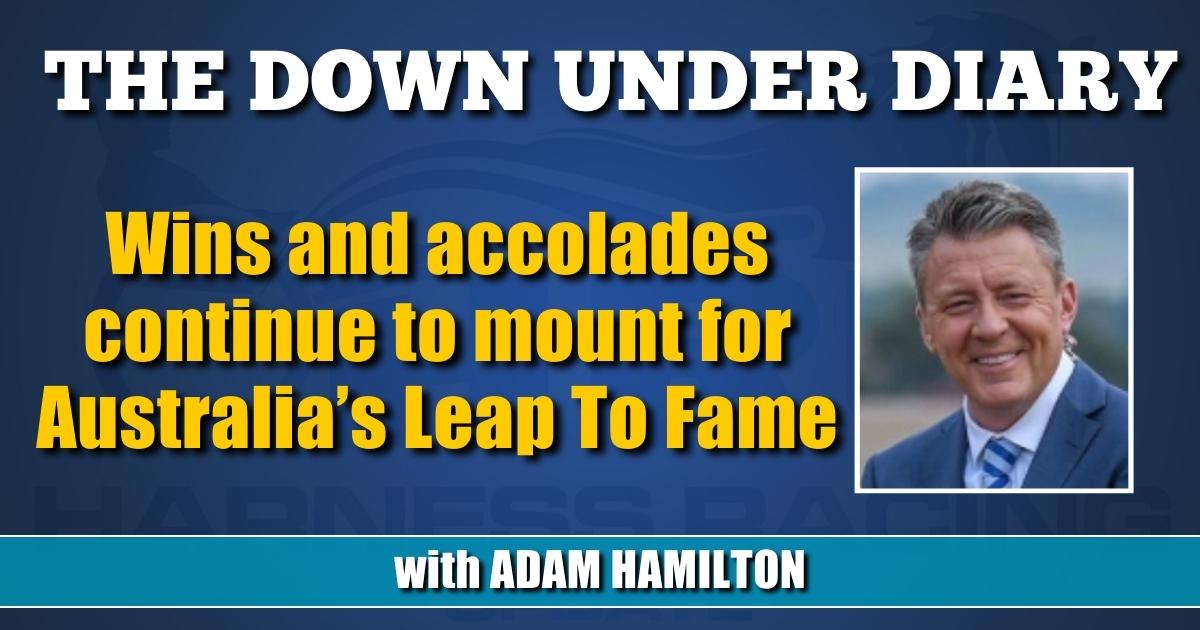 Wins and accolades continue to mount for Australia's Leap To Fame
Those in the know think he's currently the top pacer in the world.
by Adam Hamilton
Is young Aussie star Leap To Fame the best pacer in the world?
That's the question being thrown around in Australia after the stellar start to his career and mind-blowing win in the $350,000 Group 1 Rising Sun at Brisbane's Albion Park last Saturday night (July 8).
Many have had their say on where he stands on a global stage since, but few are as well credentialled as champion driver Anthony Butt, who has driven in major races in North America and Europe, along with his Hall of Fame career in New Zealand and Australia.
Butt also passionately follows the North American scene and has many friends in the game over there.
"You'd have to say he's in that discussion [as one of the best in the world]," Butt said. "Since the retirement of Bulldog Hanover, North America is waiting to see who the next big thing is. Leap To Fame is certainly the next big thing Down Under. What he did at both Redcliffe two starts back [in the Patrons Purse] and then last Saturday night was out of this world. Horses can't do what he did, I've said that to everyone. He's got it all. He's so fast, but when it turns into a dogfight, he's the first one up for it, too.
"He equaled the track record [1:52 mile rate for 2,138m] the other night, but was three-wide for the first part of it until he found the front, then he ran his last mile in 1:49.5 without being extended. Look at the hold Grant [Dixon, trainer/driver] had on him. It's crazy to think he can pull away from a field like that under a hold. He's got all the makings of a superstar. The ability, the looks, the presence and the gait… he just does it all so easily. He doesn't take anything out of himself."
Even Dixon, who is renowned for his subdued nature, was buzzing after the latest win.
"The best part was how easily he did it after the [race] he had and the times he [posted]," Dixon said. "He felt so strong on the line."
Leap To Fame's win was the biggest of his career so far, although he did win Australia's three major Derbys (Victoria, NSW and Queensland) last year. He's raced just 27 times for 21 wins, four seconds, a third and a fourth.
And he looks to have gone to another level after a lengthy spell following his 3-year-old season.
"We made the conscious decision to give him that long break," owner Kevin Seymour said. "Grant's done a wonderful job being very selective with the races he's targeted. We were happy to bypass big races like the Chariots Of Fire and Miracle Mile earlier this year to give him a longer time out and focus on a huge back half of 2023. It looks like it's paying dividends."
For Seymour and his wife, Kay, who have long been some of the biggest supporters of Australian harness racing on a financial, breeding, owning and sponsorship level, Leap To Fame is their "dream come true."
"We've been in the game 51 years and he's the horse we've been waiting for," Kevin said. "Leap To Fame's talents, combined with Grant's masterful handling of him, have set us up in a great place."
In a slight change of plans, Leap To Fame will back-up again this Saturday night (July 15) in the $200,000 Group 1 Sunshine Sprint at Albion Park.
It will mean racing for a third consecutive week when he tackles Queensland's biggest race, the $400,000 Group 1 Blacks A Fake at Albion Park on July 22.
Perhaps Dixon and the Seymours are using the three races in as many weeks to help condition Leap To Fame for an Inter Dominion in his own backyard in December at Albion Park.
The Inter Dominion is hectic, requiring all contestants to compete in three qualifying heats in the first eight days then race in the final a week later.
Before then though, Leap To Fame's major target will be the world's richest harness race, the inaugural $2.1mil TAB Eureka, at Menangle on Sept. 2.
Former Canadian administrator and now Victorian-based Greg Gangle is another well placed to judge Leap To Fame on a global scale, having seen many of North America's greatest recent pacers in the flesh.
"He is the best pacer in the world. I've been saying that for two weeks now," Gangle said. "That was simply unbelievable what he did the other night. There are horses that give you the 'wow' factor. It's been a long time since I've seen it… right since the days of 'Beach' [Somebeachsomewhere]."
Hugely respected Albion Park race caller Chris Barsby has joined the chorus.
"He's the best horse, not only in the country, but the world," Barsby said after Leap To Fame won the Patrons Purse at Redcliffe on June 16. "The fame game continues. You are witnessing something very special. He is a freak of nature."
After last Saturday's win, Barsby added: "He is a pacing powerhouse. I'm running out of superlatives for him. What a horse! Look at the time and Dixon sat there like a statue."
Back to Butt, who hopes Dixon and the Seymours will change their mind and consider taking Leap To Fame to North America in his prime as a 5-year-old next year.
"You'd love to see it wouldn't you," Butt said. "I said it with Christian Cullen, the great Kiwi pacer in the late 1990s, and I say it about this guy. How awesome would it be to see Leap To Fame go and take on all those top North American pacers in their biggest races."
But, for now we'll just enjoy watching him race Down Under and watch the comparisons continue.