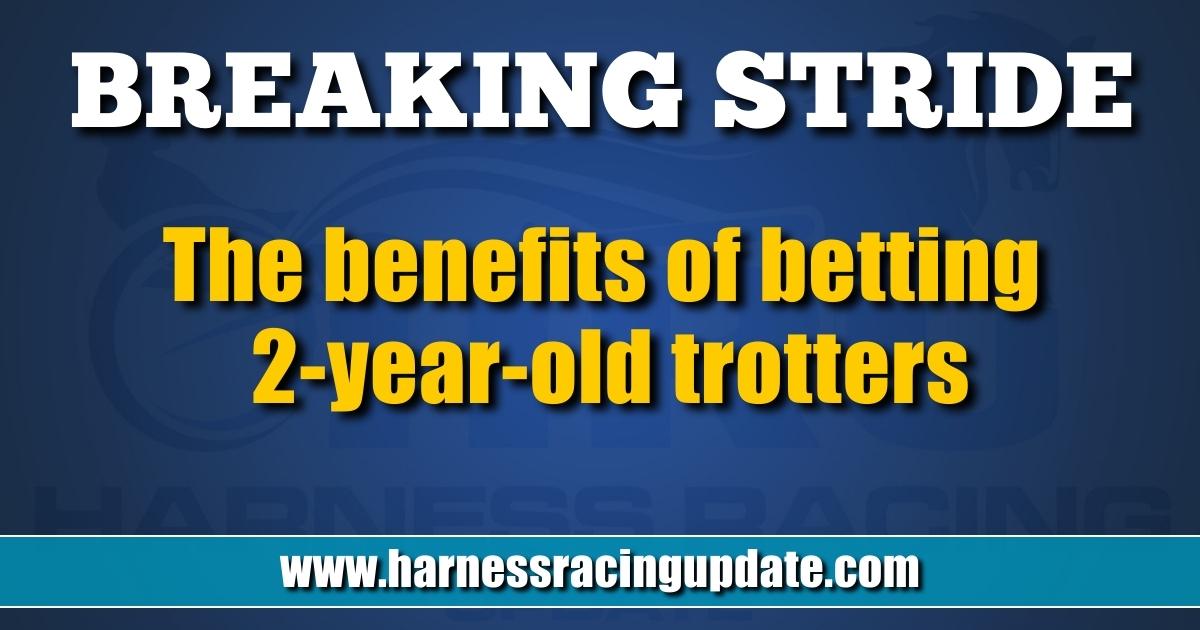 The benefits of betting 2-year-old trotters
by Trey Nosrac
Rarely does this column contain helpful advice for wagering. There are reasons for this lack of punting prognostication. I am pathetic at picking winning racehorses. Consider me sort of the anti-Pandy (Bob Pandolfo, handicapper extraordinaire).
A psychological aversion to wagering on a harness racehorse that will go off at odds lower than 4-1 is part of my problem. The idea of winning a race that does not pay enough to purchase a small bag of popcorn seems ridiculous. I would rather rip up my ticket that would have paid over $30 than collect a pittance on a racehorse everyone suspected would win. Where is the feeling of superiority in agreeing with the majority?
In online wagering, a digital record of my transactions tells a sad tale. When my available funds balance icon registers less than a dollar, it is time to reload with $100 from my groaning checking account. I have tapped the deposit funds button on my gambling account many times and never cashed out a single cent. I do not even know the process for receiving funds. Nevertheless, after this handicapping forewarning, I am breaking tradition. This column will contain a few words that the less sophisticated gambler may wish to consider.
I suggest unsophisticated gamblers will have more fun and stretch their gambling money by leaning into early racing in the 2-year-old season and specializing in trotting horses.
I love these opening races where traditional handicappers do not have an edge. I love the drama of the start of a horse's racing career when computer programs can't crunch the data because there is very little data to crunch. The smart money, the algorithms, and the wagering syndicates are not as savvy when nine bug-eyed trotters face the gate in an actual race for the first time.
The kickoff of this niche is an excellent quartet of races in early July named the Next Generation for purses of $150,000. The Next Generation races are for 2-year-old Ohio-bred horses and need a $10,000 nomination fee. As the calendar pages flip to early qualifying, owners of the slots carefully eye the promising prospects. When the dust settles, all the handicapper has to go on to solve the riddle of these races are a few qualifiers.
I love the Next Generation races and play the unpredictable races like a maniac. How unpredictable? One field of eight trotters in the Next Generation had five breakers, which is my kind of race. Next week, I seek out other races like the first leg of 2-year-old stakes, 2yo NW1 and even early fair races. My window is not open long, barely over a month. After the horses have multiple starts and performance levels get established, smart money begins to funnel into the pools, and I crawl back into my cave. Ah, but I am in harness racing heaven in those early days of 2-year-old racing.
Allow a few thoughts on these early races:
• All 2-year-old trotting races are good to play and fun to watch; but 2yo filly trotters are better because fillies may be a tad flightier.
• Longshots are playable during the early days. After all, merely trotting the course successfully may be good enough if all the other participants fall, run out of the draw gate, or break stride.
• Speaking of breaking, I love the chaos, the scattered fields, and the excitement. Often these races are like demolition derbies. These races are much more enjoyable than the predictable, single-file speedballs.
• I smile when a trotter makes a break in the first turn. Handicappers know that going off stride will happen with young horses. Psychologically, a misstep in the first turn is much easier to process emotionally than your horse staying flat and losing a photo finish.
• The subject of breaking horses brings me to an improvement in our sport that I suggest every year; any horse racing free-legged, without hobbles, receives a 25 per cent bonus on any purse money earned.
• Imagine if all of these 2-year-old racehorses raced without hobbles: what a wonderful world that would be.
• Watching the pre-race warmups of 2-year-olds is essential. Wagerers can notice little things like gaits, bulging eyes and runaways. Watching the contestants in the post-parade helps to discern if the horse appears calm, nervous or has launched the driver out of the sulky.
• The payoffs in these types of races are more palatable when not a single horse has competed. They may all have one qualifying line where less than two seconds separate the fastest from the slowest. It is doubtful there will be heavy favorites or massive long shots in this race of brand-new, fractious young horses.
• There are very few numbers and mathematics to digest in the first few races of a horse's career; this is excellent news for those who can barely manage a checking account.
• The top drivers are still top drivers, but every driver in these early races is just trying to keep the horse together. Finding holes and courtesy tucks are less of a problem. When five trotters in a race go off stride, there are more holes in the first turn than in a moonshiner's smile.
• The troubling problem of doping horses may be minimized or eliminated. Revving up a 2-year-old trotting filly that took a half hour to get into the van and depends on "keeping her mind on business" will not need to go to warp five.
I have my popcorn, wine coolers, chicken wings and 2-year-old racing schedule. I have my cash loaded onto my betting platform. I may even go to the racetrack to watch the "young uns" in action. These few weeks are the best time of the year for a bad better like me.
Let the mayhem begin! But hurry, this wagering window closes fast.