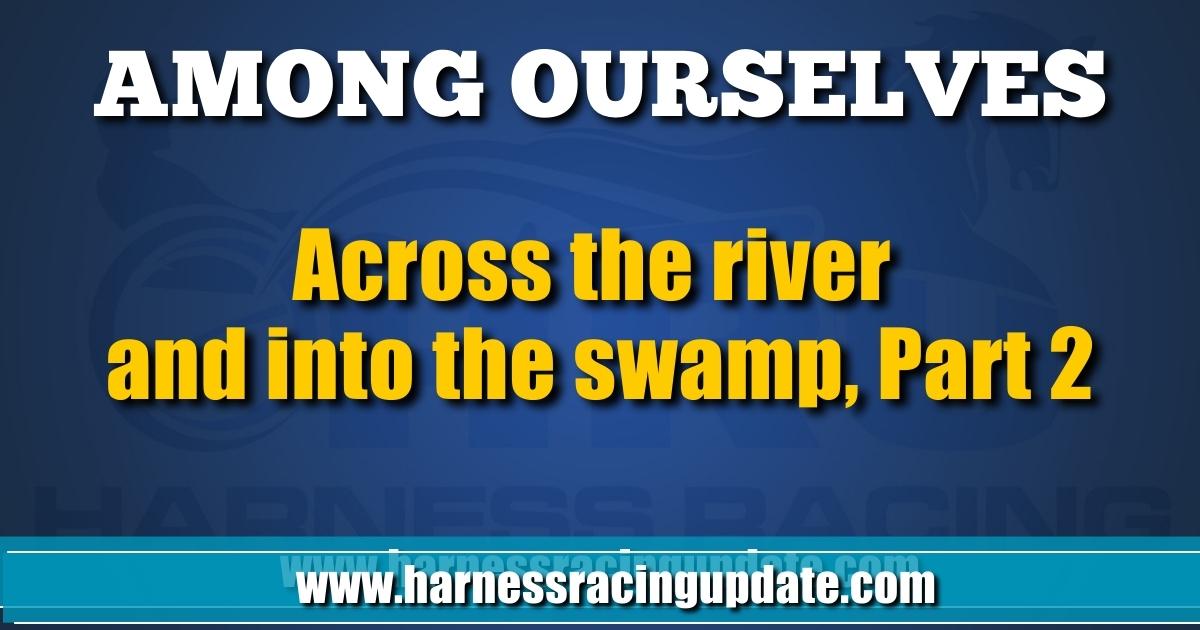 Across the river and into the swamp, Part 2
by Frank Cotolo
Part 1 is here.
Del Insko. Buddy Gilmour. William Popfinger. Lucien Fontaine. Herve Filion. John Chapman. George Sholty. Norman Dauplaise. Carmine Abbatiello. Ted Wing. Jimmy Cruise. David Dunkley. Russell Rash. These were some names of horsemen recognized by harness racing bettors in the five boroughs of New York City.
At The Meadowlands, after talking with horseman Ken McNutt as he scored a pacer over the new two-turn mile, Thom Savino and I strolled the length of the apron while looking at other horses scoring. We wanted more horsemen interviews for our report on the New Jersey racetrack, but there were none we could find from across the river. We decided it would not matter; we could always write another article with opinions from the New York-circuit horsemen. This article would introduce fresh faces to The Meadowlands' potential Metropolitan audience.
Leaning over the apron fence, we waved our arms and press passes to get the attention of drivers scoring horses down the stretch. Thom got the first response and called me over as the driver eased his horse to a halt and passed it on to an assistant.
"We'll have to be honest," I said to Thom.
"Yeah, we don't know him but maybe we can make like we do?"
"All right," I said.
He was a young fellow and he appeared to welcome the press. He approached us while taking his gloves off and immediately solved our identity problem saying, "Hi, I'm Mike Gagliardi."
The identity problem solved, we were left with the void-of-information problem because knowing his name was no clue to New York harness fans; 99 per cent of whom had no familiarity with standardbred racing in the rest of the United States, no less in Europe, Scandinavia or Russia. How were we to know Gagliardi was a super horseman who the next year would drive Bret's Star to victory in the 1977 Little Brown Jug ("The what-colored jug?" said every New York harness bettor). Gagliardi would train horses earning $1 million or more while winning 2,330 races accounting for $17 million in his brief ill-fated career.
I said, "Are you new to this area?"
"No, I was born and raised not very far from this racetrack," Gagliardi said.
"For New York fans not acquainted with you on the harness scene," Thom said, "where did you race before The Meadowlands?"
"I started as a professional driver at Freehold Raceway. I started amateur racing at Johnson Park in New Brunswick and worked around the fairs in New Jersey. My first full-fledged meet with a public stable was at Freehold."
It sounded like a smooth transition from amateur to The Meadowlands, but Gagliardi made sure it was not a quick move.
He said, "Ten years ago I was at Freehold, so it took a long time getting here. I raced all through New England [which included Foxboro Raceway, closed by bankruptcy in 1986] and probably every small track in the country. When The Meadowlands opened, I had horses that were competitive to race at this particular meet, so I wanted to be here."
"Most of the other tracks you raced were half milers?"
"Yes. But I never drove at Yonkers or Roosevelt. Just at Monticello."
"And what about two-turn racing?
"'The mile is not a whole lot different," Gagliardi said. "You change styles a little bit, like trying not to be too aggressive too early in the mile. Other than that, it's the same thing; the best horse wins the race. But, look, every other racetrack in the country is second class compared to The Meadowlands. It's in a class of its own. Once you race here you don't want to race anywhere else. I came and I've done fairly well."
"Can you tell our readers," Thom said, "if there is one thing you dislike about this colossal place?"
Gagliardi paused for a moment and then said, "When we first started here, anything at all we felt was not to our liking we told them about it and they made it to our liking. So, there's nothing I can think of that I don't like here. That's an honest answer. It's not because I'm here and want to impress anybody."
Gagliardi's comments and all of the testimonies we recorded went unpublished because the publication shut down shortly after we submitted our piece. Thom would eventually refer to it as, "Brooklyn Today, the newspaper that would not see tomorrow."
Our positive impression of Gagliardi was true. He became the leading harness trainer at The Meadowlands three times from 1981 to 1986. He drove in his last race on May 1, 1996, retiring due to severe illness. He died at his New Jersey home. He was 48.
It would take decades until my fascination with the New Jersey track found me professionally facing the man whose business constructed the foundations for The Meadowlands.
To be continued.