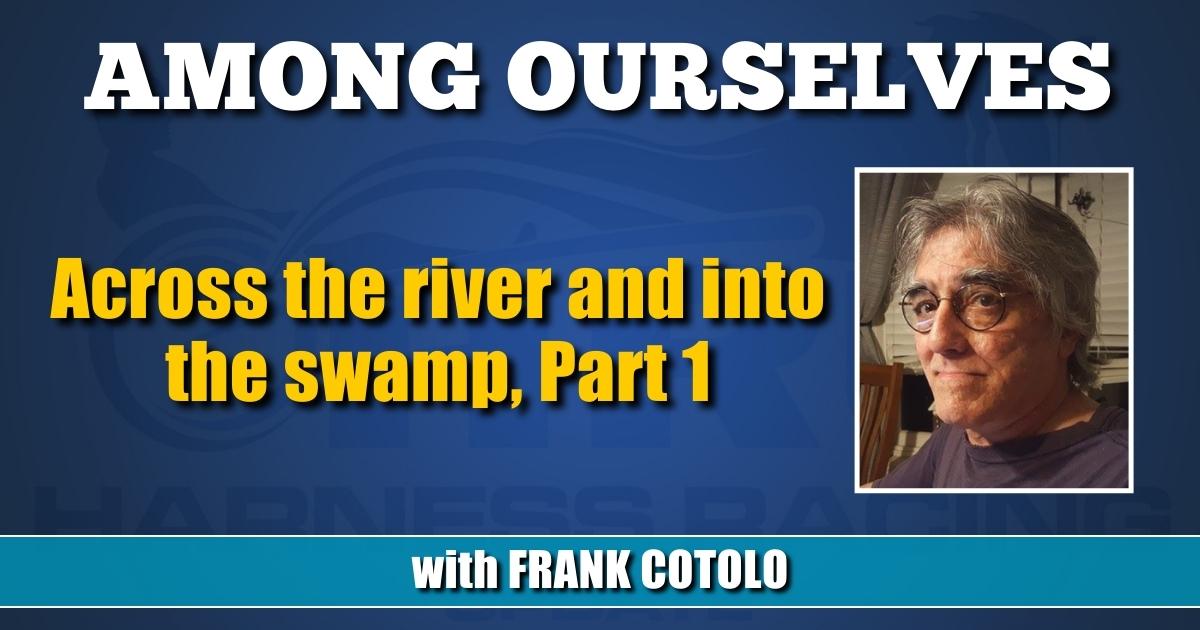 Across the river and into the swamp, Part 1
by Frank Cotolo
The word was out. A one-mile racetrack primarily presenting harness racing was being built in New Jersey. It was scheduled to open in late 1976. Those of us attending Roosevelt and Yonkers and Freehold raceways were excited about betting harness racing on a one-mile track and we agreed it was just what we needed.
A New York Times (NYT) article on April 6, 1976 reported:
"In New York, with Meadowlands about to break the long-time Yonkers-Roosevelt night gambling monopoly, Yonkers officials say it's 'questionable' if their track can stay in business without the controversial takeout bonus. And the legislators are asking Yonkers and Roosevelt to prove it."
My friend and business partner Thom Savino and I wanted to know everything about Meadowlands harness racing and we wanted to tell everyone what they should know; we decided to get an education on our own and pass it on. Savino had a slim connection to a budding newspaper called Brooklyn Today. We pitched an article to its editors with the NYT angle: How would the new racetrack affect harness betting business in New York and what should bettors know about a one-mile harness track?
'Okay,' they said. 'Do it.'
The site of The Meadowlands was just beyond an industrial corridor featuring coughing smokestacks and a stench-producing slaughterhouse; an insipid territory everyone called "The Jersey Swamplands" and the less flattering "Cancer Alley."
I knew the area well from childhood. My father often drove our family to visit relatives in Kearny, NJ, via the underwater-tube infrastructure called the Lincoln Tunnel. That, in itself, was an adventure; a car driving through tens of tons of steel underneath the Hudson River. Wow. Once on the Jersey side, my father took the side roads to Kearny even though the first version of the New Jersey Turnpike (NJT) was built less than a decade before we began taking those interstate trips.
As a kid, it was a 1958 Chevy-rocking tour challenging my senses and it was exciting because I imagined it to be like traveling on the surface of another planet. The cracking tar road out of the tunnel took us through a territory bombarded by a putrid stench one could taste while breathing.
My memories were sweet and sour as Savino drove the modern route on the NJT taking us to The Meadowlands for our job. We were armed with press passes, a cassette player, a microphone, direct questions and we were fueled with anticipation to talk with horsemen, many not well known to us on the other side of the Hudson River.
From the off-ramp onto the new roads leading to the track, our first glance of the structure was daunting. It was immense from afar and once we were strolling over the apron; we were nonetheless awed peering at the mile route for trotters and pacers. Horses were training at various points and those on the backstretch appeared tiny.
Forty-seven years ago, the harness racing betting audience across the river wanted to read about one particular thing that affected them if they came to East Rutherford to bet: what are the differences for drivers competing in two-turn harness racing.
We introduced ourselves to the first driver dismounting from a sulky. We did not know Ken McNutt from racing across the river. He was pleasant agreeing to talk on the record. McNutt said he competed on mile tracks at fair meets in Illinois before The Meadowlands.
"The big difference," he said, "is they only have one or two weeks of racing throughout the year and here we're racing year-round. The condition of the racetrack is harder to keep [for] good racing. They race in the summertime so they don't have [these] kinds of weather. Here, from September to April, you're liable to have snow and rain; it's a lot different situation."
For bettors across the river, we asked: what about driving on the mile?
"You have to use different strategies," McNutt said, "more than on a half-mile track. Any horse on a mile track on a given night if they're classified half-way right has a chance to win, whether they got the 10-hole or the rail. You don't have to make the same moves in a mile [race]. There are definitely less than you do on a half. It's easier driving at Yonkers and Roosevelt [because] you have the same horses racing week in and week out. Plus, you only have eight horses. The extra two horses in the fields here make a big difference in any race."
Even so, McNutt said: "I like mile racing but I think as far as driving and the capability of winning I prefer a half-mile track."
Ken McNutt died in 2015 at 81.
To be continued.