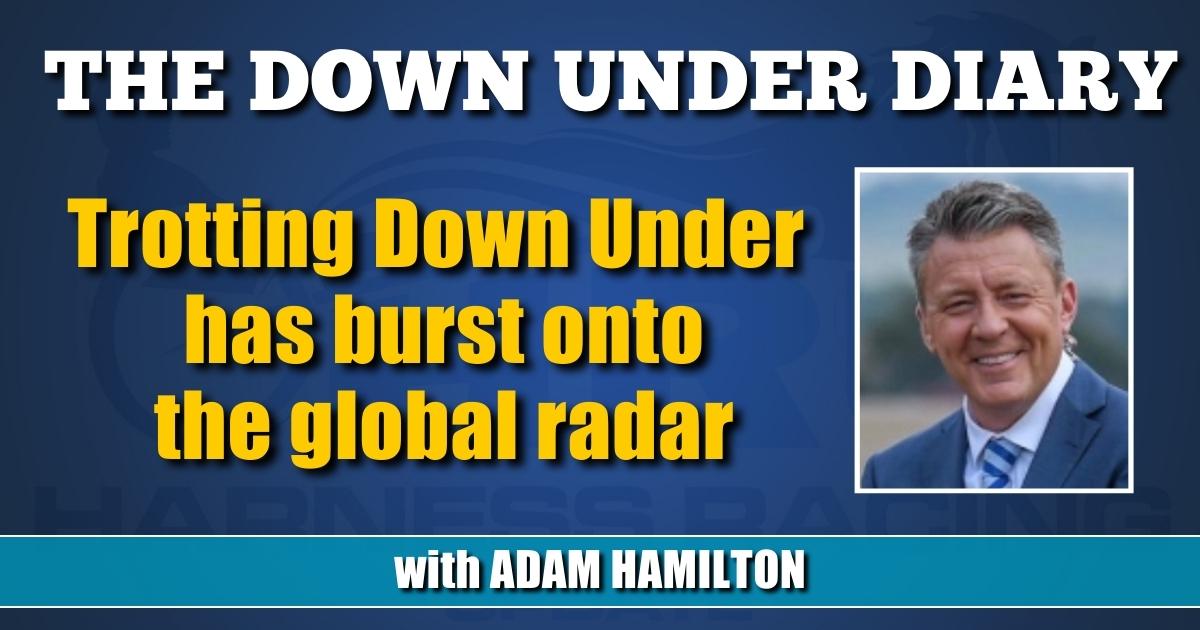 Trotting Down Under has burst onto the global radar
Aldebaran Zeus is invited to the Yonkers International on the heels of Just Believe's successful run in Sweden.
by Adam Hamilton
Gone are the days Australian and New Zealand trotters are largely considered to be the poor cousins of the best in Europe and North America.
Sure, there have been some exceptions along the way, like the mighty Scotch Notch in the mid-1980s and Lyell Creek in the early 2000s. But they were freaks.
Just Believe's three recent races in Sweden have brought some serious respect and credibility to our trotting ranks.
And the momentum is continuing even quicker than most expected.
Just when we thought it might be this time next year when we started to see the fruits of Just Believe's labor, big and exciting news has emerged from the U.S.
Another of our most talented trotters, high-class speedster Aldebaran Zeus, will chase international glory.
Connections of the multiple Group 1 winner have accepted an invitation to tackle some of the world's best trotters in the $1 million MGM Yonkers International Trot in New York on Sept. 9.
Aldebaran Zeus has won 18 races and almost $420,000 for trainer Brent Lilley and high-profile owner/breeder Duncan McPherson OAM, who has been a leader in promoting trotting in Australia.
Crucially, Aldebaran Zeus led throughout to beat Just Believe at Group 1 level at Menangle in March. It was Just Believe's last race before heading to Sweden where he finished second at Ostersund and third at Boden against elite company in his second and third starts there.
Just Believe's form line was further strengthened when Click Bait, who he finished just behind at Ostersund, cruised to victory in a feature race at Kalmar last weekend.
Lilley, a former Kiwi, is no stranger to taking on global challenges. He took former brilliant mare Maori Time to the Elitloppet in Sweden in 2018, but she made a mistake and lost all chance.
Aldebaran Zeus is one of two-star trotters in Lilley's care. The other, Queen Elida, has already been touted by the trainer as a possible Elitloppet raider for next year.
Most recently, Aldebaran Zeus campaigned in New Zealand's biggest trotting races, starting with a Group 2 win at Cambridge over the flying mile before he was unplaced in subsequent longer distance races.
"I'm so thrilled to be invited and we've all jumped at the chance to go," McPherson said about Yonkers. "Sure, it's nice for me and the team around the horse and Aldebaran Park, but I'm equally excited that our southern hemisphere trotters are attracting the attention they deserve and can show their racing prowess on the international stage.
"As we saw recently with Just Believe's campaign in Sweden, our trotters here in Australia are more than competitive in this company and the world is now watching with a different level of expectation. These types of opportunities don't just happen. I appreciate the work that goes on behind the scenes and thank HRA for its continued efforts to promote our industry in new markets. I'm pleased to be a small cog in what is a bright and exciting future for our sport."
Lilley said he cannot wait to take on the world again.
"The experience I gained through Maori Time's trip to Sweden will be invaluable in having my horse ready for Yonkers in September," he said. "He's handled his interstate and New Zealand travel without missing a beat, so I expect he'll handle the flights and quarantine in Chicago without issue. We'll time it for him to peak on the day.
"The track suits, the [racing] pattern suits and an Australian horse is due to draw well in a big international race. I'm expecting big things from my horse."
The man behind Aldebaran Zeus' invite, Klaus Koch, has long been a follower and fan of Australian trotting.
He made Knight Pistol's historic Scandinavian raid happen in 1997 when Kerryn Manning became just the second female to win a Group 1 race in that part of the world in Norway's Harley Davidson Trot.
"I was so thrilled to see what Just Believe did in Sweden and in my role as the recruiter for the Yonkers club, I've had my eye on Aldebaran Zeus for some time," Koch said. "He is a fast trotter with good early speed and the mile racing around a track like Yonkers should really suit him. And, of course, he beat Just Believe over a mile when they last met.
"I'm sure he'll be very competitive, especially with a good post position [barrier draw]."
Just Believe will just be returning to Australia when Aldebaran Zeus is preparing to leave for the U.S.
Solvalla racing manager Anders Malmrot, the man who made Just Believe's Swedish trip possible, is still glowing after his deeds.
"I'm so impressed about Harry [Just Believe's stable name]," Malmrot said. "I knew he was a good horse, but I didn't expect him to be this good. After Ostersund and Boden everyone is, 'Wow, what a horse we have seen.' They are mainly in shock at how good he is. Everyone here thought Harry had no chance in the Elitloppet and they obviously told me that as well.
"Something has changed and everyone sees how we must build our sport into something bigger. From now on, and I believe it for everyone here in Sweden, they will be watching the Inter Dominion and the Great Southern Star with much bigger interest now when they see how good your [Down Under] horses are. I think this will make such a difference in how we see each other's races.
"We have seen Just Believe has won the big races but it's not by so many lengths every time. You have so many good horses beneath Just Believe. Obviously, it could be some more, we will see about that when it comes to these races who is in shape and what we can do about it. It's a great cost to take horses across from Australia to Sweden, so it's a little about that, but there's no doubt about it, your horses are good enough."
Prominent Swedish racing journalist Dennis Englebo is another unashamed Just Believe fan.
"There were some doubters here in Sweden, but they have been convinced," Englebo said. "Just Believe is not only the best horse in Australia, he's also one of the best horses in the whole world. His performances in Sweden were amazing, and after only three races and one month in Sweden, he's already a favorite among the audience. I've heard so many voices after those last two races saying they wished he stayed longer. Now, everyone hopes that he will get back next year, to get revenge. Not only in the Elitloppet, but also for the chance to actually win a race in Sweden. His performances this year were great.
"With a star like Just Believe I'm sure that the Australian trotting industry will get more highlighted. And that's bloody fantastic because we both want and need every single person in our sport. Thank you Greg Sugars, Jess Tubbs and all the owners for letting Sweden borrow your star for some time. We can't wait to see you here again."
Before then, us Down Under trotting fans will get to cheer for Aldebaran Zeus at Yonkers.
Just like Just Believe in the Elitloppet, we know the enormity of the challenge, but it's so exciting to be part of it.