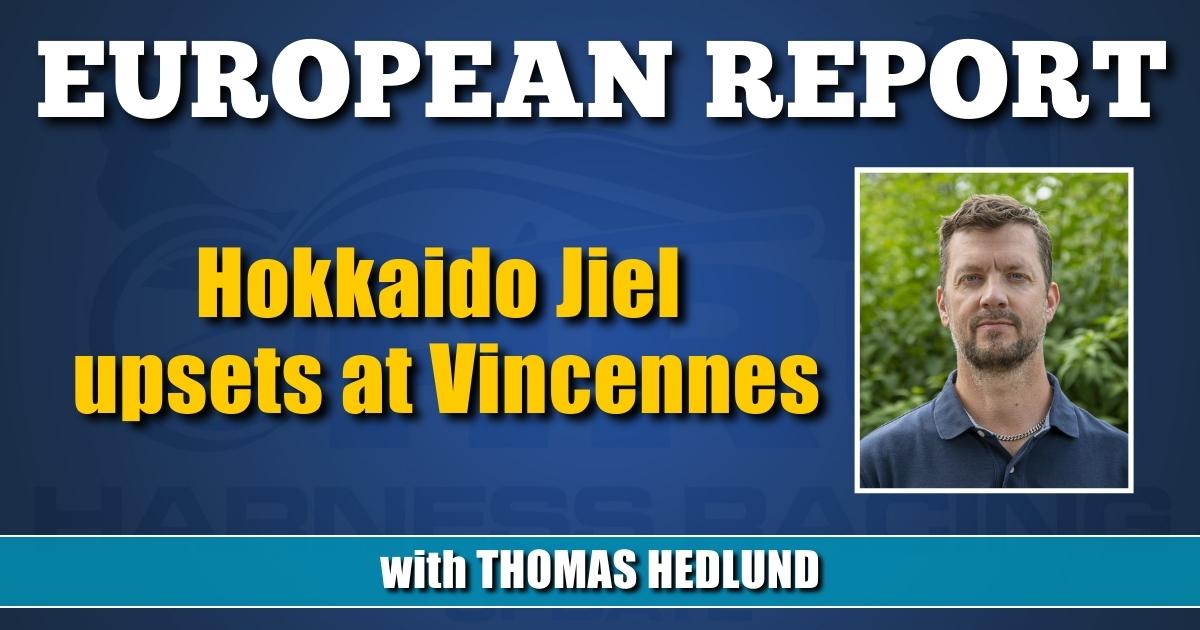 Hokkaido Jiel upsets at Vincennes
by Thomas Hedlund
Sunday's (June 25) massive race card at Vincennes included several top races with high purses and some great performances were played out in front of the Paris track's audience.
The $215,000 Prix Rene Balliere, for older trotters, was one of the top races during the afternoon and Elitloppet winner Hohneck made an interesting start after his journey to Sweden in the end of May.
But Philippe Allaire's trotter had to capitulate this time. Hohneck hit the lead after 700 meters and the pace was high throughout the race. Top trotter Idao de Tillard connected on the leader's outside with 600 meters to go and seemed to disarm Hohneck shortly before the finish line. But Idao de Tillard went off stride with 50 meters to go and from second over, Hokkaido Jiel (Brillantissime) sprinted to victory in a strong mile rate of 1:51.1 over 1.3 miles.
Hohneck was second and Oracle Tile third.
Allaire-trained Koctel du Dain (Booster Winner) impressed when he claimed the $215,000 Prix Albert Viel for 3-year-olds. David Thomain steered the trotter to a safe win after a trip mostly on the lead and Koctel du Dain hit the wire in a mile rate of 1:56, a stakes record.
Jean-Michel Bazire has a new star in 4-year-old Joshua Tree (Bold Eagle), who won the $85,000 Prix Raymond Fouard for 4-year-olds. Joshua Tree took over the lead with a half-mile remaining in the race and from the front position, the Bold Eagle son was outstanding in a mile rate of 1:53.1 over 1.3 miles.
Bazire's successful Sunday was completed when his Jasper des Charmes (Kesaco Phedo) claimed the $250,000 Prix du President de la Republique monté race with jockey Eric Raffin.
In the $250,000 Prix de Normandie for 5-year-olds racing under saddle, Joel Hallais-trained Ina du Rib (Uhlan du Val) came home as a winner in a stakes record of 1:55.1 over 3,000 meters.
SET FOR E3 FINALS IN SWEDEN
Bergsåker plays host to the first $400,000 E3 finals for 3-year-olds on Saturday (July 1) afternoon and Swedish harness racing fans have made acquaintance with a very special trotter from Alessandro Gocciadoro's barn this spring and summer.
Gocciadoro's Expo Wise As (Ready Cash) was bred in Italy and will compete for a total purse of $200,000. Most of the experts agree Expo Wise As will win this E3 final over 1.3 miles.
Gocciadoro claims that this horse might be the next big star trotter in Italy and Europe, so the duo will enter Saturday's final as heavy favorites.
In the filles' final, it's more open. Finnish contribution Kinglet Bird (Nuncio) is undefeated after four starts and will begin from post 1 in her first stakes final.
E3 COLTS AND GELDINGS
2,140 meters
Horse — Sire — Driver — Trainer
1. Capricon Trot — International Moni — Robert Bergh
2. Global Etalon — Brillantissime — Jorma Kontio — Fredrik Wallin
3. Expo Wise As — Ready Cash — Alessandro Gocciadoro
4. Epsom As — Muscle Mass — Ulf Ohlsson — Reijo Liljendahl
5. You To Class — Classic Photo — Markus B Svedberg
6. King Of Twilight — Bold Eagle — Björn Goop — Magnus Dahlén
7. Dream Combo — E.L.Titan — Janne Korpi — Pekka Korpi
8. Kingen Mearas — Chapter Seven — Erik Adielsson — Svante Båth
9. Immortal Doc — Brillantissime — Carl Johan Jepson — Fredrik Wallin
10. Flotilla — Readly Express — Mats E Djuse — Roger Walmann
11. Maco Toro — Nuncio — Magnus A Djuse — Mattias Djuse
12. S.G.Dracarys — Bold Eagle — Örjan Kihlström — Roger Walmann
E3 FILLIES
2,140 meters
Horse — Sire — Driver — Trainer
1. Kinglet Bird — Nuncio — Janne Korpi
2. Eteria — Tactical Landing — Ulf Ohlsson — Reijo Liljendahl
3. Knickers Sisu — Southwind Frank — Magnus A Djuse — Mattias Djuse
4. Käraste Sisu — Face Time Bourbon — Mika Forss — Petri Salmela
5. Esperia Font — Face Time Bourbon — Gabriele Gelormini — Alessandro Gocciadoro
6. Karma Mearas — Face Time Bourbon — Erik Adielsson — Svante Båth
7. Elisabeth Bar — Face Time Bourbon — Carl Johan Jepson — Jerry Riordan
8. Elegance Kronos — Muscle Hill — Björn Goop
9. Esmeralda Bez — Maharajah — Alessandro Gocciadoro
10. Coral Coger — Ken Warkentin — Rikard N Skoglund — Ola Åsebö
11. Willa Explosive — Explosive Matter — Mats E Djuse — Johan Untersteiner
12. Kitty Mearas — Face Time Bourbon — Örjan Kihlström — Jasmine Ising