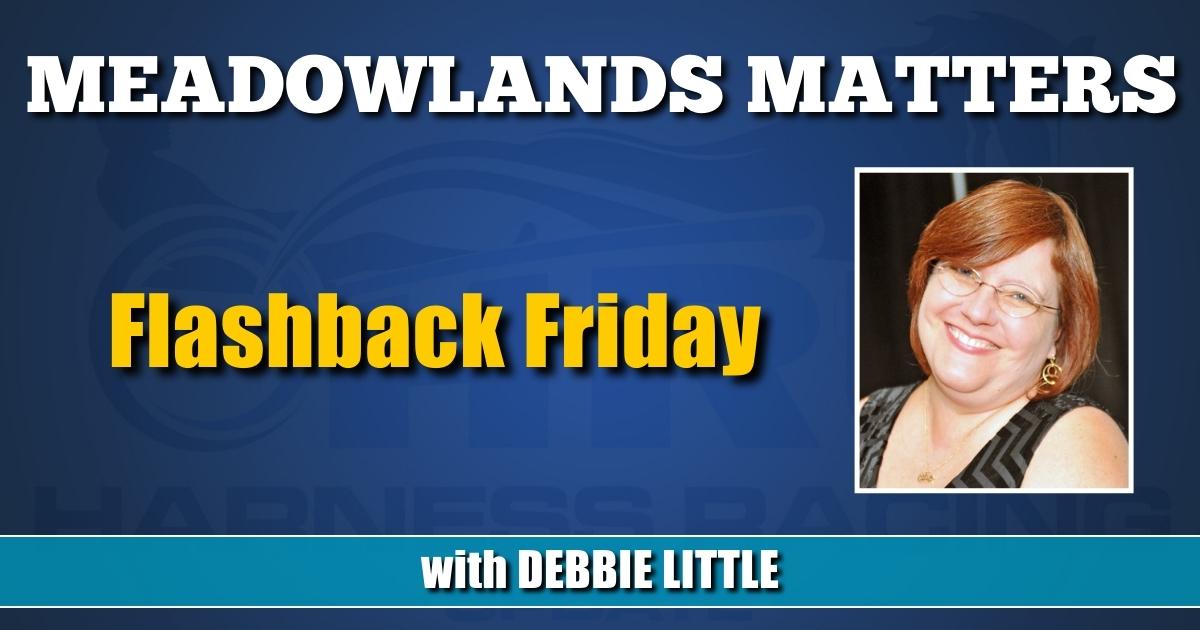 For Greg Blanchard and Dave Little, it's a co-host reunion nearly 30 years in the making.
by Debbie Little
The last time Greg Blanchard, 52, was on set with Dave Little, 61, Bill Clinton was in the White House.
That long drought will come to an end this weekend as Blanchard joins Little on the desk at The Meadowlands.
"I think, you know, it'll be like riding a bike," Blanchard said with a laugh.
Blanchard grew up on Prince Edward Island (PEI), and met and worked with Little for the first and, so far, only time at Charlottetown Driving Park (CDP) in 1996 when Little came to the Maritimes to watch an international driving tournament.
"When you meet a fellow diehard racing fan, first and foremost, there's almost an instant connection there, right?" Blanchard said of Little. "And you know, that's the first thing I think that I remember about Dave, just how passionate he is about racing. And when you share that common interest, there's a lot to talk about, and then there's just an instant comfort level.
"You know, you couldn't get a nicer guy, a more outgoing guy and, yeah, just a fun person to spend time with and obviously great to work with as well when you have that natural comfort level."
Blanchard first popped up on Little's radar in 1995, the year before they actually met.
"I knew him as the guy from PEI who worked at Freehold, and figured this guy has to have a lot of passion to relocate so far from home," Little said. "He used to call the fourth race on the card, so I'd always listen to see if he was any good. He was. I didn't know at the time that he had bigger fish to fry down the road."
Twenty-seven years ago, almost to the day, Blanchard, Little and then CDP track announcer Boomer Gallant took turns in front of the camera on the track's "Stretch Drive" show as well as in the booth, calling that evening's races.
Little was coming off his second year of TV work during his first stint at The Meadowlands and clearly remembers his first trip to PEI.
"When I did the broadcast with Boomer and Greg at CDP, it was so much fun, because at the time, I still wanted to be a race caller more than anything," Little said. "The three of us shuffled between on-cameras and calling the races, which was, to me, innovative. Boomer was the weatherman on the CBC at the time, so I expected him to be really good as a co-host, but Greg surprised me at how polished he was at such a young age.
"Fast forward to now, Greg is without question one of the best TV hosts — along with Gary Seibel — in the sport. So, getting to sit alongside him again is something I'm looking forward to in a big way. I'm confident the chemistry will pick right up where it left off 27 years ago."
Blanchard — director of equine programming at The Raceway at The Western Fair District in London, ON — who will be joining Little at The Meadowlands this weekend, is no stranger to the East Rutherford mile oval, since over the last few years he's made almost annual visits as a part of the team for the Hambletonian show on CBS Sports Network.
"So, it's been a long time since Dave [Little] and I have actually worked together," Blanchard said. "You can tell he's very comfortable to work with and he shares the passion. He's got that great energy on camera, too, that really plays well.
"I likely worked more with Dave [Brower], I think, than anyone else in terms of The Meadowlands' team."
Blanchard was part of the CBS show with Brower on several occasions, including last year, when he co-hosted with him. This will be Blanchard's first trip back to The Big M since Brower's unexpected death in October of 2022.
"We had a great amount of mutual respect, but a good friendship as well," Blanchard said of Brower. "He was one of those guys that you would learn from; you sort of took a little bit away every time you would work with him. He was one of the best in the business, for sure.
"So, it was obviously devastating to hear the news last year and it was a complete shock and I'm sure when I'm at The Meadowlands for the first time, some emotions will flood back."
Blanchard is not the only one expected to get a little verklempt tomorrow night (July 1) as The Meadowlands hosts the inaugural Dave Brower Memorial, an open pace, formerly known as the Roll With Joe.