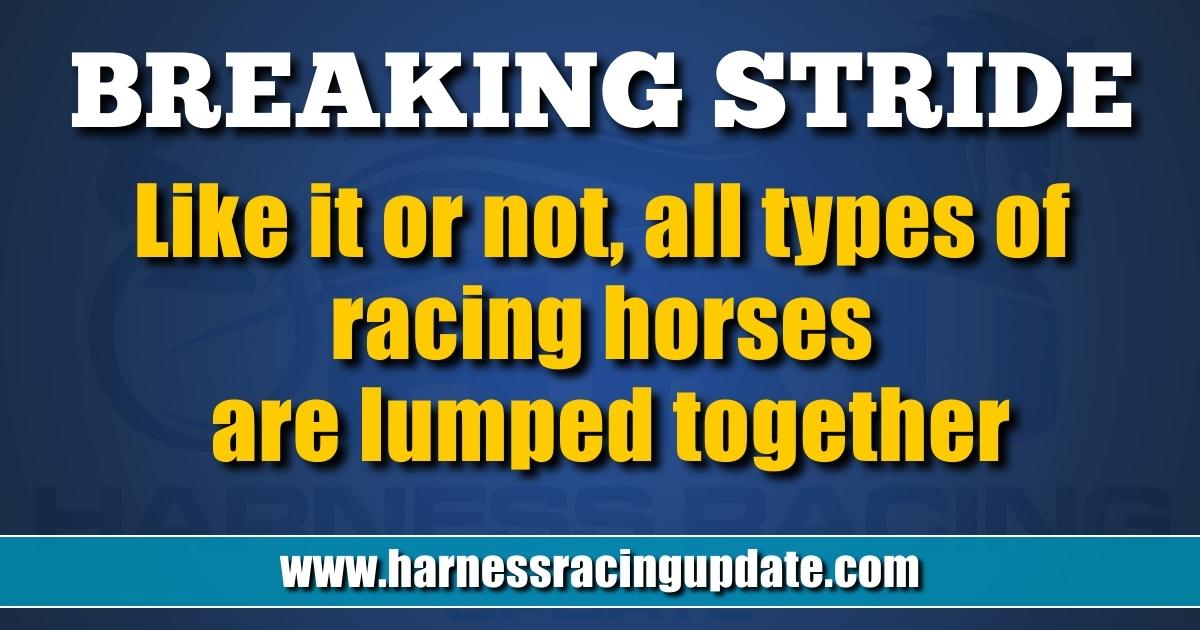 Like it or not, all types of racing horses are lumped together
A spate of thoroughbred deaths has an impact on harness racing, too.
by Trey Nosrac
Being lumped in with thoroughbred racing has always annoyed me, but the confusion about the two equine sports may lead to significant problems for us.
Saturday (May 6) I was on the fifth tee of Possum Trot Country Club at two in the afternoon. The weather was bright and sunny with a slight breeze. I was facing a tricky par five when my phone pinged with a puzzling message from my pal Duke Winooski, "WHAT'S GOING ON AT THE TRACK?"
I replied astutely with a text reply, "Huh?"
"HORSES ARE DYING."
This bulletin upset me, and I was confused why my non-horse racing friend was delivering such dire news. It took a moment to realize that today was the first Saturday in May, Kentucky Derby Day. While my playing partner roared off in the golf cart, I strolled down the fairway and phoned Duke.
"How many?"
"I don't know, a couple. It seems to be a big deal."
"Look, that's not my sport. Harness horse racing is a different kind of horse racing than the Derby. It's like comparing roller derby with bocce ball. I'll explain later. Gotta go."
Then I shut off my phone. When I got into my car a few hours later and checked my phone, I saw two other messages from two different people asking me for my racetrack scoop. I typed up two replies to plead my ignorance, a simple case to make.
On May 30, I had an instant replay of Derby Day. A text in capital letters read, "R THEY SHUTTING YOU DOWN?" I called this guy back. He told me he was listening to the radio and caught part of a national news story about a big emergency meeting on horse racing with quotes like, "More horse deaths, a sport in peril, will horse racing survive this?" For the fourth time, I explained that the racing at Churchill Downs was different. I told him fatalities on the racetrack were rare in my sport and that he had us confused with thoroughbreds, but I would check out the news.
I pulled several reports on the emergency meeting. It was no hoax. The reported body count was a dozen horses. According to CNN's Kevin Dotson: "The Horseracing Integrity and Safety Authority (HISA) said it was, 'Deeply concerned by the unusually high number' of horse deaths and has called an 'emergency veterinary summit,' which included members from Churchill Downs and the Kentucky Horse Racing Commission to review all available information related to the horse deaths."
Then, a few days later, the trifecta. Another text, "Just heard they are shutting down the racetracks." I searched my phone, and once more, I texted a reply that authorities were shutting down one racetrack, Churchill Downs, and this was not my sport, not my type of racing. Today was a coda to the march of horse racing misconceptions that happened to me in the past month. While typing this column, a headline crawled across my computer screen, "Two more horses dead at Belmont."
Perhaps I am overly sensitive to this topic because my favorite spectator gambling sport was jai alai. There was a jai alai fronton around the corner from my parent's condo, and as a young semi-adult, I could not get enough of the sport. I honestly believe this is/was the most excellent spectator sport in history. Each wager on a match was terrifically enthralling to me. I do not know why the plug got pulled on jai alai, but to my knowledge, the demise was unrelated to fatalities. I also went to the dog track, which I enjoyed. You know what happened to that sport.
We want to think the thoroughbred racing issues are not our business. The neighbors on the other side of the fence are in a jam and going through some rocky days. If the folks on the other end of my text messages are any indication, this difference does not play well with the average population. If these thoroughbred horse deaths are the prod for action on any level, the specific type of racehorse will not matter. The public will see three words: horses, racing and death.
This painting of two sports with one brush is not fair, logical, or just. However, if any national referendum on eliminating horse racing gains traction, in my opinion, separating harness racing from thoroughbred racing will be more than problematic.
This situation is a touch ironic on the HISA front. Factions in our sport have differing ideas about how to clean up our obvious mess. Still, everyone agrees we are a different breed and may require various regulation tools. Should the anti-gambling seas reach hurricane force, we will all be in the same boat, and there will be nothing to regulate.
The impending death of horse racing has been predicted for a century and a half. Will the emergency meeting held behind closed doors at a location in Kentucky and not disclosed to the general public result in any answers? Probably not. Equine corpses of any breed, often agonizingly broadcasted live to a massive audience, do not look good. The deaths will fuel future anti-racing fires.
And like it or not, reasonable or not, all types of racing horses are lashed together.
And on a personal note, please do not ask me questions about thoroughbred horse racing. I know much more about roller derby and consider myself an expert on jai alia. Also, this applies to you, Duke: DO NOT TEXT IN ALL CAPS. It always makes me feel like somebody is shouting.