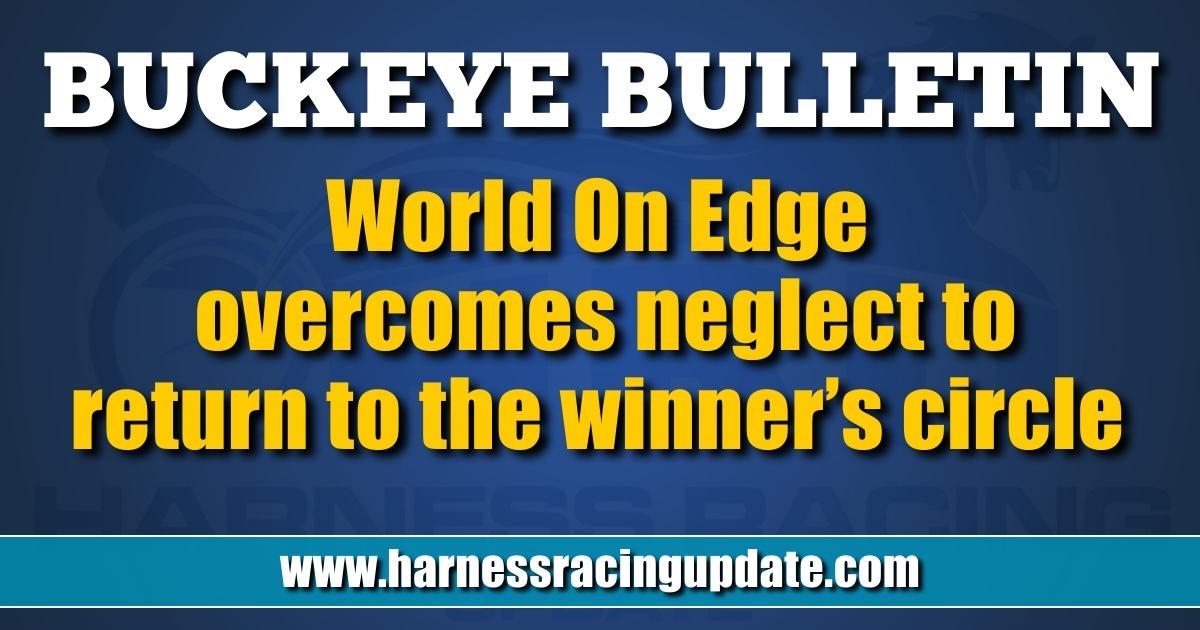 World On Edge overcomes neglect to return to the winner's circle
Older pacer's comeback is thanks to hard work of husband/wife team Chris Short and Stephanie Rees
by Jay Wolf
Moments after 7-year-old pacer World On Edge crossed the finish line at Miami Valley Raceway on March 23, he was greeted in the winner's circle by trainer Chris Short, who had tears in his eyes. Short was emotional not because it was a large purse or a stakes race, it was because he and his wife, Stephanie Rees, helped bring World On Edge back from the verge of death just months prior.
World On Edge's journey started at the 2017 Standardbred Horse Sale at Harrisburg. The Roll With Joe yearling was hammered down for $50,000 to the powerful partnership of Burke Racing Stable, Adriano Sorella, Joseph DiScala Jr. and J&T Silva-Purnel & Libby.
He opened his career with a win in the first leg of the New York Sire Stakes at Yonkers Raceway and finished his freshman campaign with more than $60,000 in earnings.
His 3-year-old season saw him hit the board in half of his 24 sophomore starts, including a win at The Meadowlands in 1:49.3.
World On Edge was placed in the mixed portion of the 2019 Harrisburg Sale. He was picked up by Jeff Cullipher and Pollack Racing for $72,000.
After limited success as a 4-year-old, World On Edge found himself in the "Harrisburg" sales for a third time: albeit this time at state fairgrounds at Timonium, MD when the COVID-19 pandemic closed the usual home of the Standardbred Horse Sales Company's auction
Short was looking to expand his stable and signed the $9,000 sales slip for Eric O'Neill's Lucky Label Stable.
"He was one of the last horses in the sale," Short said. "It was the COVID year and he sort of just fell in our lap. He had a [1]:49 mark and there was nothing wrong with this horse."
World On Edge paid quick dividends for his new connections, winning three straight and picking up checks in his first six starts for the new barn.
It was about this time when the owner and trainer had a little falling out and all of the Lucky Label Stable horses, including World On Edge, were placed with new trainers.
"The owner and I stayed friends," Short said. "I kept an eye on those horses to see how they were doing."
Short, who currently trains 16 at the Hartford Fairgrounds in Croton, OH, contacted O'Neill about World On Edge when he didn't see any entries or results for the gelded son of Roll With Joe for a period of time.
The owner said he was getting updates and reports from the trainer and that he was preparing him for a qualifier.
That qualifier never came.
"The day before Thanksgiving, I received a call… telling me that [World On Edge] was dropped off at a [Kentucky] farm by the trainer and he looked like he was starving," Short said. "I took off [for Kentucky] in the morning to pick him up. On the way down, I called Eric and told him that I was bringing him home and that I was going to feed him and get him back to the races."
The horse simply fell through the cracks and the owner was given the run-a-around by the conditioner.
"The trainer fell on hard times and couldn't afford to feed his horse," Short said. "It was a disgusting situation."
World On Edge was indeed malnourished, his shoes had grown into his feet and Short was concerned that he wouldn't survive the trailer ride back to Central Ohio.
He survived the trip and the Short Stable went immediately to work rehabbing the gelding.
"My wife and I treat our horses like they are our kids," Short said. "[Stephanie] has a great feed program. A lot of the credit goes to her."
World On Edge started to put the weight back on and eventually jogged slow miles on his road back to the track.
He made a successful qualifying start on March 10 at Miami Valley Raceway and an easy fifth place finish in his first pari-mutuel come-back start at MGM Northfield Park.
Short took World On Edge to the larger Miami Valley Raceway for his second 2023 start on March 23.
Driver Kayne Kaufman had the eventual winner sitting patiently on the rail through the first half of the race and came first up to score a two-length win in 1:55, triggering the trainer's tears.
"That was probably the biggest win of my career," Short said. "This is like a Disney movie."
World On Edge has continued to improve, winning his last two starts at Eldorado Scioto Downs: a 1:52.3 score (May 29) and a 1:53.1 win (June 9).
"He shows no ill effects of what happened to him," Short said. "He's big, fat and healthy. It was a sad situation that ended up well."