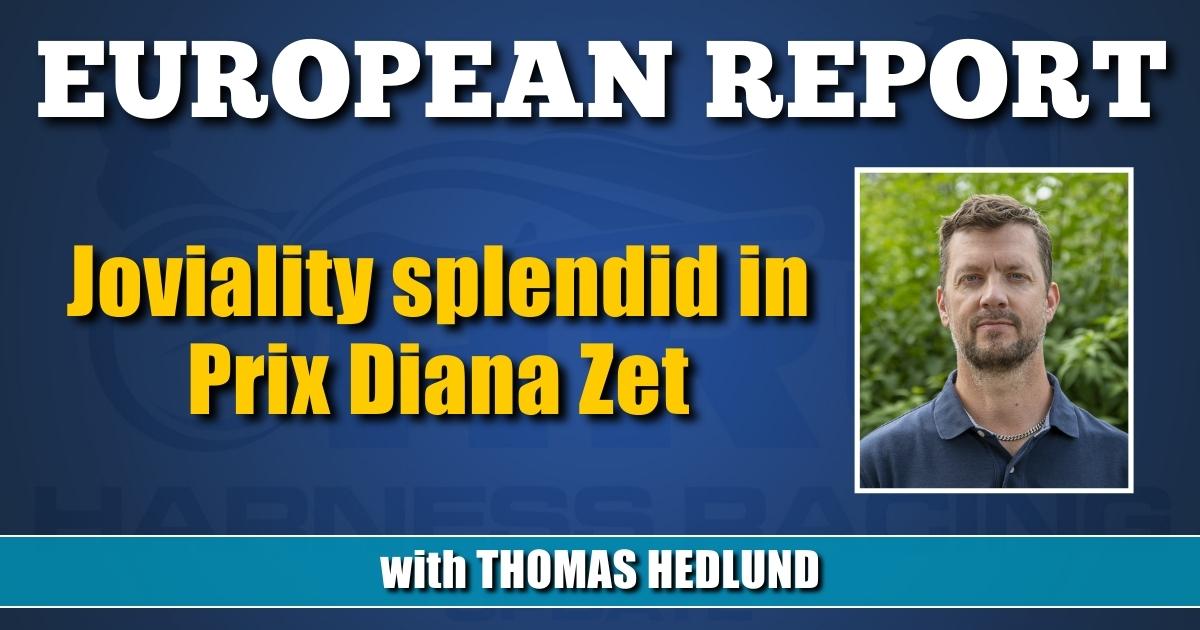 Joviality splendid in Prix Diana Zet
by Thomas Hedlund
Courant Stable's homebred Joviality (Chapter Seven) made her fourth appearance on Swedish soil when the $75,000 Prix Diana Zet for 4-year-old mares was on Wednesday (June 21) night. The Sabine Kagebrant-trained trotter impressed as she danced without shoes around Solvalla's track.
She had post 8 behind the gate in a preparation race ahead of bigger objectives later on this summer. That meant Joviality's connections could race her without shoes for the first time and it worked well.
A tough battle between O'Mara Zon and Queen Belina in the hunt for the lead opened up the path to victory for Joviality, who kept up her pace first over, some lengths behind the leader O'Mara Zon. Joviality started to put pressure on the leader at the backstretch and when the field turned for home, she took advantage of the race. Erik Adielsson let Joviality sprint to an outstanding win in a strong mile rate of 1:54.1 over 1.3 miles.
Next up for Joviality will most probably be the elimination for the Stochampionatet over 1.6 miles in mid-July.
The $111,000 Prix Readly Express for 4-year-olds ended with an upset winner in Staro Mack Crowe (Bold Eagle) with Rikard N Skoglund in the bike. The duo left third over for position and were first over in the middle of the race. That's when Skoglund knew what he had in his reins. The leader became easy prey in the stretch and Staro Mack Crowe, trained by Katja Melko, looked splendid as he hit the wire in a mile rate of 1:55 over 1.3 miles.
DANISH DYNAMITE TO YONKERS
The first invitation to $1 million Yonkers International was announced on Wednesday (June 21) and Denmark will send Get A Wish (Wishing Stone), trained and (probably) driven by Bo Westergaard.
Get A Wish belonged in the top of the 4-year-old crop in Denmark last year and claimed the home country's biggest race, The Derby during the fall. He has made 30 starts so far in his career, 12 have ended with a victory.
ELITLOPPET WINNER AT VINCENNES
Vincennes offers a strong race card Sunday (June 25), with high purses in basically all nine races and Philippe Allaire's winner of this year's Elitloppet, Hohneck, will race again in his home country France. Hohneck will be one of the contenders in the $215,000 Prix Rene Balliere over 1.3 miles and he will face the winter queen Ampia Mede Sm, who won her comeback at Vincennes two weeks ago. However, title defender Vivid Wise As will not enter the race due to problems with the export certificate from the Italian harness racing association.