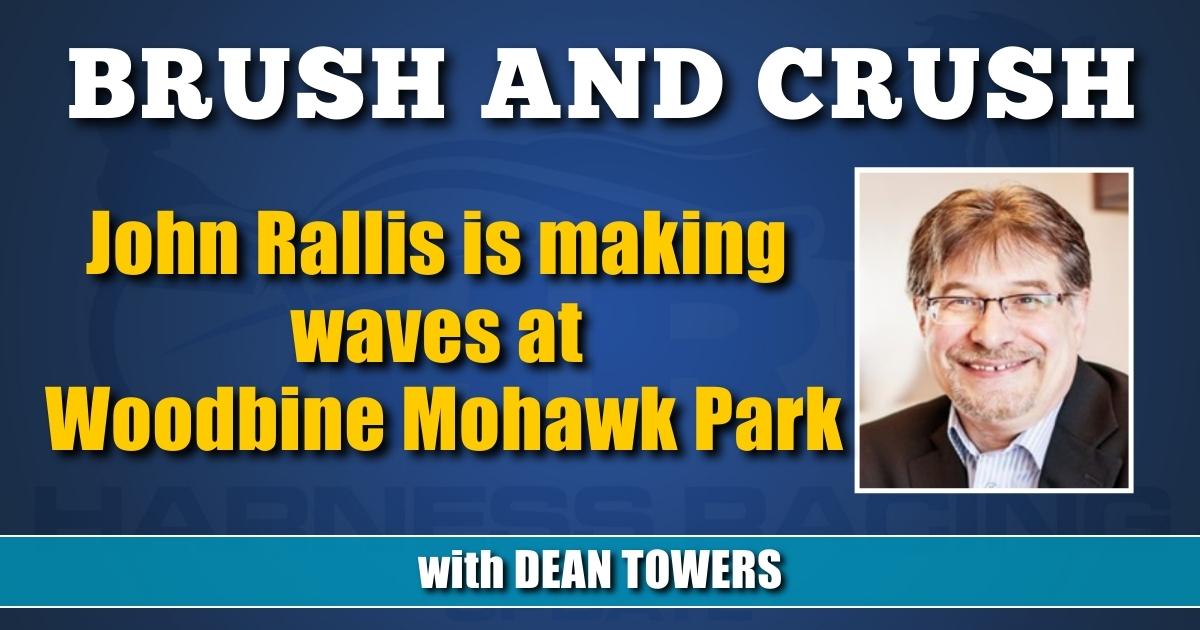 John Rallis is making waves at Woodbine Mohawk Park
by Dean Towers
John Rallis, 27, of Toronto, has been making waves at Woodbine Mohawk Park since being hired as their new paddock interviewer and on-air handicapper a couple of months ago.
He was nice enough to sit down and answer a few questions for this week's column.
How did you get involved in harness handicapping?
"My dad was the first person to introduce me to harness racing. When I was growing up, the two of us would drive up from Toronto and spend every weekend in the summertime at Mohawk Racetrack. We would always get a table in the dining room and we'd enjoy a nice pepperoni pizza and a Caesar salad. It was a ritual.
"Truthfully, I was too young to really care what was going on at the racetrack, but getting a table in the dining room and spending time with my dad meant a lot. He worked endless hours running a restaurant, so spending time at the racetrack also meant spending time with dad; and I loved it."
How long have you been playing and studying the game seriously?
"I've probably been studying the game from a wagering standpoint and playing seriously for about four years. I was always watching, but I never really honed-in on the wagering side, but I decided to dive in. I can tell you it's very challenging and frustrating, but I'm stubborn enough to think that there's hope for some to win long-term.
"It takes an immense amount of discipline — something I'm still learning — and it's all about making the right wagers. Problem is, I'm not sure many know how to decipher what is — or isn't — a good wager. It's all subjective, but it almost always isn't."
You'd never worked in television before. How has the learning curve been?
"Watching the races from my couch and interacting with a handful of friends around the industry, I was naive enough to think that doing the same, just with a camera standing in front of me, would be easy-peasy. Boy, was I ever wrong. It takes a lot of time to develop an on-air presence — something I'm still learning to this day — and I'm realizing how imperative it is showing up to work prepared each day.
"We are dealing with 90 to 100 or more horses a race card; I think it's vital to bring something to a broadcast that people can't see in a past performance program. I just try my best every night, but one thing I can pride myself in is coming to work prepared."
Your rapport with Randy Waples and Elissa Blowe appears quite genuine. Can you speak a little about them and what impact if any they've made on you?
"My rapport with Elissa and Randy is genuine because we care for one another and have the same goal in mind: To produce the best racing broadcast. More importantly, perhaps, we all try to help each other improve and grow as a team. How lucky am I to come into a broadcasting role in harness racing, with zero prior experience, and have the luxury of turning to someone like Elissa, who's been a broadcaster for 20 plus years in this industry and Randy Waples, who is a Hall of Fame driver?
"I'm in a perfect position to succeed, because of those two. We've only been together for a little over two months, but I think we've done a pretty great job so far, all things considered. We also have a strong production team behind us which puts us all in position to succeed."
A number of bettors have commented that they think you ask trainers and drivers good questions in post-race interviews. Do you believe your daily handicapping work helps in this regard?
"I think the fact I come into this game as a fan and as a handicapper definitely helps in knowing what to ask when conducting pre-race interviews. Nobody knows what a bettor wants to know better than me because I was asking the same questions internally when I was looking over the program. 'Horse X's line was terrible last week, was something wrong? Horse X is making their season debut, will they need a start? Horse X is coming off a six-week layoff with no qualifiers to show for it, is he ready?'
"I try to respectfully challenge the drivers about the kind of trip they intend on giving a horse or how aggressive they will be. I don't try to step on anybody's toes because they're a really great group of guys. I just know as a viewer what I want to hear so I try to uncover that for the people at home the best I can.
"Trainer John Pentland was great when I interviewed him prior to Cheesy Smile's first start as a 3-year-old. She was the 9-5 choice when they were on the racetrack after they paraded, and he said he had given McClure instructions to take care of her because he was preparing for the upcoming Gold the following week. Obviously, he didn't rule out the prospect of winning, but I thought that was pretty valuable."
Do you feel you learn a lot from participants during these interviews that helps you as a handicapper? Do you have any favorite interviews/interviewees so far?
"Those drivers and trainers are just really sharp and when you're spending as much time inside a paddock you learn a lot about certain horses and why they weren't at their best on that day, or even why a driver didn't do what bettors felt they should've. I've learned a lot from so many of the horsepeople individually. We tend to forget that horses aren't machines, they're flesh and blood with a mind of their own. Sometimes things don't work out the way we want them to as a bettor, and sometimes it isn't the fault of anyone.
"As far as my favorite interviews, it's hard to say. I don't think I have one. I've had some fun encounters with Ben Baillargeon; he's always entertaining. As far as drivers, they're all so accommodating, it's hard to pick one. I think what I love is that I can ask them any question on camera that I could off camera and they'd be willing to answer."
Like many bettors at Woodbine-Mohawk, you enjoy the pick 5 bet, and your ticket construction is sometimes different than we're used to seeing from many public handicappers. For example, you were unafraid to throw out Sylvia Hanover a few weeks ago in her debut against older; you often single a horse you like and not worry about being beaten. Where did this style of play come from, and why do you think it's important to share it with viewers?
"One thing about me is I'm not afraid to take a stand; if they're 4-1, 15-1 or even 30-1 it doesn't really matter. When I first started wagering, I'd play pick 5 tickets for 20 cents with the sole purpose of trying to cash a winning ticket. I soon realized what I was making wasn't worth what I was investing. Not only that, I'd go four deep in a pick 5 and the horse I'd rank as an 'A' selection would end up winning. While I'd wager on said horse to win, I then began to realize why I wasn't just taking a stand and using that horse as a single, instead of adding three other horses 'defensively.'
"Most people are going to go in the same direction in most legs throughout a pick 5 sequence, but the key is to find a leg with value that'll benefit you, and try to take advantage. As for the TV tickets, they're so hard to give out because the way I play pick 5 tickets, I spread and play a few different combinations. But I don't want to give out a base ticket that I wouldn't play myself. If there's a 3-5 shot I don't like, I won't be afraid to leave it off a ticket I'm giving out for TV. My approach doesn't change for the sake of wanting to cash a ticket on-air. Lastly, no one should be scared to be wrong, because we are going to be wrong more times than we are right in this game. But when we're right, at least there will be a reward."
Do you play any other harness racetracks? If so, which do you enjoy most?
"I mostly play Mohawk and The Meadowlands. I've always enjoyed both of those products and the pools and wagering opportunities are always strong. They both have good driving colonies and good horses.
"As for other tracks, I'll dabble depending on the wagering opportunities. I love playing carryovers and I love monitoring the progression of young horses [2-year-olds especially], so I'm always keeping an eye out everywhere."
What are your hopes for 2023 in your new role, and after the thrill of the North America Cup card, what are you most looking forward to next?
"Now that I got through my first North America Cup, I feel like every broadcast from here on out becomes a lot easier from a mental standpoint. I know what's required in terms of preparation, have gotten over the jitters of doing post-race interviews on a night that big and have built confidence in how I can go about my business.
"Hopefully we can continue to grow as a team and maybe give out some winners. I've been slacking in that department lately, by the way. I'm supposed to be the handicapper and Randy Waples is kicking my ass."