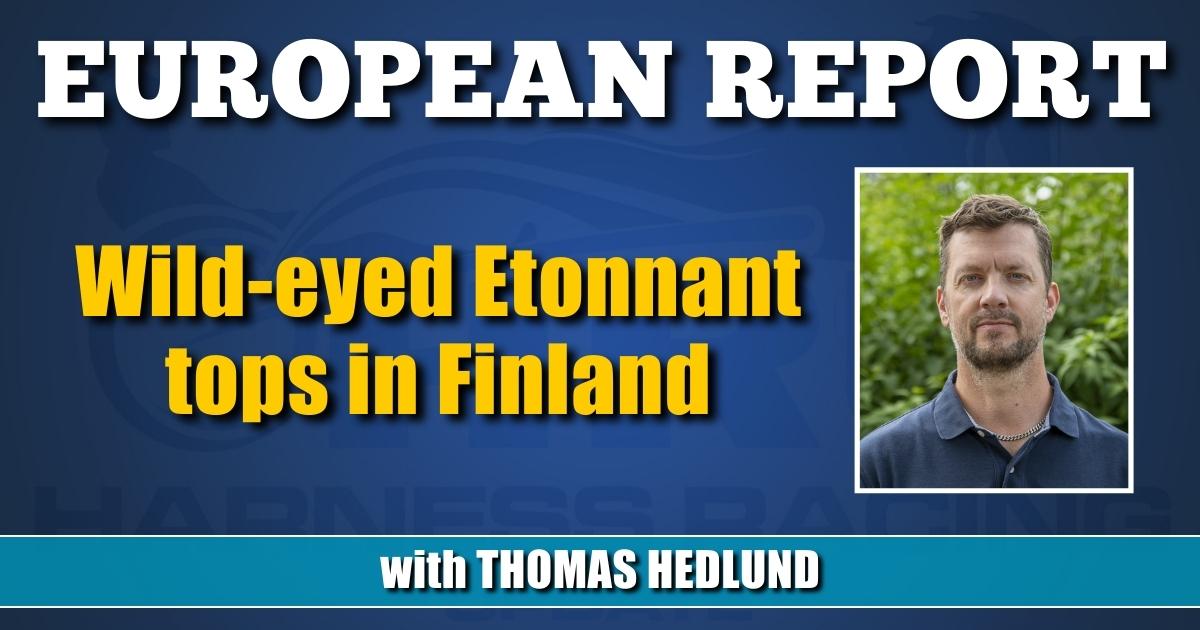 Wild-eyed Etonnant tops in Finland
by Thomas Hedlund
Richard Westerink's Etonnant (Timoko) made a more or less impossible performance in Saturday's (June 17) $215,000 Kymi GP in Kuovola, Finland.
In a fast paced race with an eager Global Withdrawl in front, Etonnant was left three wide during the race's first 1,050 meters, before he landed outside of new leader Callmethebreeze.
The race continued to roll fast down the back stretch and in the last turn Etonnant put the claws in the leader and disarmed him in a few steps.
Go On Boy, runner up in the Elitloppet three weeks ago, tried to challenge and got really close to Etonnant in mid-stretch and the two French-bred trotters battled side by side towards the finish line. Anthony Barrier worked hard behind Etonnant and succeeded in taking the trophy in Kuovola with Etonnant as Go On Boy had to settle for second beaten a nose at the wire.
Etonnant won in track record 1:53.2 over 1.3 miles and Callmethebreeze was third.
AUSTRALIA'S JUST BELIEVE IMPRESSES AS RUNNER UP IN BODEN
Greg Sugars was probably as happy as winning trainer Daniel Redén after the $180,000 Norrbottens Stora Pris in Boden in the northern part of Sweden on Saturday (June 17) night.
Sugars' Just Believe made his last performance in Europe before the return to Australia and after last week's third place in Östersund, Just Believe climbed one step up on the ladder and finished second to an unstoppable Francesco Zet (Father Patrick).
The race became quite uneventful when Francesco Zet managed to take the lead after the first turn. Mellby Jinx opened quickly from post 7 but that didn't cause any problems for Francesco Zet from post 1. Örjan Kihlström noted that none of the other outside horses challenged for the lead, so he could calmly ask for the lead after the first turn, and Daniel Wäjersten had no plans in defending the position with Mellby Jinx.
Francesco Zet was on the run towards his 15th consecutive win and when in front, the game was basically over. The 5-year-old Father Patrick son jogged to a safe win in a mile rate of 1:54.1 over 1.3 miles and the Redén was happy after the race, but not only for his horse's performance, but also happy for the Australian team's success as runner up.
"I'm glad that Just Believe did such a great race today," Redén said. "He's been racing three times in Sweden and they have presented him in great shape, so it was fair that he was this good today. They've been on a long trip, to say the least."
Just Believe had a very strong race after a first over trip, outside of winner Francesco Zet and Greg Sugars was asked if it would be possible for them to stay a little longer in Sweden.
"I would really like to come back, but this journey is over for this time," said Sugars adding with a big smile. "I must go back home and work."
Mellby Jinx did a good job as third in the Norrbottens Stora Pris.