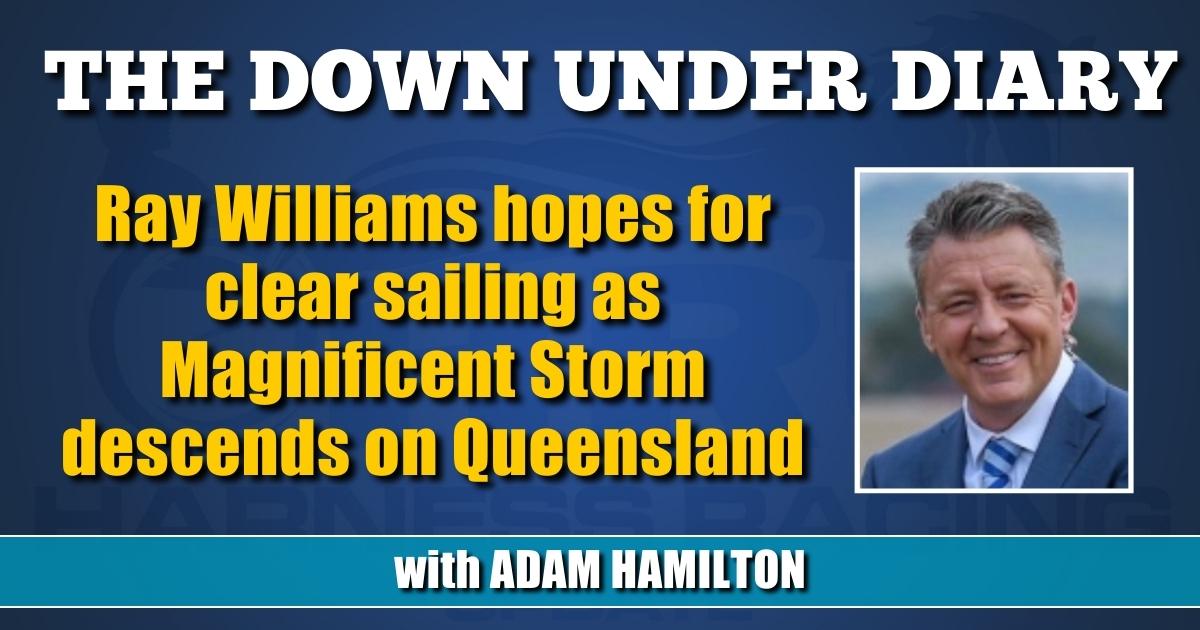 Ray Williams hopes for clear sailing as Magnificent Storm descends on Queensland
by Adam Hamilton
Life has gone the full circle for Ray Williams since the veteran Western Australian trainer last took a horse across Australia to race in Queensland.
It is more than half a century — 51 years to be precise — since Williams packed his bags and left WA to campaign a horse at the 1972 Inter Dominion series in Brisbane for his father, Les.
When the 77-year-old Ray returns to Queensland with his stable star Magnificent Storm next month, his son, decorated harness and thoroughbred trainer Grant Williams, will be helping him out.
"Gee, that's a long time ago when I took Bay Brigade across for dad," Ray said. "It was a terrific holiday and the people were great, but we didn't have any success.
"It will be a very different Albion Park we'll race at this time. Back then they still raced clockwise and it was the old track. Bay Brigade didn't handle the opposite direction of racing and didn't show his best. I hope things go better with Magnificent Storm."
Ray's wife, Dottie, was pregnant with Grant during that 1977 trip. That adds to the lovely symmetry of their upcoming trip for a trio of Albion Park feature races with Magnificent Storm, starting with the $50,000 Mr Feelgood on July 8, and going onto the $200,000 Sunshine Sprint (July 15) and the $400,000 Blacks A Fake (July 22).
Grant is one of WA's top thoroughbred trainers after changing codes about 20 years ago following a successful stint in harness racing as a trainer and driver.
He was the long-time main trainer for leviathan WA owner/breeder Bob Peters and won a string of major races with superstar gallopers like Arcadia Queen and Regal Power, including some Group 1 features in Victoria.
A nudge, or several nudges in fact, from Grant are major reasons his father has somewhat reluctantly agreed to travel with Magnificent Storm.
"He's been at me to take the horse away," Ray said. "He and quite a few others, including Robbie [Tomlinson, Magnificent Storm's managing owner].
"Grant's campaigned lots of horses, pacers and thoroughbreds, away from home and I'm lucky to have him for advice and help."
Grant's nudges came with a promise. If Ray ever took Magnificent Storm away, he would help.
"I think it's great he's going," Grant said. "I'm happy to help. He doesn't need my help, but if it means he can relax and enjoy it more, I'll take the horse across and dad and mum can meet me there. I wanted him to go to the Inter Dominion in Melbourne last year. This is a once in a lifetime horse for dad and it's come along right in the twilight of his career.
"I can understand his reluctance to travel, but this horse deserves it. He's good enough and dad deserves to have the great experience that will go with it all. I'm not saying Magnificent Storm will just turn up and beat the best he'll meet in Queensland, but I'm sure he'll be very competitive if he takes his best form across."
Grant will stay for the first week of the trip, taking in the first target race, the Mr Feelgood.
Magnificent Storm, a son of American Ideal, started his career in New Zealand with just one start before being purchased by the Williams family's long-time friend and supporter Tomlinson and shared amongst a large and enthusiastic group of owners.
He was an instant smash hit in WA, winning his first 12 starts and 18 of his first 19.
Magnificent Storm has since taken his record to 49 starts for 32 wins, seven placings and $744,117 in earnings.
That's impressive, but could and really should be even better.
Largely, it's been a story of heartbreak in the biggest races for Magnificent Storm over the past 18 months.
It's hard to fathom how he's gone without even a top-three finish in the five biggest races he has contested.
He ran ninth in the 2022 Fremantle Cup and fourth in the WA Pacing Cup two weeks later. Then, earlier this year, he ran eighth in the Fremantle Cup and fourth in the WA Pacing Cup.
But the real dagger in the heart came in the inaugural $1M Nullarbor at Gloucester Park on April 14, this year.
"It was the first time we'd had him exactly where we wanted him, where he needed to be for a big race," Ray said. "We just felt he was spot on.
"In those Fremantle and WA Cups he just had little niggles and wasn't quite right. It's been so frustrating, but we thought the Nullarbor was our chance to turn it all around."
Hopes and confidence soared when Magnificent Storm drew ideally and was sent out the raging hot $1.70 favorite (for a $1 bet).
Then came the greatest of heartbreak.
Magnificent Storm was crossed at the start and then driver Aldo Cortopassi left punters and onlookers stunned when he let eventual winner Betterzippit whiz around him, take the lead and essentially steal the race.
Meanwhile, Cortopassi was shuffled back to last and got clear when the race was over before making some late ground for seventh.
Soon after, Cortopassi was sacked and Aiden De Campo given the drive.
Magnificent Storm has impressively won all four starts since, albeit in much easier races.
De Campo, who is unbeaten in seven drives on Magnificent Storm, will partner the star in Queensland and spend plenty of time over there, too.
"He's a horse who thrives on racing," Ray said. "We've deliberately given him a good foundation under him before he heads across. He'll have one more lead-up run [June 23] and head to Brisbane.
"The horse deserves this chance. I think he's a bit special and he's earned the chance to see how he stacks up against the very best [in Australia]. It's a bit daunting on one hand, especially at my age, but it's also very exciting. I think I'll be a lot more relaxed and happier once we're over there and settled in."