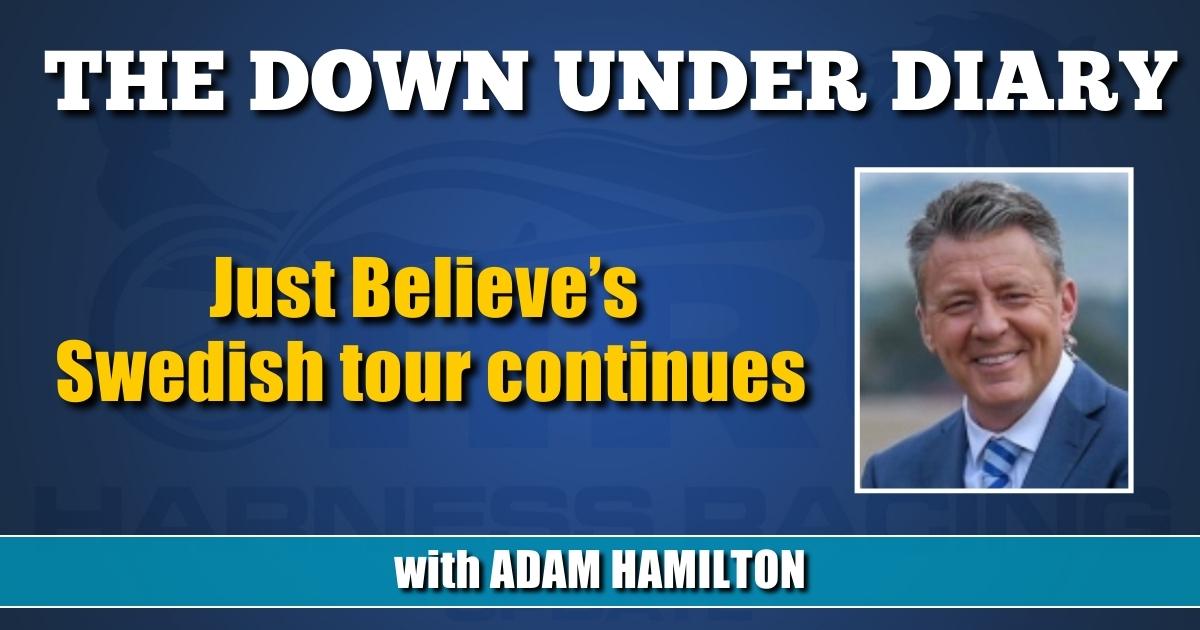 Just Believe's Swedish tour continues
The Aussie trotter didn't make the Elitloppet final but he gained fans and garnered respect, especially after a hard-fought third-place finish Saturday in Ostersund from post 8.
by Adam Hamilton
Aussie trotting star Just Believe still has another race left in his Swedish raid, but has already won plenty of fans and brought some serious credibility to Down Under trotting.
The form card says he finished last in his Elitloppet heat on Sunday (May 28), but there was so much more to it.
The Inter Dominion and Great Southern Star winner was tightened for room, broke stride and lost all chance rounding the final bend, but it's what he has shown to that point and how well he was still travelling which turned plenty of heads.
His second Swedish race was Saturday (June 10) in the Jamtlands Grand Prix in Ostersund (about seven hours north of Stockholm) and that one produced even more European fans. Despite starting from post 8, Just Believe finished an impressive third behind Hail Mary and Click Bait. Due to the outside post, Just Believe was left three-wide early with Hail Mary leading the field. With 300m to go, Just Believe tipped four-wide and attacked fiercely to finish a strong third in a mile rate of 1:54 over 1.3 miles. Hail Mary won in 1:53.1.
The Swedish fans have been a beacon through a sea of disappointment and an emotionally-challenging time for his superstar driver and co-trainer Greg Sugars.
"The disappointment has subsided a bit, but I was absolutely gutted at the time. I felt like we'd let everyone down," Sugars said of the Elitloppet result. "Racing can be a game of inches at times and those inches went against us. But, as we all know, everyone in racing goes through plenty of disappointment at times. That was a pretty big one for [myself and my wife Jess]. The worst of it is behind us now so we can turn the page and look forward to the next challenge.
"The support we had from back home has been just incredible and meant so much, but the locals have really rallied behind us, too. They were jumping out of trees to tell us not to be too disappointed. I think we just surprised the hell out of them that we had a horse who was going to be competitive because, being blatantly honest, I don't think they felt we would be up to the task."
The encouragement was more than just words with officials from several clubs pleading with Sugars and Tubbs to take "Harry" (Just Believe's stable name) to race at their track after the Elitloppet.
"The people from Finland invited us to their biggest race. We could've gone to Norway [to race in the Oslo Grand Prix] and the Swedes wanted us to head north, which is what we settled on," Sugars said. "We did look seriously at Oslo, but it would've added 60 extra days to our stay with extra quarantine and we didn't want to do that."
So, Sugars and Tubbs settled on Ostersund with, most likely, a very similar race at Boden next week.
"That's the plan, at this stage," Sugars said. "If he [comes out of the Jamtlands Grand Prix well], we will go on to Boden, which is another six hours further away from Stockholm. So, we'd stay in Ostersund and go on to Boden from there.
"Boden would be it. I'll need to get back home and the next flight back for Just Believe to get home is mid-July."
Any trainer knows a horse can go either way after he races for the first time after enduring plenty of travel to get there.
Just Believe's 60-hour trip from Sugars and Tubbs' stables near Melbourne to Stig H. Johansson's barn near Stockholm is as big as it gets.
"Of course, we were watching and wondering how he'd come through the Elitloppet," Sugars said. "He's come through it really well and certainly taken no harm from it.
"He trained really well last weekend, I'd say better than he did before the Elitloppet, which is great. That extra time to get over the big trip looks to have done him the world of good."
While the drop in class and stretch from a mile to 2140m at Ostersund could certainly have favored Just Believe, his bad luck in barrier draws continued.
"Seven in the Elitloppet, which is awful, and now 8, which is outside the front row for this race," Sugars said prior to the Jamtlands Grand Prix. "Still, it's probably not as vital being over 2140m, but there's obviously still some good horses in the race so we'll need some luck in running if that's possible.
"We knew there would be some good horses in whatever race we went to next and from what the locals are telling me, this is a pretty good field. There's obviously not the depth of an Elitloppet, but it still won't be easy, especially from our draw."
Prior to the Jamtlands Grand Prix, Sugars thought the 2140m would be Just Believe's biggest advantage.
"I've got no doubt he'll be far better suited this week than what he was in the Elitloppet," he said. "That was something we were always concerned about, how he would handle the speed from start to finish over a mile here.
"But from what I've been told, the 2140m races here are run a lot more like our races back home. They burn out, back it off a bit, then dash home. It potentially opens the way for me to back at the start and make a midrace move if the tempo allows for it."
So, what expectations did Sugars have going into yesterday's race?
"A couple of people I've spoken to who have looked at the field are saying we are a genuine top three or four chance, all going well," he said. "I'd really love to think, all going well and with a trouble-free run, we could finish in the top four and recoup some of the costs of the trip."
Just Believe's performance will build on the credibility the horse earned for himself and Down Under trotting despite his finishing position in the Elitloppet heat.
While Sugars was optimistic about Just Believe's two post-Elitloppet Swedish races, he is buzzing about what the future holds for other Australians and New Zealanders heading to the Elitloppet in the future.
"The gap is certainly closing," he said. "As our breeds continues to get better and our trainers get better and smarter at training trotters, it will keep closing. I'm really excited about that.
"I'm sure there will be lots more trotters heading up from Down Under in coming years and the Swedes love having them. I can see a time very soon when we're making Elitloppet finals and being very competitive in them and that's pretty awesome."