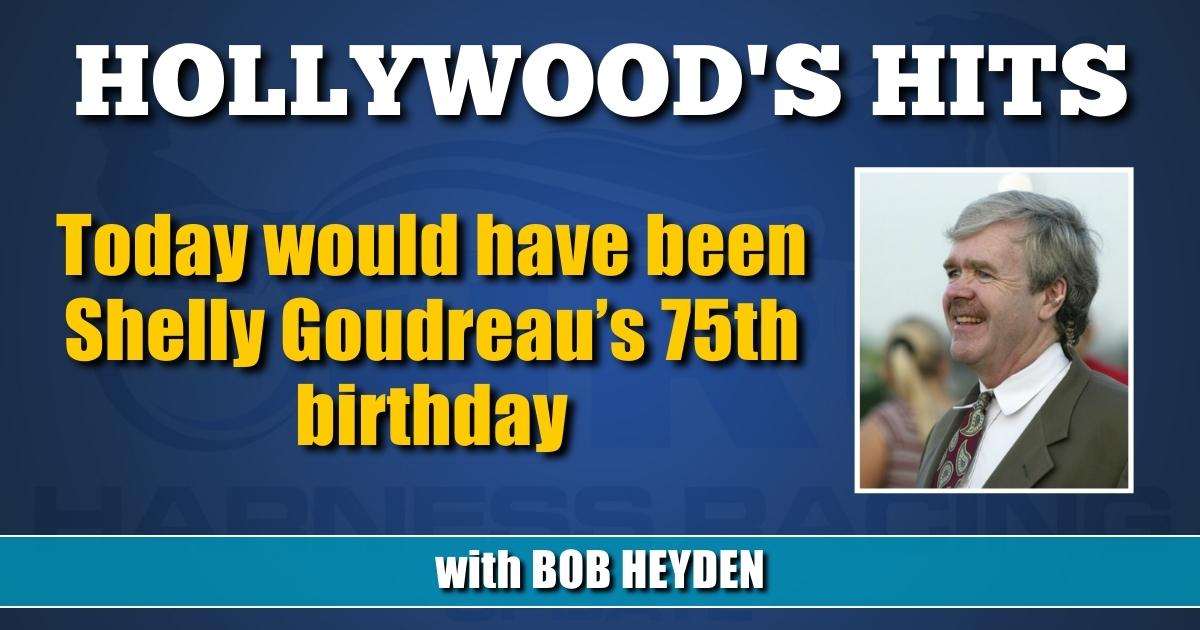 Today would have been Shelly Goudreau's 75th birthday
by Bob Heyden
Shelly Goudreau was born May 27, 1948.
We lost him the first week of September 1982 following an accident in a race he had the week before at Hollywood Park. He was just 34 years old.
I never met him, but I sure wish I had.
He was a great, great driver. That's right, two greats. So great, he was inducted to the Hall of Fame as an immortal just two years after his death.
John Campbell knew him best, but before I get to John, here are some facts, numbers and accomplishments and comments for and about a bona fide star gone far too early.
1. He won 2,250 races (No. 39 all time) and $12.9 million (No. 22 all time).
2. He won 23 per cent of his Meadowlands starts; top five all time in East Rutherford.
3. At the time of his passing, the sport of harness racing had held six million-dollar races. Take a wild guess who was the only driver to appear in every one? Goudreau. And remember this was 1980-82, when catch-driving was nowhere near on the radar like it is today.
4. As a matter of fact, seven weeks before Goudreau passed, a million-dollar event was won for the very first time by a catch driver. It was John Campbell in the 1982 Meadowlands Pace with Hilarion.
5. Simulcasting began the year after he passed, so very few got to see his talents on display.
6. Tender Loving Care (TLC) also passed in the first week of September, 1982, within 48-hours of Goudreau. That great daughter of Meadow Skipper was just 7 and the 1979 Pacing Mare of the Year was campaigned by Goudreau for Lloyd and Nancy Arnold.
7. In 1979, Goudreau also campaigned Try Scotch to the Older Male Pacer of the Year title. John Campbell on Try Scotch: "Nobody could get Try Scotch to go like Shelly did. Others did drive too. But he stepped him up one to one-and-a-half seconds."
8. How rare was it in 1979 for a driver to handle both the male and female Older Pacer of the Year? Well, it would be 29 years until it happened again, when in 2008, Brian Sears did it with My Little Dragon and Lis Mara.
9. The 1979 USHWA balloting was not close. Try Scotch 172-43 over Abercrombie (defending HOY) and Tender Loving Care 192-22 over Misty Raquel.
10. Upon retirement, Tender Loving Care had a 1:52.4 time trial mark set at Lexington with Goudreau, the fastest female mile ever. She made $327,822 lifetime.
11. Goudreau left us just 26 months after the first million-dollar race and 25 months after the first $2-million race. That one was the closest he came to winning a seven-figure event when he finished second to Land Grant with Armbro Wolf beaten a neck.
12. He drove longshot Armbro Whiz in the 1981 Meadowlands Pace, but go no check.
13. He drove Dear Star in the 1980 Pace in the first million-dollar race — harness, thoroughbred or quarter horse — and got no check.
14. He did appear in the first New Jersey Hambletonian in 1981, but drove a bomber, Santa Ana, who made a break and finished 10th in his elim at 43-1.
15. Goudreau passed half a year after Nihilator was born, Tim Tetrick was 10 months old at the time and the Breeders Crown was still two years away from its debut.
16. The seventh edition of the Monticello OTB Classic in 1981 went to Goudreau and Freedom Fella. His 1:55.4 clocking lowered the stakes mark from 1:57.3 set by Silk Stockings in the 1987 inaugural and erased the all-age track standard of 1:56.3 set by Whata Baron three years earlier.
18. Some of Goudreau's top performers include: Dream Maker, Walt Hanover, Mr. Newt, Apollos Way and of course the great Genghis Khan, who he handled for Eddie Cobb in California.
19. Goudreau was second in the nation in 1974 in wins (292) to Herve Filion (637). Greg Wright was third with 282.
HORSEMEN SHARE SOME MEMORIES OF GOUDREAU
Jimmy Cruise Jr.: "I raced against him at Hollywood Park. We shared many a story at the Cockatoo Lounge nearby."
Howard Perlmutter: "I never met him, but followed his driving from 1979 on. He was as talented as they come and had to be a top four, five guy at The Meadowlands along with Ted Wing ("Mr. Saturday Night") Ben Webster and Greg Wright as [John] Campbell and [Bill] O'Donnell then came along. He was full of finesse and his ROI had to be off the charts. I recall him bringing in plenty of juicy prices. Nobody seemed to catch on to how truly great he was."
Rick Plano: "He had that magic in those hands. That kind of talent. He was able to just sit outside and wait and wait and then go by you. My view of Shelly? Very special."
Greg Wright: "I raced against Shelly a lot back in Windsor Detroit days. Nothing he did surprised me. All around horseman too."
And finally, John Campbell: "His dad [Fred] and mine [Jack] were stabled next to each other back in the day and I got to know him really well. The Detroit -Windsor days. Shelly was seven years older than me — I was maybe 16 then — and I looked up to him and from that point on we were really good friends. Later on, he lived with me and Paula twice when he came in from California to race out east.
"Horses relaxed for Shelly. They responded to him. Had he lived he definitely would be… a top 10 guy all-time.
"One time he had a bunch of days and put me down to drive everything. In those days the hand holds were up high. I noticed his were way back. I tried it and I found it was a better way to make speed and keep them going."
In regards to the stat about Goudreau being the only driver to appear in all six million-dollar races at the time of his passing Campbell said: "That tells you everything you need to know. Catch-driving was not really around yet. You actually had to be lucky just to get in one of those races.
"It was a sad day for me when I heard what happened to him."
OLDEST HORSE OF THE YEAR WINNER CR KAY SUZIE PASSES
CR Kay Suzie at 31 has passed away. She was the oldest living former Horse of the Year (1995). That title now belongs to 26-year-old Gallo Blue Chip (2000).
No 20th Century HOY is still with us.
Numbers tell her story. Let's look at some of them during her fabulous run from 1994-1996:
1. She went 1:55.1 as a 2-year-old, a world record for either sex.
2. She made 910G at 3, making her the last trotter to be named HOY (1995) without hitting a million.
3. She won the Breeders Crown at 3 and 4. The last one was her final U.S. start. She was still voted the Dan Patch winner at 4 despite just the two starts in North America (186-26 in the balloting).
4. She beat an international field in the 1996 Breeders Crown at The Meadowlands. Coktail Jet from France the favorite. She went 1:52.3, her lifetime mark.
5. She was a 1:52.4 winner in the 1995 World Trotting Derby equaling the stakes mark set by another fabulous lady six years earlier, Peace Corps.
6. She was the biggest betting favorite in Meadowlands' Hambletonian history to not win. She was 10 cents on the dollar in 1995 in her elim when she went on an untimely break nearing the half and wound up sixth.
7. In 1995 she was 13 10-0-1 and won her division (3YOTF) 231-3 over Lookout Victory and the HOY 119.5 to 85.5 for Jennas Beach Boy.
8. Her 1995 highlights were the $276 Yonkers Trot by 7 1/2 lengths, the $371G Beacon Course and the $585G World Trotting Derby.
9. She was a homebred, a first foal from Country Kay Sue.
10. Her sire, Royal Troubador, competed in the 1990 Hambletonian. She was from his first crop also.
11. Her Bestie in retirement was CR Kinetic.
12. Largest margin of victory 14 3/4 lengths at 2 in the Goldsmith Maid.
13. Her full brother CR Renegade won the 1999 Breeders Crown.
14. She made $1,611,131 lifetime with 20 wins.
15. Where is 31 years on the female longevity chart for female Horses of the Year? Up there, but a ways from Stenographer who lived to 35 (1951-1986).
Dawn Allen: "She was struggling. It was time… She was tougher than the rest. She was loved by so many. We were so lucky. You wouldn't think it would hit so hard… memories."