What hitting $300 million means to RON BURKE and his Brigade
We sat down with the leading trainer in harness racing history.
by Debbie Little
To recognize Hall of Famer Ron Burke becoming the first trainer or driver to pass the $300-million plateau, HRU contacted seven members of the Burke Brigade — Mickey and Sylvia Burke, Yannick Gingras, Larry Karr, Joe Koury, Shannon "Murph" Murphy and Mark Weaver — and asked them two simple questions.
The questions were kept short and fairly basic with the hope that similar answers might make it more difficult for Ronnie. And indeed, some of the responses were somewhat generic while others were given knowing that Ronnie would smile when he heard them.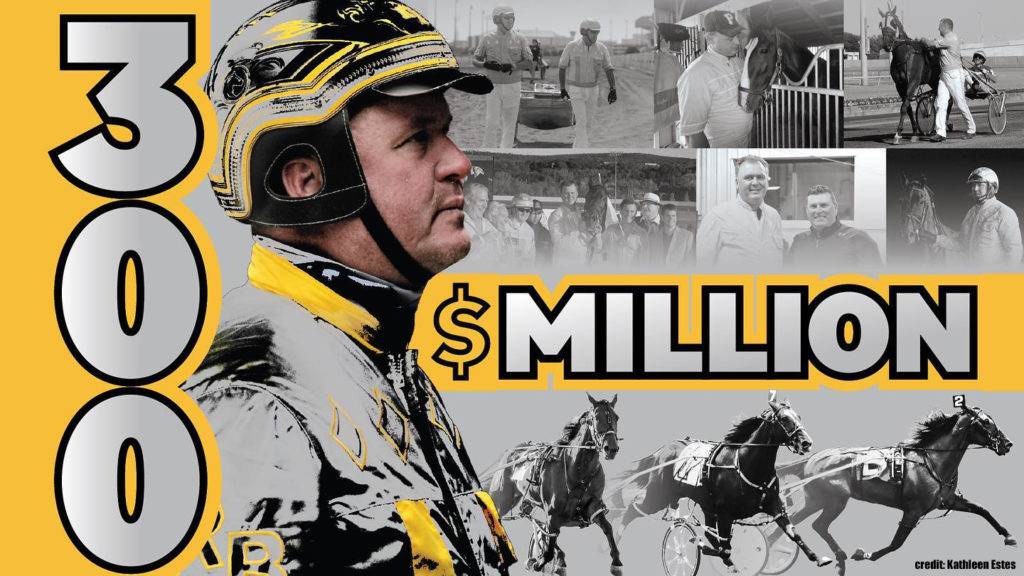 The plan was to read those responses to him to see if he could tell who said what, but Weaver suggested taking it to another level and recording Ronnie to see his reactions.
The good news is Ronnie and his Brigade were up for this innovative idea. The bad news is technology doesn't always work the way we want it to.
The interview took place in Trotters at The Meadowlands on Saturday afternoon (May 13), so that Ronnie could also watch his horses race at multiple tracks via simulcasting.
Ronnie was not made aware of the questions or names of who was contacted prior to the sit down, where each question was presented to him on a piece of paper which also contained the names of the seven participating Brigade members.
For some reason, part of one of the videos cut off after his first correct guess, so three of the responses to the first question, along with his guesses, were not recorded. However, the first guess, remainder of the interview and an additional minute of Burke reacting to the experience can be seen here.
Burke's correct guess percentage was high except when it came to his mom and Murph, neither of which he got correct, although he does deserve some credit for narrowing down one response to his mom and Murph before ultimately picking the wrong one.
Here is a list of both questions as well as the answers from the seven brigade members.
1. Did you ever think a number like $300 million was possible?
Mickey Burke: "Nobody ever did it before in the history of harness racing and I didn't think that we would do it, it just happened and probably nobody will ever do it again."
Sylvia Burke: "I never thought about it, but I am proud of the whole Burke Brigade."
Yannick Gingras: "Absolutely, there was never a doubt. It was more a matter of when than if."
Larry Karr: "Although I never dreamed $300 million in purses was possible, I think if Ronnie followed my training tips, he would have reached this milestone even sooner."
Joe Koury: "For sure. Assuming things stay constant with the state of harness racing, $500 million is attainable if he wants it."
Murph: "I definitely thought he would. When you put up numbers like he does year after year, it adds up."
Mark Weaver: "It's something I never really thought about, but with great owners, it's amazing what trainers are able to accomplish."
2. How do you think Ronnie feels about this milestone?
Yannick Gingras: "I think this is the one record he's most proud of. Being the first one at that number means a lot."
Mickey Burke: "You're probably getting more excitement out of me than you'll ever get out of Ronnie. He'll tell you point blank, 'the only thing that impresses me is money.'"
Sylvia Burke: "I think he thinks it's a big deal. That's a big milestone. $300 million. That is a lot of money."
Larry Karr: "I don't think he looks at reaching this milestone as being about him as an individual, but rather he will view it as recognition of a tremendous amount of effort by a fantastic team, the entire Burke Brigade. And he's looking forward to grinding to a billion."
Joe Koury: "I think it's something he's extremely proud of. However, not just for him, but his family, his partners, his employees. The Burke Brigade is truly a big family and he's proud of that."
Murph: "I'm sure he's very proud of it as he should be. But Ronnie is the type of guy that doesn't say much about records. It's just another day at the office."
Mark Weaver: "I think this one is probably extra special to him being that no other trainer or driver have accomplished it."
The takeaway from this interview was that Ronnie and the involved members of the Burke Brigade understand the magnitude of this milestone. Ronnie's name stands alone in the record book, as it should, but he didn't get there alone and they are all very proud of the part they played, however big or small.
As Ronnie said: "It was the one I wanted, so I do like this one."
For a little perspective of what this number really means, if Ronnie stopped racing today it would easily take his closest active competitor on the earnings list at least three years of averaging $10 million a year to catch him.