by Thomas Hedlund
Önas Prince (Chocolatier) will enter the Elitloppet at Solvalla on May 28. Trainer/driver Per Nordström got a nice last preparation race when the duo won the $110,000 Copenhagen Cup at Charlottenlund racetrack in Denmark on Sunday (May 14).
From post 7 behind the gate, Önas Prince flew to the front and Nordström held high pace throughout the race. First over trotter Calle Crown held strongly and closed the gap to the leader in the stretch, but Önas Prince had everything under control and Nordström's skilled trotter came home in a strong mile rate of 1:53 over 1.3 miles.
Önas Prince was second in his Elitloppet elimination last year and made a break when he attacked three wide in the last turn in the final. The ٦-year-old trotter looks stronger and sounder this year and Nordström seems to have hit the bull's eye regarding his horse's condition this spring.
Calle Crown was a strong runner up and Seven Nation Army finished a good third.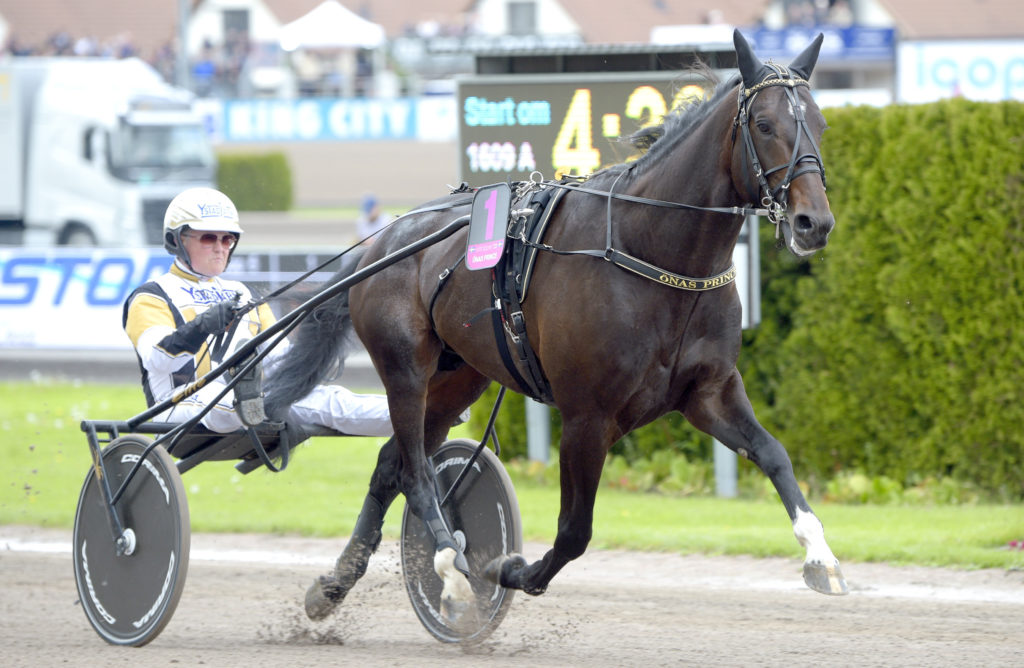 DEXTER DUNN TO DRIVE STOLETHESHOW IN ELITLOPPET
Four-time defending U.S. Driver of the Year Dexter Dunn will travel to Sweden to pilot Frode Hamre-trained Stoletheshow in the Elitloppet.
Solvalla's sports general Anders Malmrot told Travronden.se (translated by Google translate): "It's [exciting] we will get to see him and his driving style here. He is the best in the U.S. and it will be extra fun that he is coming here because he has not been here before."
It is possible Dunn will also drive at Solvalla on the Saturday card the day before the Elitloppet and in other races on Elitloppet day.
NURMOS AND GOCCIADORO TO ELITLOPPET
Timo Nurmos trained Brother Bill (From Above) received an invitation to the Elitloppet last weekend. On Wednesday night (May 17), Alessandro Gocciadoro's Lotteria-winner Vernissage Grif (Varenne) got his ticket to the Elitloppet.
Brother Bill finished second to Hail Mary at Solvalla last week and the strong debut for the season impressed Malmrot and the pink ticket was delivered to Nurmos' horse.
Vernissage Grif is Gocciadoro's second horse in the 2023 Elitloppet. His Vivid Wise As (Yankee Glide) was one of the earliest invited horses for the big mile race.
Unfortunately, one invited horse has to stay in the barn at the end of the month. French-bred and trained Horsy Dream has not been at his best level in his latest starts and trainer Pierre Belloche chose to stay home with his horse.
Saturday (May 20) is the day when the last qualifying race is scheduled and traditionally it's Gävle's $75,000 Prins Daniels race that will offer the winner a ticket to the Elitloppet.
A 10-horse strong field will run the mile in the hunt for a spot in the Elitloppet and it's quite an open story that will take place in Gävle. Title defender Click Bait (won this race last year and accepted the invitation to the Elitloppet) drew post 9, behind horses while Italian trained Usain Töll will start from post 5 behind the gate.
HORSES IN THE 2023 ELITLOPPET:
Etonnant (France)
Hohneck (France)
Go On Boy (France)
Don Fanucci Zet (Sweden)
Hail Mary (Sweden)
Brother Bill (Sweden)
Önas Prince (Sweden)
San Moteur (Sweden)
Stoletheshow (Sweden)
Vivid Wise As (Italy)
Vernissage Grif (Italy)
Just Believe (Australia)
PRINS DANIELS LOPP
1,609 meters
Horse — Driver
1. Kia Ora — Oskar Kylin-Blom
2. Milliondollarrhyme — Fredrik B Larsson
3. Imhatra Am — Mats E Djuse
4. Hard Times — Rikard N Skoglund
5. Usain Töll — Magnus A Djuse
6. Emoji — Flemming Jensen
7. Mister Hercules — Örjan Kihlström
8. Rackham — Christoffer Eriksson
9. Click Bait — Per Lennartsson
10. Mister F. Daag — Robin Bakker
ECTOR FRANCIS STRONG IN MODENA
Ector Francis (Nad al Sheba), driven by Gaetani di Nardo, won the $165,000 Gran Premio Tito Giovanardi in Modena, Italy on Sunday afternoon (May 14) and the 3-year-old colt hit the lead when the field turned onto the back stretch for the first time. Ector Francis was unstoppable from that position and he came home in mile rate 1:59.3 over 1.3 miles.
In the fillies' division, $70,000 Gran Premio Carlo Cacciari Filly, another Nad al Sheba offspring claimed the trophy. Elettra d'Esi could hold the opponents behind her at the wire and Mauro Baroncini's horse won in 1:59.3.