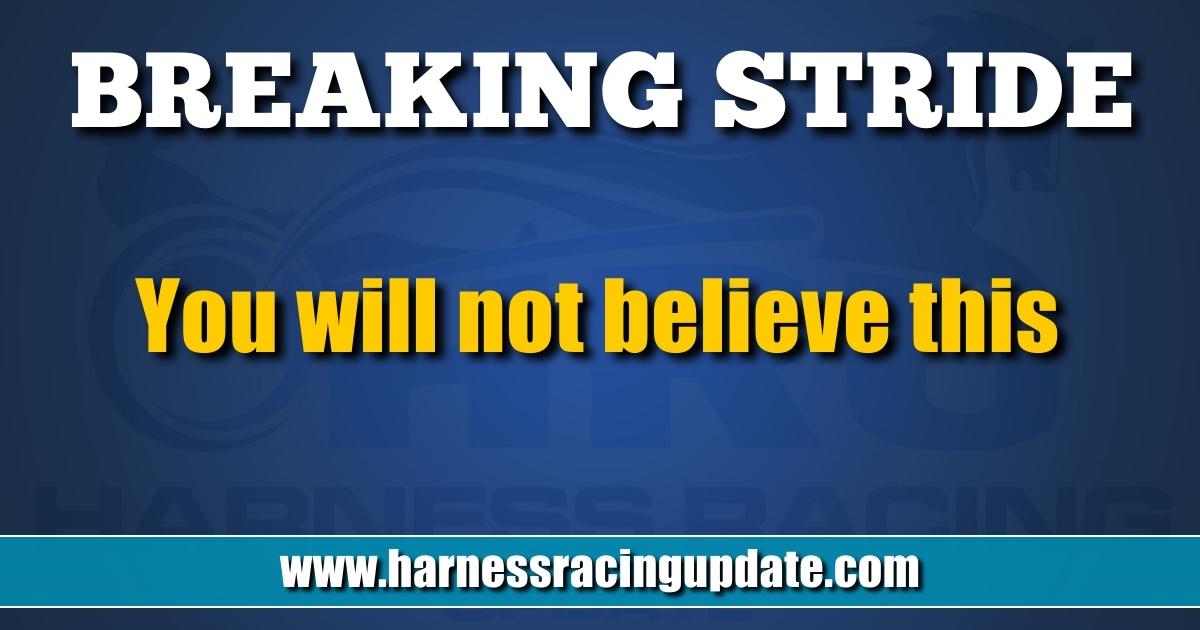 You will not believe this
by Trey Nosrac
A few weeks ago, a trio of us climbed into the car. Our destination was dinner and the racetrack. The car's owner slid into the driver's seat. I crawled into the rear passenger seat. The driver spoke the name of the restaurant to his car. Soon, we were hurling down the Interstate highway at more than 70 miles an hour.
Our driver did not have his hands on the steering wheel of his electric vehicle. He completely trusted our lives to the car's computer and looked back at me for agonizing moments while he spoke enthusiastically about the benefits of Artificial Intelligence. My mind screamed, "Please, look at the damn road."
If I had spoken the previous two paragraphs to my dad when I was a kid sitting across from him at a Howard Johnson's restaurant eating a fried fish dinner special, he would have roared in laughter at his wacky son and said, "Hey, kid, you've been reading way too many of them friggin' comic books."
Life is like that, sneaking up on us, and suddenly, the impossible is normal.
* * *
"Are you awake, Bard?"
"Trey, that question was mildly amusing the first time, but the humor ebbs when you say it for the 12th time."
"Yesterday, I was at the horse training center."
"Obviously."
"You were remotely recording the training miles on the surveillance cameras."
"Trey, you have a flare for the obvious. Please give me questions or directions unless this is a social session."
"Review the first training mile, specifically New Dawn and the driver in the red flannel shirt and collect data."
"Okay"
"Okay, what?"
"The task is complete."
"Oh yeah, old habits, human time. Give me a one-minute recap of the training mile, stress physiognomy and relationship to the other horses training."
"Do you want the report in print form, numerically, or conversationally?"
"Conversationally."
"The driver in the red flannel shirt is Derrick McGee, the trainer is William Buford and the owner is Marie Bennett. The 2-year-old in training is a filly recently renamed New Dawn. McGee, filly and jog cart completed the mile in two minutes and 19 seconds, her last quarter was 30 seconds and her reach was .67. The physical measurements are 78.9, and zero red medical flags are on record as of this moment. Based on all available updated data, the projection gives New Dawn a 75.326 per cent chance of racing, a 51.32 per cent of racing sub-two minutes and a 9.111 per cent chance of racing sub-1:56. The previous 16 foals in the female lineage have a mean earning average of $7,001; the top racehorse earned $202,000; six did not earn money. Since this is the sire's first crop, no racing or training data is available for previous foals. What else can I help you with?"
"Analyze all the comparable horses that trained a mile at that center yesterday. Where did New Dawn rank?"
"Twenty-one 2-year-old fillies trained yesterday. Using all available analytics, the filly named New Dawn ranked second. Would you like a printout?"
"No. Investigate Marie Bennett, highlight racing."
"Marie Bennett has a total of three 2-year-olds in training. She has a 3-year-old that stopped training on Jan. 9 due to a bowed tendon. Marie Bennett has owned 11 horses in the previous seven years. Subject Bennett has a net worth of $145,000, mostly in stocks, zero mortgage, a current market value of $408,000 and a tax assessment of $4,268. Do you want any personal information?"
"Very brief outline."
"Marie Bennett is 59 years of age, divorced, one child, a girl, Martha, now 23. The house and property were part of her divorce settlement. She volunteers at Meals on Wheels and has traveled to Europe three times and South America once. More?"
"Not now. Bard, communicate with Marie Bennet in whatever you believe will be the most effective method. I want you to open negotiations to purchase New Dawn before her first qualifying race."
"Do you wish me to complete the transaction with any parameters or merely negotiate the lowest price?"
"For now, negotiate the best price, then inform me."
"Understood. Can I do anything else?"
"Yes. Run this horse through several metrics and give the performance analytics for a 2-year-old race season."
"Trey, removing physical damage or natural causes, without biometrics and using average training and medication metrics, the available data at this point projects an above-average racehorse relative to the existing sires stakes data in 2023 trotting filly pool this season."
* * *
Readers, you likely don't believe this nonsense. Neither did my dad.