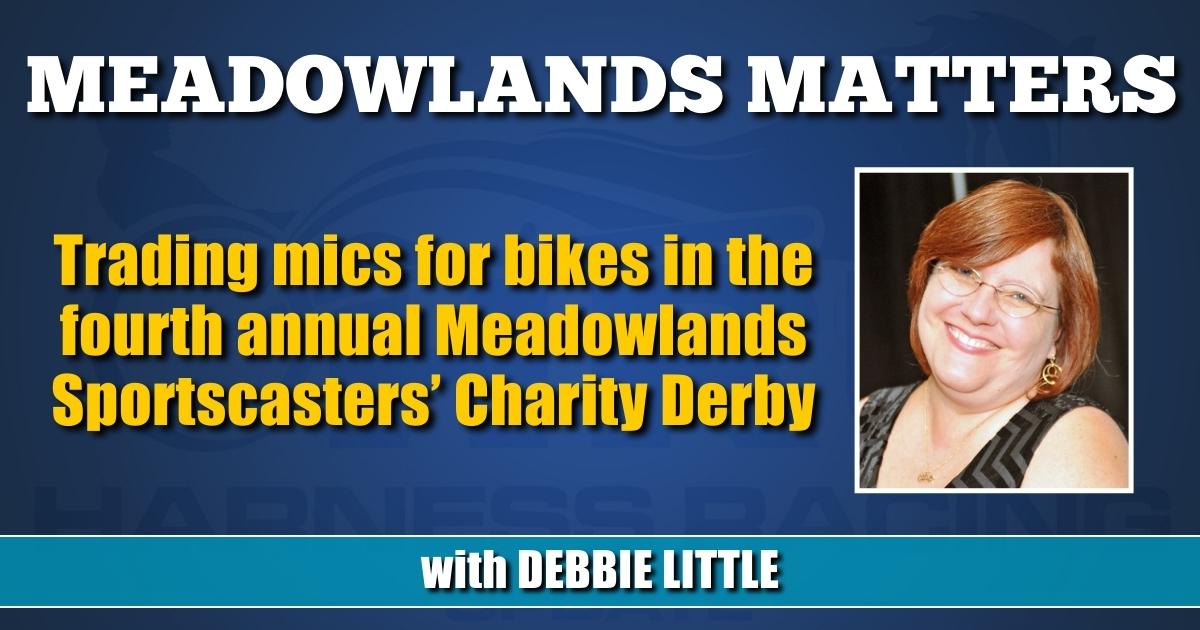 Trading mics for bikes in the fourth annual Meadowlands Sportscasters' Charity Derby
Eight broadcasting professionals will race for charity tonight at The Big M.
by Debbie Little
Given the chance to make money for charity, eight broadcast professionals are stepping out of their comfort zones and onto the track for the fourth annual Meadowlands Sportscasters' Charity Derby tonight (May 12) at The Big M.
The two first-time starters in the event — Mark Cannizzaro and Keith Irizarry — don't know each other, but have quite a bit in common.
Cannizzaro, sports columnist for the New York Post, and Irizarry, host of Bettor's Eye on MLB Network, are familiar with horses, just not the standardbred kind.
"I'm not unfamiliar with horses at all," Cannizzaro said. "I
love horses. They may be the most beautiful animal on the planet. I grew up around horses, actually. My mother rode competitively so I grew up in Connecticut with horses. I literally grew up with horses with a paddock in my backyard and a barn. When I was a kid, I used to ride a pony. My mother and my sister still ride.
"I've been to thoroughbred horse racing and I love that. I live about six minutes away from Monmouth Park down the shore. I love horse racing, but I've never been to a harness race before."
Irizarry's experience, though not as in depth as Cannizzaro's, is similar.
"I rode a horse when I was in high school," Irizarry said. "I have never been to a harness track or seen a live harness race."
Cannizzaro is most known professionally for writing about football and golf. Even though games that he's covered at MetLife Stadium have taken place in the same sports complex less than half a mile away across the parking lot, this will be his first trip to The Big M.
"From 1993 to 2010, I was the Jets' beat writer and the Jets trained in Long Island mostly at that time," Cannizzaro said. "If I was covering the Giants, knowing me, I probably would have popped over and caught some racing."
Something else Irizarry and Cannizzaro have in common is their chosen charity: Memorial Sloan Kettering Cancer Center (MSKCC).
"I chose them because of the amazing doctors," Irizarry said. "My mother-in-law battled cancer for about 20 years. She was a patient there. They always treated her in the most compassionate way and I would love to do my part in helping them be able to continue to help others."
Cannizzaro's choice of MSKCC was even more personal.
"I am a stage four melanoma survivor, knock on wood," Cannizzaro said. "Sloan Kettering saved my life, so that really was a no brainer for me. As soon as they asked me, that was my first thought.
"I spent three months in the hospital at Sloan Kettering, physically in the hospital, from November '08 to February '09. With surgery and treatments and wound-care nurses and the most amazing people I've ever met in my life for what they do."
The ability to compete and make money for their charities has lured all competitors off the sidelines and into the game. 
"I would do it every week if I could," Cannizzaro said.
The eight sportscasters have been divided into two four-horse fields. They will compete in one-mile non-betting events in double-seated jog carts partnered with a professional driver. The Meadowlands will donate $5,000 to the winner of each race and $1,000 to the charities of the remaining participants.
The first division takes to the track directly after Race 3. The participants, with their affiliation and charity, from the rail out are:
Quincy Enunwa (former Jets wide receiver and game analyst) — St. Barnabas Health System 
Don LaGreca (ESPN-NY (98.7 FM)) — Ronald McDonald House
Cannizzaro (NY Post) — MSKCC
Rebecca Haarlow (MSG) — Garden of Dreams
The second division follows Race 5. The participants with their affiliation and charity from the rail out are:
Wally Szczerbiak (MSG Network) — Croatian Charitable Foundation
Marc Malusis (PIX11 & SNY) — Make-A-Wish Foundation
Maria Marino (Action Network) — American Cancer Society (Making Strides Against Breast Cancer)
Keith Irizarry (MLB Network) — MSKCC
Horses for the two sportscasters' races are being supplied by trainer Ron Burke, while the double-seated jog carts are from several trainers, including Tony Alagna.
Irizarry and Cannizzaro are friends with some of their competitors and expect there could be some trash talking leading up to the event.
"I will not be trash talking anyone," Irizarry said. "I am one of the newbies this year. But I wouldn't be surprised if Maria Marino and Marc Malusis throw a little trash talking my way, because I am friends with both of them. Also, Marc and I host a daily morning show together, so I am sure there will be a little friendly competition there.
"I am definitely excited for this event and to get the chance to see some of the other amazing broadcasters that will be in the Derby. Am I nervous? I wouldn't say nervous… more excitement to try something I have never done before."
Malusis was one of the winners of the inaugural Sportscasters' Charity Derby, while Haarlow and Marino are the 2022 defending champs. The remainder of the field is still looking to break their maiden.
"I'm nervous and fascinated all at the same time," Cannizzaro said. "I'm less nervous now knowing that I'm not going to be in the [cart] by myself.
"I'm looking forward to betting some of the races on Friday night, too."