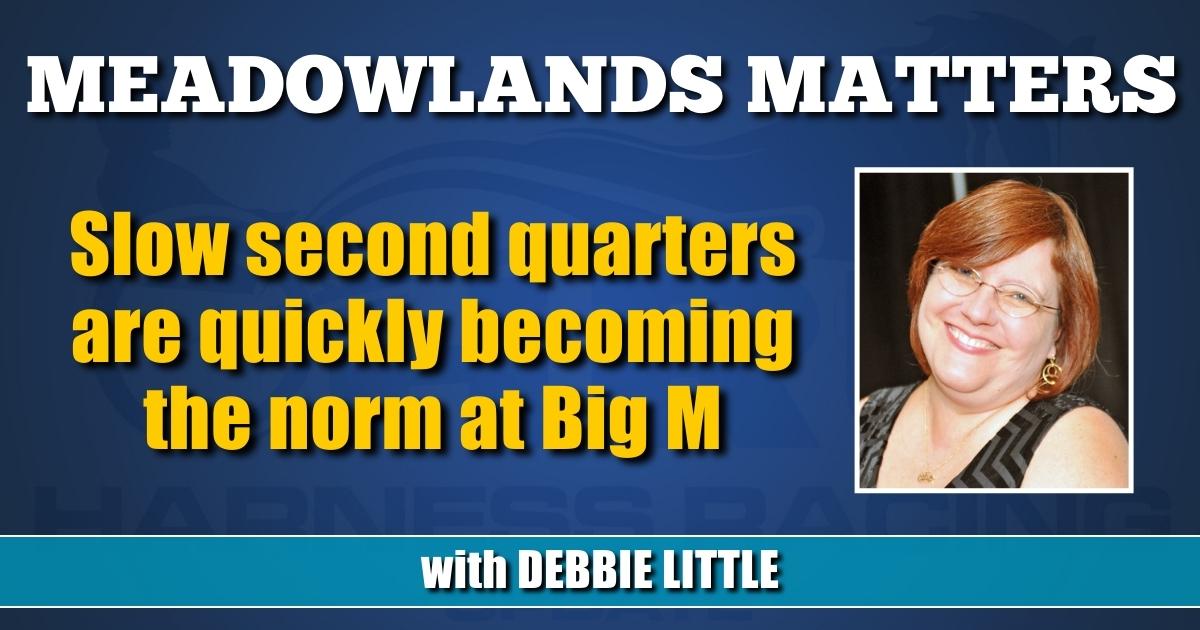 Slow second quarters are quickly becoming the norm
Exactly what is an excessively slow quarter and what is The Meadowlands doing about it?
by Debbie Little
They say slow and steady wins the race, but sometimes, too slow makes race participants unsteady.
On Friday (April 21) in a Meadowlands Amateur Drivers Club (MADC) race, Takeittotheface, the 2-1 second choice driven by Peter Kleinhans, was disqualified for interfering with Somthngaboutmary N after putting in a few bad steps approaching the half.
No one is questioning whether there was interference. However, some think we're not seeing the forest for the trees. In other words, there's a larger issue that's not being addressed.
Always A Panther (Yogi Sheridan, 15-1) left for the lead from the 10-hole.
In track announcer Ken Warkentin's words, the quarter was ":26.4, a torrid opening fraction. All out to get the lead, Always A Panther at 15-1, used hard here by Yogi Sheridan, will clear the top. Jonah yields grudgingly. Across the backstretch, Takeittotheface is third.
"As the pace really slows now, Somthngaboutmary, jammed up in fourth and he's rough-gaited. Somthngaboutmary is off-stride or rough-gaited."
The half went in :57.1 after a :30.2 second quarter.
Kleinhans, who finished third with Takeittotheface, was in the paddock just after the race and saw his number flashing. Shortly thereafter, he got a call from the judges.
"And I spoke with [presiding judge] Tom Salerno, who I have known for many years and I consider a very fair judge," Kleinhans said. "[Salerno] said something like, 'It's too bad that they slowed things down that much, but still your horse was the one that made the break and caused the interference, so we've got to take you down.'"
Takeittotheface was disqualified and placed 10th behind Somthngaboutmary N, who finished 10th and was placed ninth.
"I don't know if I should have gotten taken down, but I also understand it since I was the horse who directly went off-stride and impeded the other horse. There were, sort of, some extenuating circumstances as to why my horse went off-stride, but I don't know if the judges are going to go through every possible reason for that. And given that my horse actually did go off-stride and interfere with the other horse, I don't think it was that bad a call."
Kleinhans, who's been driving since 1988, has a unique perspective when it comes to looking at races, since, in addition to being a driver, he is also a race caller and on-air racetrack analyst.
"I always try to be fair," Kleinhans said. "I try to look at it as if I were just viewing it and not being in it. And if I were viewing it, I would have had sympathy for the person in my position, but I still might have made the call for the disqualification.
"I thought they were going to fine Yogi. I thought they were going to disqualify me and fine him. I'm surprised they didn't."
In the nightly Big M program under racing and track rules courtesy of the New Jersey Racing Commission, it says: "12. Drivers must set and maintain a pace comparable to the class in which they are racing. Failure to do so by going an excessively slow quarter or any other distance that changes the normal pattern, overall timing, or general outcome of the race, or allowing his horse to go on an unrestrained break will be considered a violation of this section and the judges may impose a penalty which can be a fine, suspension or both."
The question then becomes what is considered an excessively slow quarter?
Tony Verruso, who was driving the pocket-sitting 3-2 favorite Jonah in the aforementioned race, remembered seeing a similar incident at Freehold in January involving former amateur driver Kubi Erzene.
"He wins the race and they disqualified him for causing confusion because everyone jammed up," Verruso said. "What's funny is earlier that same day, in our [American Harness Drivers Club] trot race, [driver Bob] Hechkoff did it, but for whatever reason, we didn't all bunch up, but the fractions were very similar."
The two races Verruso is referring to both had an opening quarter time of :28.3. However, the second quarter of the amateur trot was :32.2 while the race Erzene won – a pacing event – hit the half in 1:00 for a second quarter time of :31.2.
Erzene, driving Rogue Cheddar, was placed seventh for "causing confusion to trailing horses through that :31.2 second quarter."
"So, my point is, is it just the fractions that are the issue or the fact that maybe in certain races the horses are a little more keen and racing tighter or that, just in certain instances, the drivers are quicker to react to the fractions?" Verruso asked. "Is it the guy on top's fault that everyone jammed up behind him? Well, to some degree, it is."
Verruso went on to make a comparison to when he was driving Jonah — a week prior to the Kleinhans DQ — and was cutting the fractions on the front end.
"If you look at [April 14] when we won, I clear the top in :26.4 and I backed it down [to :56], a good second less than Yogi did and if you look, no one jams up," Verruso said. "It's the perfect kind of example of what that extra second can do, or were the trailing drivers just more in tune to the fractions?"
Several drivers mentioned that slow second quarters are something that was commonplace on half-mile tracks back in the 1970s, but not something that should be seen or tolerated at The Meadowlands.
"It's amateur hour when that s – – – t happens," one driver said regarding the slow second quarters in non-amateur races. "I'd be embarrassed to go that slow. By the three-quarter pole, with slow middle halves, people can drop their tickets on the ground because there's no action."
Kleinhans remembers watching drivers such as Buddy Gilmour on a half-mile track when he was growing up.
"He would go a very fast first quarter, put a bunch of space between him and the rest of the field and then he would just absolutely slam on the brakes in the second quarter," Kleinhans said. "And then, he'd accelerate down the backstretch the final time.
Kleinhans remembers doing the Yonkers simulcast show within the last several years and pointed out that they take slow second quarters seriously.
"Eric Goodell slowed down the pace like that and they disqualified him from first and placed him last, which I'd actually never seen before," Kleinhans said.
All agree that the breed is getting faster, so one would assume that the times should reflect that. Comparing one random Saturday night from April of 2023 with the corresponding night from 10 years ago, showed the second-quarter times to be three-fifths-of-a-second slower currently at The Meadowlands.
Within the last month, The Big M has seen some second quarters ranging anywhere from :29.2 to :31.
From week-to-week hearing Warkentin say things like, "The pace slows, they're getting jammed up" or "The half in :58.4, :30.3 and they're walking into the far turn here" have become almost commonplace.
Certainly, the bettors who backed that horse on the front end who challenged the rules but won the race are happy, but the majority who bet the ones that lost all chance because of possible confusion caused by the excessively slow second quarter are not.
Maybe harness racing can learn something from Major League Baseball, who made rule changes this year, to speed up the game for the sake of their fans, even though it initially made some players unhappy.
"It's such a chain reaction situation," Kleinhans said. "It's really just a matter of where in that chain you want to place the blame. If the judges are always going to fine you for going a slow second quarter, then you're not going to do it. But if they're never doing that, then it makes sense to do it."
Note: As this story went to press, it was announced that driver Yannick Gingras was fined $300 by the New Jersey Racing Commission judges at The Meadowlands for "Failure to set and maintain a proper pace."
Details of the infraction — for a race which took place early in April — states, in part: "[The driver] failed to set and maintain a pace comparable to the class of the race as he excessively slowed down the pace for a portion of the 2nd quarter causing confusion among the trailing horses."